Having my feet firmly on the ground isn't for me, breaking free I took off from Birmingham Airport to Alicante Airport in Spain with Jet2! Flying high for the first time since August 2021 felt magic, crossing the English Channel felt magical as my Spanish flight left the frigid temperatures of the UK! Jet2 ensured that international wish could be fully granted, how it was!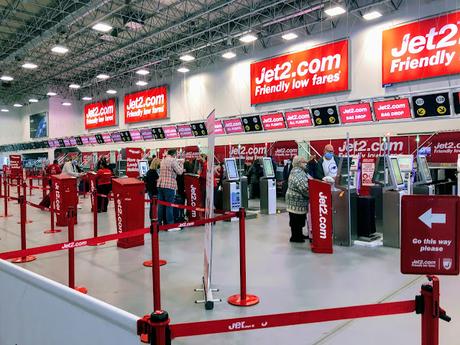 Arriving at Birmingham Airport before the dawn had broken, Jet2 wasn't ready the way I was ready to check-in for my Spain bound flight! My previous flight had been a short hop up to Edinburgh, Scotland and sure I did appreciate that post-lockdown flight, I really wanted to go international! Showing my NHS vaccination travel certificate with my pre-printed boarding cards had my holidays started, that Spanish entry QR code presented for good measure! Printing our very own baggage tag from the standalone machine had Jet2 impressing me with that BHX based check-in facility. Birmingham's Jet2 offerings had something to say! No, Boris! That bumbling Tory mess wasn't stopping me from enjoying that long overdue foreign holiday, not on my living watch! No! Heading for security felt correct, the airport terminal finally had life back at BHX! Miss Omicron, knew to sit her virus ridden ass right down! I had a flight to catch! Fly!
Why Jet2? Do not actually get me started because it has been a whole damn mess with that b*tch called Miss COVID-19! After returning back from Beijing, China I had booked that Jet2 flight to Alicante so I could spend a few days in Benidorm, Spain. Was I able to do that? Was I heck able to! Spain declared its own state of national emergency, causing pandemonium for that 2020 Jet2 flight of mine! With some mighty strong patience, I bided my time and got myself boosted so I would be able to rehash those travel plans for 2022! That brief encounter at check-in during that January 2022 moment had me almost feeling emotional, damn it felt correct to actually be checking into that Alicante LS1215 flight! August 2021 had BHX looking like a whole ghost town, 2022 had things looking more normal indeed! The departure lounge at BHX resembled some kind of normality albeit those pesky face masks. Eternally grateful for everything, I was ready!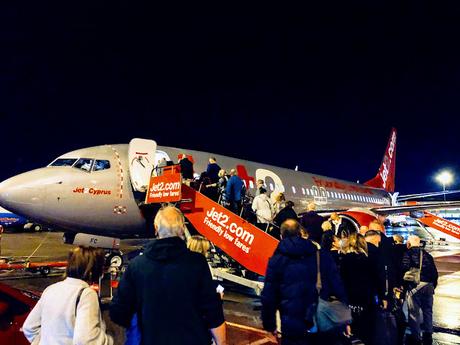 With our gate decided, the boarding time fast approached. Would we get our own jet-bridge? Honestly, that did not matter because I was finally going to be flying away from 'Plague Island' for the first time since February 2020! Taking the airport bus from the gate area on the apron at Birmingham Airport before the sun had even risen had me feeling excited and humbled at the same time. My then usual international carriers before the pandemic would have been the likes of Singapore Airlines, Korean Air or even Air China, the pandemic had changed my perspective with Jet2 my chosen airline! Boarding from the rear red Jet2 steps had me greeted by my Alicante bound crew, it was finally time to fly higher to warmer climbs! Buckling up, boarding completed itself within a quick fashion due to the light passenger load, I wasn't mad! Get me up into those clouds, I wanted nothing more for Jet2 to take me to Spain! Fly high, take me higher! 
Well, slap me in the face with a cold wet fish because I was truly in disbelief to finally be on that Jet2 airplane. The previous six months had been exhausting with the mental torture the mainstream media had thrown at us, with those constantly changing rules and testing policies I wasn't able to allow myself to get excited for the prospect of flying that January 2022 morning! We had been subjected to a myriad of travel requirements and protocols to abide by, this pandemic really has changed my view because the United Kingdom isn't the place for me! The Rt Hon 'fool' Grant Shapps kept changing those travel goalposts, what kind of sick individual messes with peoples holiday plans like he has done? Yes, it has been a whole damn mess, feeling my Jet2 aircraft hurtle down the runway at BHX confirmed that neither Grant Shapps or Boris Johnson would be able to stop us! With the UK fading away, we escaped 'Plague Island!' Yes, J!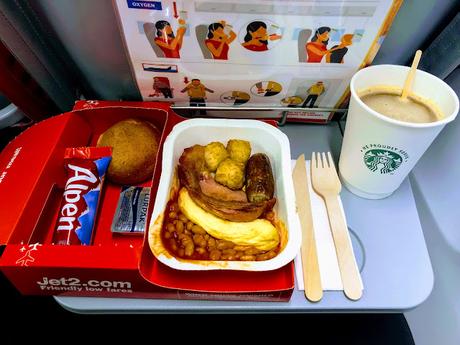 Casting my mind back to 2020 had me ordering an English Breakfast for the outward flight from BHX to ALC but with that abrupt cancellation, the only that was thing served up to me was a refund for that in-flight meal! Rude! 2022 would not stop me sampling that Jet2 in-flight meal, absolutely not! With an on-time departure secured, one of the crew asked me if I wanted to drink either water, tea or coffee with my pre-selected meal. Choosing the coffee, apparently it was Starbucks? Yes, it was! In-line with regulations I was able to take my face mask off whilst I enjoyed my meal, I definitely longed out that period because I didn't want to put it back on. The breakfast served by Jet2 tasted good, it had been over two years since my last in-flight meal. Making the most of the experience I ate everything in my meal box, even the bread roll! I had all the feels for that in-flight experience, Jet2 had me back on track with that airplane meal option. 
Being back onboard a flight felt amazing, having an international destination felt unreal! Spain wasn't exactly China, although I hadn't traveled within Europe since 2015 when I went to Spain & Gibraltar! That morning flight was a chilled affair, after our Jet2 B737-800 had soared into the skies the sun had most certainly come up! Being halfway to Alicante, Spain had me feeling some kind of way in the best kind of way! Back to that meal, how did it compare with those long-haul flights before Corona ruined our lives? It wasn't exactly like those noodles I had loved onboard that SIN-PEK Singapore Airlines flight but being back in the skies really made that comparison insignificant! Of course, I will take care to appreciate each and every future in-flight dining experience regardless the length of the flight, type of airline or size of aircraft. Even in the clouds Jet2's flight experience from BHX to ALC had me feeling grounded in a good way. Almost there!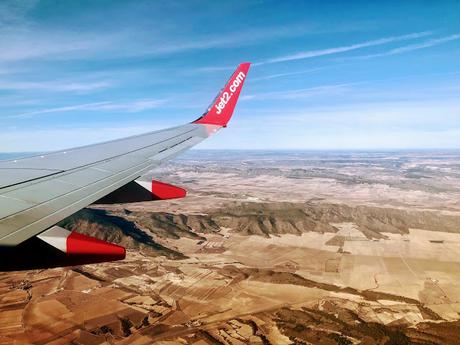 My Jet2 aircraft knew that I meant business, she swooped across the Midi-Pyrenees like there was no tomorrow! Clocking up those air miles, Alicante Airport's air traffic control weren't ready for LS1215 to touchdown bang on time! The landscape changed constantly, that Spanish scenery certainly gave us something to think about! Sashaying into Spanish Airspace, we weren't about to be turned away like those poor folks were back during the rocky days during the pandemic. Not on my watch! Flying for me has changed since coming back from China, I don't want to every go past a long period of time without being in the skies! Flying for me is like getting on a bus for the pedestrian kind, Jet2 had me smiling as we jetted on down towards the Costa Blanca! Touching down with a thud, I was looking in all directions with a fascinated fashion because the UK's drabness doesn't do anything for me! Hola to Alicante's Elche Miguel Hernandez Airport!
After crossing all of these borders around the world, the pandemic had me stuck within one certain UK border with much distain indeed Keeping my own energy, Brexit was about to face me full frontal with a stamp in my passport from a EU country! Playing tricks on me? No, Boris remains unbothered, we had to blame it all on Brexit! Showing our Spanish Travel Health QR codes because were not about to break any entry/exit rules during that hallmark trip to Spain! NHS vaccination travel certificates were on our person, we had all of those documents on hand because Spain didn't require us to have a test on arrival! Gracias baby! Bidding farewell to the Jet2 cabin crew had already been taken care of, next we had the Jet2 transfer reps to welcome us at the airport. Hearing that Spanish at Alicante Airport had me one step closer to that culture, no longer on the flight I had Jet2 to thank for taking me higher after that unfortunate hiatus! Fly!!! 
Getting My Life! 
Joseph Harrison