I needed something to wake me up, that 02:30 A.M alarm wasn't a preferred mood! Would taking a flight from Birmingham to Paris with Air France amaze me? Being only a short hop over the 'English Channel' wasn't going to faze me because I had a whole week of sightseeing ahead of me! Complimentary coffee and a salted caramel biscuit? Yes, Air France came through! Merciiii!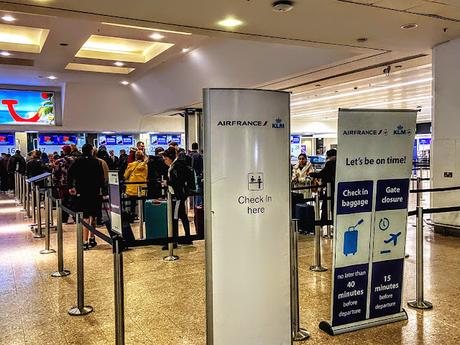 Full flight she better don't! Air France was kind enough to send me a twilight text message to tell me the flight over to Paris would be full, welcoming me to check my hand luggage into the hold. I actually wasn't mad about that, making that airport security experience simpler was music to my own listening ears. Arriving well before my France bound flight was scheduled to depart, I owned that pre-sunrise period with no malice placed towards that check-in queue. I had my passport and electronic boarding card ready, I knew the drill and very much didn't want to cause any delays! It was clear to see that other passengers probably weren't on the same culture-trip that I was about to embark on, sure I had plans to see the 'Mouse' but that theme park wasn't the focal point of my Parisian visit. That airport taxi saw me arriving early for that pre-flight moment, there was no way I was going to miss that Air France AF1565 flight! Birmingham Airport's less than international operation wouldn't break my soul, she's regional like that! OK!
All checked in, I already had my boarding card that I had downloaded the previous night! Air France's helpful downloadable photo pass was very much appreciated, indeed. Feeling like a million miles away from everyday life, I know I shade her but when I'm at Birmingham Airport, there's no other place I'd rather be! No! Security was smooth, serving 'Mortimer' rather than 'Mickey', I wasn't taking any prisoners because I wanted to carve out enough time for my 'Wetherspoon's' breakfast! How was that quick service public house so busy? I do love that British tradition, no matter how early it might be in the day, we in the U.K always make time for a beverage before breakfast! Make mine a double blood orange gin and tonic, please? As I enjoyed my 'Spoons' breakfast sandwich, my mind was brought back to those June 2022 Dalaman Jet2 pre-departure drinks. No longer summer, November made  sure that 'Air France' boarding call was mine to listen out for! National airline of France? You know I had to! Volons!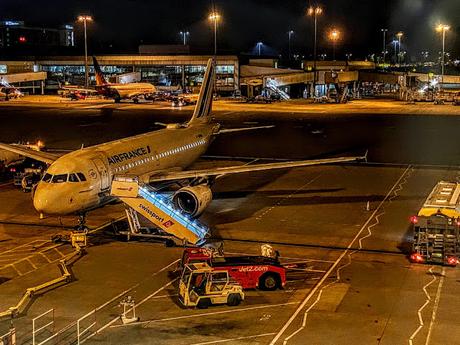 Those blaring terminal lights tried me as I attempted to take my 'Air France' aircraft photograph, I didn't appreciate that glare! Boarding was like a dream and honestly speaking I was so glad that my flight down to Paris was just over an hour, I could deal with that! The aircraft had spent the night at Birmingham Airport? That probability looked to be true as the crew boarded a little bit before we were allowed to board. Not having my hand luggage was a dream, it was almost like I had forgotten something but I had not! Taking off a short time after boarding, it was great to be on my way to Paris, a trip that definitely wasn't part of my U.K plan! The flight itself was smooth, no issues as far as turbulence, the dark autumn skies fooled me because it was almost 06:30 A.M as my 'Air France' flight made its way to Paris. I already knew that 'Charles De Gaulle' would be welcoming us all sooner than we had banked on! I know that flight wasn't long haul, so I'm getting ready though! 'Air France' already knew that 'j'aime voler!' 
Five days after that Birmingham departure, I had a very different boarding experience onto my inbound flight from Paris Charles De Gaulle Airport. Being four times the size of Birmingham Airport, getting through security had me stopped in my tracks because the automatic passport lane refused my passport. I called BREXIT! My gate at Charles De Gaulle was one of those on a lower level, I just knew that a bus would be involved. Unable to check my hand luggage like the outbound flight, you could say that those Disneyland Paris purchases had me repacking my bag on the terminal floor! Triggered? Quite! The flight deck door wasn't locking? Our airport bus had us stalled inside for about thirty minutes whilst the maintenance crew fixed that 'HOP!' interior door. I guess Birmingham's pint-sized airport comes in handy sometimes, for this instance I'll give the award to BHX for that factor. Really, since the Pandemic, every single flight that I'm able to board feels like a blessing! I'd love to take a longer flight with 'Air France' in the future.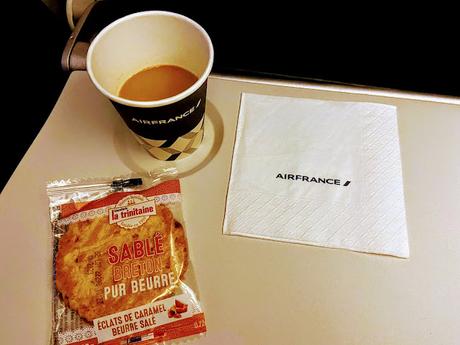 I had my debit card ready to purchase some breakfast snacks as the cabin crew started to serve what looked like our in-flight refreshments. No, that wasn't a question! I kept in mind that the flight down to CDG would be over soon but I wanted to sample something 'Air France' onboard. I wasn't disappointed because I was served a hot cup of coffee with a sweet salted caramel biscuit. My second breakfast installment of the morning was a bit more appropriate, no more double measures for me! I made sure that my seat was on the aisle, with the middle seat next to me left vacant, well I was very pleased about that! I enjoyed my snack and hot drink, the in-flight experience was much too brief for me to make any lasting feeling. For sure, I would really like to experience a long haul in-flight product with 'Air France' but all the same my short hop over the Channel was fine. Remembering more, the salted caramel biscuit had a really buttery taste, no complaints from me about that! I could have downed another cup but it was time to land. Vite! 
My AF in-flight experience on the way back to Birmingham was fairly distributed like the outbound to Paris had been. Being delayed slightly, it was a blessing to have those cabin doors secured and the aircraft away from that remote stand. I flew back onboard a teatime flight, no breakfast biscuit or hot drink would be served to me during that afternoon/early evening vol. I welcomed that cheese sandwich even thought I wondered why only half was served? Now, that was a question! Nevertheless, I wolfed down that snack with a small can of Coca-Cola because I feeling thirsty! Much same as the outbound morning flight from Birmingham to Paris, the return flight served a calm passage over the English Channel back to the United Kingdom. For a short 'HOP!' within one hour, both 'Air France' flights were well served and the crew members gave me the impression a future flight would be worth booking with the French national airline. So, retrieving my hand luggage from that smaller overhead compartment, it took some muscle! Oh!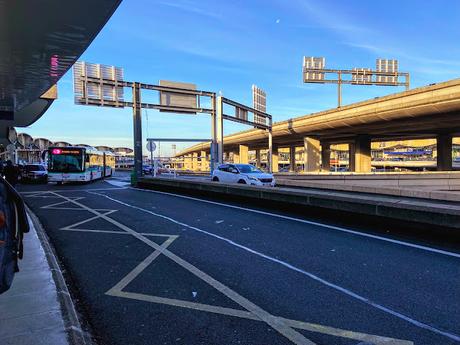 My morning 'Air France' flight from BHX touched down onto French soil ahead of schedule, best of all I was able to disembark that aircraft from a jet-bridge into the CDG's Terminal 2E! The weather was gorgeous but that French 'Roissy' stamp in my passport reminded me of a little thing called Brexit. Anyway, after being stamped into France I scooped my hand luggage from that CDG carousel without any issues. Looking for the train had me walking the most, to cut a long story short, I completely missed the signage for the TGV station. Clocking the 'Roissy Bus' had to be a sign? Yes, it was! That bus took me to the terminus station where I had to jump from bus to bus, I thanked my lucky stars because I hadn't yet validated my paper ticket. My Opéra bound bus took me into the city, from that final terminus stop, I was able to meet with the Paris transit system at long last. My 'around the houses' trip from CDG to the center of Paris had me embracing those last minute changes. No mistakes were made during that 'Bienvenue à Paris!'
Later on during that first day, low and behold I found myself standing across the platform from the 'RER B' service that was bound for Paris Charles De Gaulle Airport. I wasn't mad, to ensure that I didn't make the same mistake twice, I clocked that rail connection so I wouldn't encounter any issues the following Thursday. When the time came to make my way to CDG for my inbound 'Air France' flight to BHX, I took the easier way back from my hostel to the airport. From 'Sully Morland' to 'Châtelet–Les Halles' on Paris Metro's Line 7, I then changed at the supercharged 'Châtelet' onto the 'RER B' service that took me directly to Terminal 2 at CDG Airport. Both flights from Birmingham to Paris and then back home again were made without any delays, the trip itself was knock-out amazing and even those mishaps helped me out along the way! 'Air France', truly I have no complaints from start to finish! Let us fly higher once again, I want to experience your 'IFE!' Merci pour tout, volons ensemble à nouveau bientôt! Dernier appel, AF! 
Par Avion? Oui!
Desperately Seeking Adventure