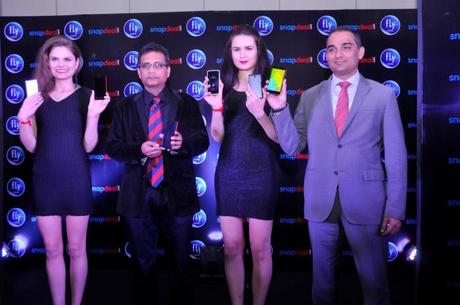 Fly Mobiles now available in India, exclusively on Snapdeal.com Left_ Mr Rahul Goel, Fly Mobiles and Right Mr Karan Khara, Vice President, Strategic Alliances at Snapdeal
On February, 25, 2015, Fly Mobiles launched in India three new models of smartphones. All these three models are targeted at consumers looking for best value smartphone at lowest rates. The three smartphones pack impressive bunch of specifications considering their low price. These new three models released by Fly Mobiles are Snap, Quik and Qik+.
Fly Mobiles is a UK based company. Fly has been operating in the mobile phone segment since last ten years and enjoy much popularity in UK, Russia, Ukraine, and the Southern Europe. They entered the arena of smartphone market in 2012-13 and soon acquired the prestige of being among the top-3 mobile phone brands in Russia. And when it comes to Android smartphones, they hold the number 2 spot in Russia.
In India, they had launched their mobiles sometime back. But over time, their focus shifted to other markets. But now, they are back in India with the release of three models of smartphones.  All these three devices will be available exclusively on snapdeal.com
While talking about this launch, Rahul Goel, President, Fly Mobiles commented, "We have been in the industry for a decade now and are excited about our new range of Octa-core phones. Fly India will focus on bringing exceptional smartphones from its global portfolio. We believe that the India has huge potential in this category and are confident of satiating the needs of the smartphone generation."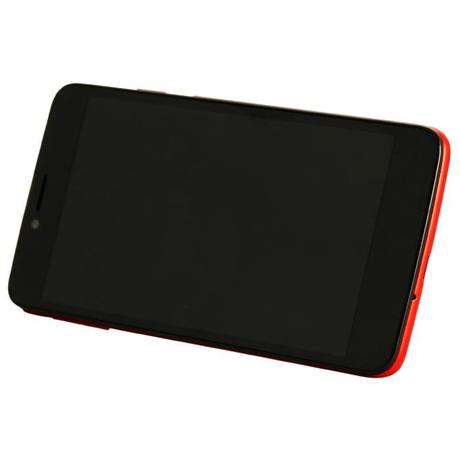 Fly Mobiles- Qik+
Among the three devices launched in India by Fly Mobiles, Qik+ has the best specifications. It might be called the 'flagship device' of the bunch, even if it's priced at the entry level rate. It has Mediatek 1.7 GHz Octa Core Processor, 1 GB RAM, 8 GB internal storage and 2200 mAh battery. These specifications are good enough to ensure a stable performance. The internal storage of 8 GB is quite sufficient to meet the storage needs of most users. And the inclusion of an Octa Core processor in a device that's priced so low is really impressive. 1 GB or RAM is not quite the best but is still good enough. Many higher range devices are still coming out with that RAM specification. The display of the device is quite good too. Qik + has 12.7 cm (5 inch) HD screen with a resolution of 1280×720 pixels (293 pixels per inch). The device is equipped with a  13MP primary camera and a 5MP front camera with several useful camera modes. It cannot boast to be the slimmest device in market, but being only 7.8mm thin, it is slim enough and looks good and is comfortable to hold. And now the all important point, price. Well, Qik+ comes with the price tag of Rs. 6,999 only. This makes Qik+ the cheapest 5" HD Octa Core smartphone in the market at present.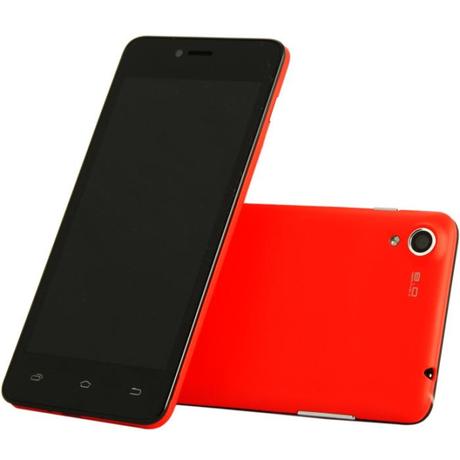 Fly Mobiles-Qik
The second device that Fly Mobiles launched is named Qik. It too has the Mediatek's Octa-Core 1.7 GHz processor, I GB RAM and 8 GB internal storage. Its ranks a little lower than Qik + in battery and camera. It has 8 MP Auto Focus rear camera and 5MP front camera and is powered by 2000 mAh battery. It is smaller in size than Qik + and has 4.5 inch FWVGA screen with 850X480 resolution. Qik too looks sleek and is comfortable to hold. And although its display is not HD, it has good brightness and clarity. Fly Qik (interesting name, isn't it?) is priced at only Rs. 5,999. And this makes it the cheapest 4.5″ Octa Core smartphone in Indian market today.
Qik + and Qik smartphones run on KitKat operating system and will get over the air upgrade of Android Lollipop. In addition, both Qik and Qik + come with two free Screen Guards. Both Qik+ and Qik are available in Russian Red and White Colour options.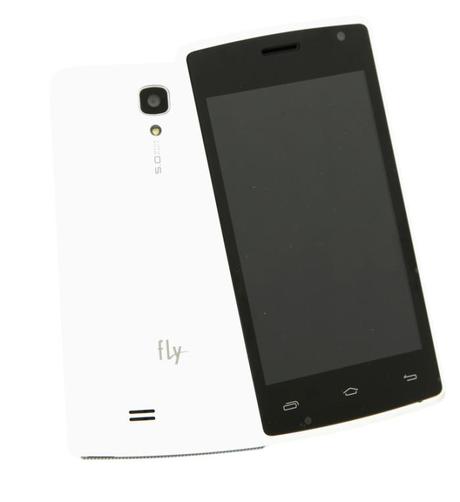 Fly Mobiles-Snap
The third smartphone that Fly launched is even cheaper and priced at a really amazing rate. It provides to the user all that a basic smartphone should and yet costs less than most feature phones available in the market. Plus, it is equipped with gesture commands that are really a welcome delight in such an inexpensive device. This smartphone is Fly Snap. It has 1.3GHz Quad Core processor, 512 MB RAM and 4 GB internal storage. It is powered by 1500 mAh battery. It too has Android 4.4.2 KitKat OS. It has 5 MP rear camera with Flash and 2 MP front facing camera. This is smaller than the Qik smartphones and has a 4 inch WVGA LCD display with 800X480 resolution. It has 3G connectivity and GPS and Bluetooth. Its unique feature is that you can wake it up by double tapping on the Lock Screen and it has 6 customizable gesture commands. Snap is available in White and Blue color options.
I know, the above mentioned specifications won't sound too impressive to a knowing user. But wait till I tell you its price. This slim, lightweight, 4 inch Quad Core smartphone is priced at only Rs. 2,999!
I had the opportunity to check out all these three devices at the launch event. And I was really impressed. No, they can't boast to give the user a premium feel. But they are well equipped to meet all the basic smartphone needs. They seemed to perform efficiently, look good, are comfortable to hold and come at really attractive prices.
All three devices are available exclusively on snapdeal.com
Here are the important specifications: