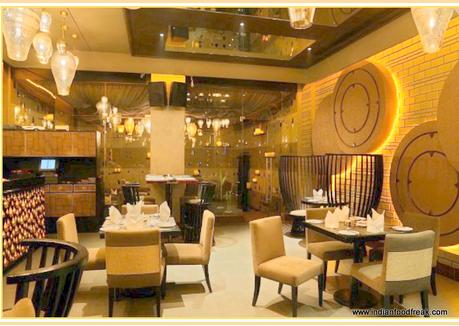 Mosaic as we all know is a particular kind of pattern formation of stone or glass pieces put together. Mosaic The Boutique Hotel in Noida named after this pattern wears an exterior true to it's design. Previously known as Shipra Hotel,  Mosaic is located in Sector 18 which is a prime location of Noida and the hotel is at a very close distance to the Sector 18 metro station. The boutique hotel comprises of 48 rooms in 3 categories, a fully equipped gym, an outdoor pool, outdoor sitting,  an area which is also let out for poolside private parties. On the food and beverages front they have two outlets Latitude which offers North Indian and Chinese Cuisine and is open in the evenings only and Fluid which is their lounge offering Continental, North Indian, Mexican and Fusion Food that being their latest addition on the menu and i am here today to try the same.
I remember having visited the Hotel 4-5 years ago and as I walk in it seems completely new to me. The interiors of the hotel have been renovated recently hence a new appearance with a contemporary decor. Am shown my way to Fluid by a very courteous staff and on my way I notice their bakery counter which looks quite tempting.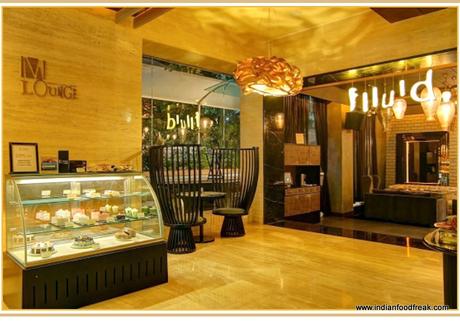 Fluid is located at the ground level of the Hotel. Walking into the lounge I can't help but notice how well lit it is with light fittings in various sizes brightening the lounge. The lounge includes a private dining space which can accommodate 10 to 12 people. This area gives a more sheesh mahal kind of look with small mirrors adorning the wall.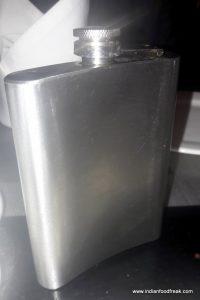 Having taken a look around am all seated to carry an experience of the fusion fare Fluid has to offer. Fusion food does seem to have become the order of the day with many restaurants coming up with their innovations. A hip flask arrives at the table and I am told this is the welcome drink of orange juice. I am surprised and smiling looking at the hip flask as for me this is probably the first time I am drinking out of a hip flask directly and that too orange juice. While experimentation is good it is slightly cumbersome drinking out of it. The fusion fare mainly consists of appetizers and light bites. If you want to eat something from the main course you can make your choices from the other cuisines. After the welcome drink, arrives the mushroom 'amuse bouche' which is perfect both in terms of presentation and as a mouth amuser.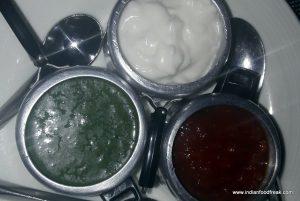 The line up of what lies ahead includes Soup, Sprout Chaat , Puraani dilli chaat platter, Tarts, Fish and Burger sliders. By now my eyes cant help but continuously notice the miniature versions of cookers, iron etc used for innovative presentations. My soup for the day is Gun powder infused American Corn Chowder served in an extremely stylish glass. It was one of my favourites of the meal. Follow next are the 2 chaats one being an organic sprout salad the best part of which is that they are freshly grown inhouse. The puraani dilli chaat platter is a combination of papri chaat and bhalla topped with chutneys and served as separates and teen paani gup chup (gol gapped served with 3 types of flavoured water and matar ragra). The golgappas are made well and made inhouse. I somehow even liked the matar ragra as a change from the potato and channa fillings.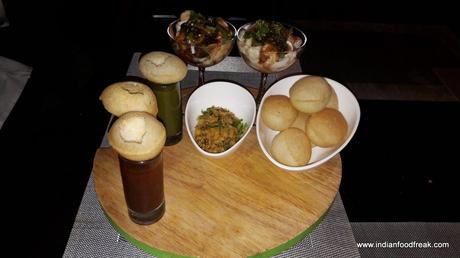 Moving to the non veg part of my experience. The Chicken Khurchan tarts while an interesting combination could have been better which I found to be lacking in spices and tanginess. The Burger slider was my favorite from the non veg fare. Full marks for  the presentation and taste. A house creation of three mini burgers in white, red and green, they offer you a choice of filling chicken, fish teriyaki and masala lamb boti. I opted for chicken and thoroughly enjoyed it. The patty of a burger makes all the difference. Adding to the taste of the burger were the lovely french fries which were made completely inhouse no frozen ones used here. Amritsari masala marinated sea bass baked fish was my last dish before moving to the dessert. Somethings are best left as originals and I prefer the desi fried style any day to this baked fusion style.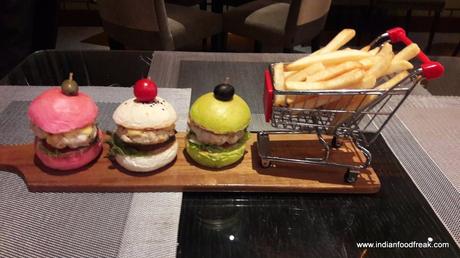 The meal ends on the fusion dessert gulab jamun cheese cake served with jelly. Some fusions sit well as in this case. Enjoyed the dessert and loved the jelly offering along.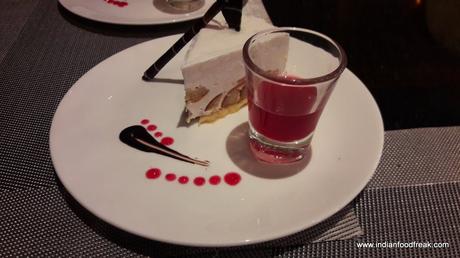 If you are a fusion food lover and like experimenting do visit the place to experience their new menu. My personal opinion on fusion food though always remains while some fusions are good some cause confusions.
Ratings (Out of 5)
Food: 3.0 | Ambience: 4.0 | Service: 4.0 | Overall: 3.5
Meal for two: Rs 2200/-  | Wheelchair Friendly: Yes  | Credit Card : Yes | Alcohol : Yes
Address: Mosaic Hotel, C- 1 , Sector 18, Noida, UP | Tel no: 0120 4025000
Disclaimer: This review was done on an invitation from the restaurant. Due judgment and care has been applied by the author to remain objective and unbiased in the review, but readers need to consider this review keeping this fact in mind.