blogger
Flowers in Bloom – Elder
Posted by Vikas Acharya
on
November 25, 2016

Watching the Daisies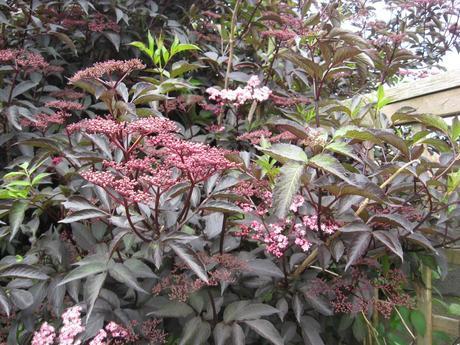 My Purple Elder tree just coming into flower two weeks ago
Midsummer is Elder's time to bloom – displaying hundreds of lace like fronds of sweet scented flowers.  My purple Elder tree is calling me to use her blooms NOW and make some Elderflower cordial – a great tonic for the after effects of my flu!
Elderflower Cordial Recipe
Ingredients:
25 Elderflower heads from purple or cream Elder trees – please check for insects !
1 kg of sugar,
3 unwaxed lemons, including zest,
1 orange including zest,
1.5 litres of water,
1 teaspoon citric acid.
Method:
Steep flowers overnight in water.
Add zest of orange and lemons, plus sliced fruits,
Add sugar and citric acid,
Gently, bring to the boil and simmer for 5 minutes,
Allow to cool,
Strain through a muslin cloth,
Pour into sterilised glass bottles or freeze in ice cube trays or small containers.
Dilute to taste with sparkling…
View original post 21 more words