Who wants to eat a giant cookie right now?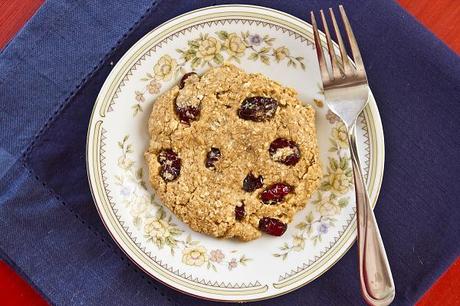 If you didn't just jump up from your chair and scream, "ME!" … our team of highly trained psychiatric specialists is standing by to take your call.
Because, come on, it's a giant cookie. And any aversion to giant cookies speaks to some sort of repressed childhood trauma.
I'm going to keep this short and sweet, since I know you'd rather be eating this cookie than listening to me describe it… and also since Andy came home from London on Tuesday and I'd rather be spending time with her than describing it to you.
Everybody wins!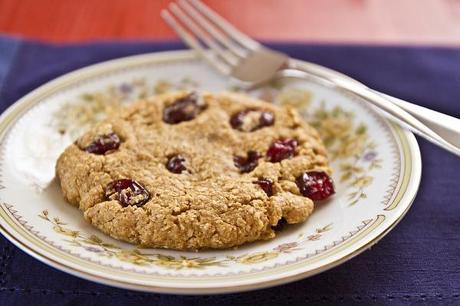 This little guy was born out of a need to sate my sugar and refined carb cravings without undoing my entire day. It's completely flourless, gluten-free, vegan-optional, and comparatively low in sugar when weighed against my usual fare. Good going, self!
Since it's made in the microwave, this cookie is cakey instead of chewy. You'll definitely want to eat it with a fork. This isn't a problem for me because I like my cookies on the cakier side anyway. Plus eating one with a fork makes it feel more substantial somehow, like I'm eating a miniature meal made of cookie.
A meal made of cookie. Now there's a train I could get on board.
ingredients
1/4 c oats (use GF if sensitive)
1 tbsp brown sugar
1 tbsp peanut butter, or any other nut or seed butter
1 tbsp plain Greek or soy yogurt
1 tsp cornstarch
1/4 tsp baking powder
1/4 tsp salt
1/4 tsp vanilla
1/8 tsp cinnamon
1 tbsp optional mix-ins — chocolate chips, raisins, sprinkles, chopped nuts, etc… get creative!
directions
1. In a small bowl, mix together dry ingredients (oats, sugar, cornstarch, baking powder, salt, and cinnamon). Add wet ingredients (peanut butter, yogurt, and vanilla) and mix to form a thick dough. Fold in any mix-ins.
2. Line a microwave-safe plate with a small piece of parchment paper. Scoop the dough onto the paper and pat it into a 3-4″ disk — there's no real science to it; just make it look like a cookie!
3. Microwave on high for 35-45 seconds, or until just cooked (cooking time will vary depending on the strength of your microwave — don't overcook, or it will be dry and crumbly). Let cool for a minute or two and enjoy!