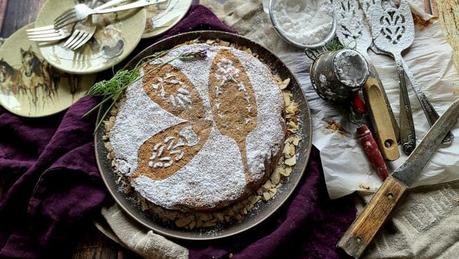 This simple flourless almond orange cake makes a perfect dessert, morning coffee cake, midnight snack! It's full of healthy almonds!
Flourless Almond Cake
Flourless cakes are super simple to make. And, it seems like an oxymoron to say 'flourless' cake when all your life you're known that you need to make cakes with flour. But, this flourless almond orange cake defies the cake-making beliefs!
Flourless Almond Cake Recipe
Just a few ingredients and this cake is all yours. Yes, the essence of this cake is going to be the glorious flavors of almonds.
Easy Almond Cake Recipe
If you'll notice from the pictures, I baked this cake in a metal pie pan. I mean why can't cakes be pies or vice versa. I like the pie pan because it's a small amount of batter and this just works perfectly for baking.
Ground Almond Cake No Flour
Ground almonds have a delicious flavor in a cake. And, when they're the star of the cake, it's even more tasty. I don't grind my almonds into a dust. No, I like to leave some of them in small pieces. That way when I take some bites, I know I'm eating almond slices.
Italian Almond Cake
Yes, this recipe is very similar to an Italian almond cake. Since there's no baking powder in it, the cake doesn't poof up or rise. It's more dense, yet light. If that makes sense?
French Almond Cake
French almond cake is another type of recipe that stars almonds.
The French almond version is more of a little tea cake. It's usually rectangular in shape, but it can be round. And, it's got a buttery golden hue, which gives it the nickname 'Financiers'. When the rectangluar cake is cut, the slices look like little bars of gold, hence, financiers. I love to learn things like this!
Quick Almond Cake
No doubt, my recipe falls in the category of a quick almond cake. If you want something fast. If you want something delicious. If you want something that will look chic and elegant, then make it!
Flour Free Almond Cake
And, of course, this recipe is flour free. For more flourless recipes, you might like to take a look at these I've created.
Flourless Chocolate Tart
Flourless Wedding Cookie Cake