These naturally Flourless Almond Butter Chocolate Chip Cookies are so tender that they melt in your mouth! These flavorful cookies take just 5 ingredients and are totally gluten-free, Paleo-friendly, and refined sugar-free.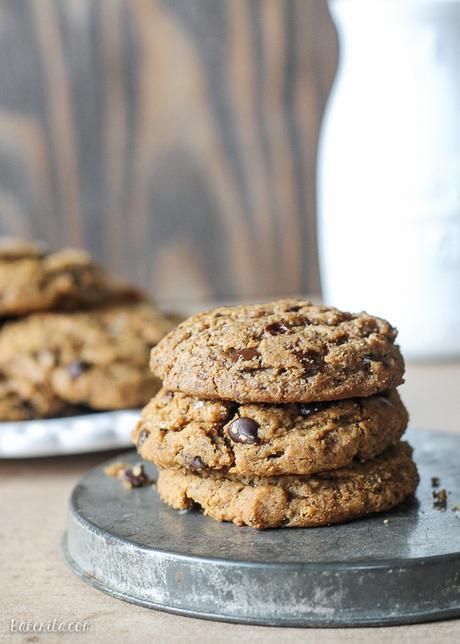 Sometimes I don't like saying a recipe is Paleo, and gluten-free, and refined sugar-free, because I feel like the people who don't 
need 
or choose to follow those diets just dismiss them as not as good as the sugar-y stuff. And it's wrong, I tell you!
These cookies are super secretly healthy (not that anyone would know from tasting them) and so easy to make (just five ingredients!!!) and so tender that they seriously just melt in your mouth. They're moist and soft and just a little crumbly. My housemates devoured them, and we were all sad when these were gone off the cookie plate.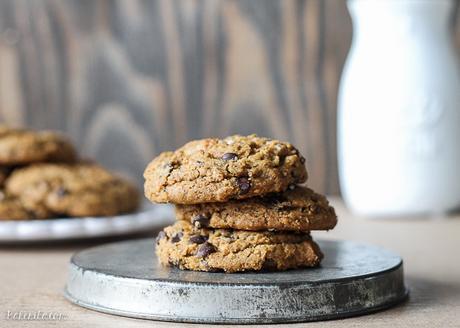 Now, about those 5 ingredients. Let's talk about them and all their deliciousness, and what they can and can't be replaced with, and all that fun stuff!
First: almond butter! This is important. I used this Espresso and Vanilla Barney Butter which added a bit of extra flavor, but any almond butter should work here. Just make sure any oils are fully incorporated into the almond butter or you'll have oily cookies, and no one wants that. You could also absolutely substitute peanut butter, sunflower seed butter (perfect if your allergic to nuts), cashew butter, or any other kind of nut butter your heart desires.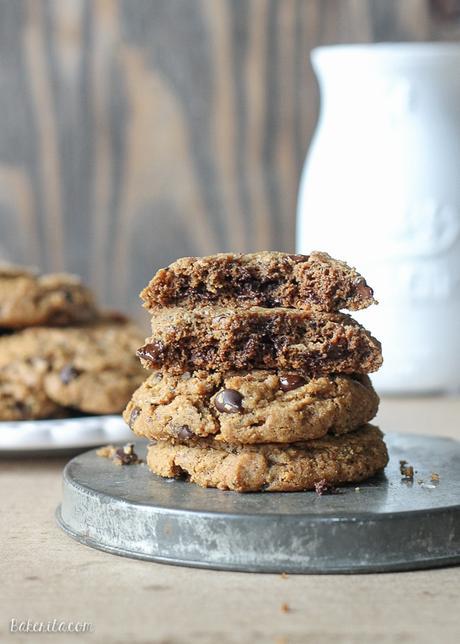 Let's talk sugar. I used coconut sugar because I've fallen in love with baking with it recently. It's a low glycemic sweetener, so it doesn't cause such big spikes in blood sugar like traditional sweeteners. But, more importantly, it performs so well in baked goods as a replacement for granulated sugar and lends such a delicious caramel flavor. I buy mine at Trader Joe's cause they have it for under $4. That being said, if you don't have coconut sugar and don't want to buy any, you can most definitely use light brown sugar instead. You'll still have a chewy and delicious cookie.
The egg and baking soda are pretty self-explanatory. So, chocolate. Obviously, if you're trying to keep these 100% Paleo-friendly and refined sugar-free, skip the chocolate chips. If you're a chocoholic, like me, add in 1/2 cup mini dark chocolate chips. I love the mini chocolate chips because you get a little chocolate in every bite! If you're using regular chocolate chips, up the amount to 3/4 cup.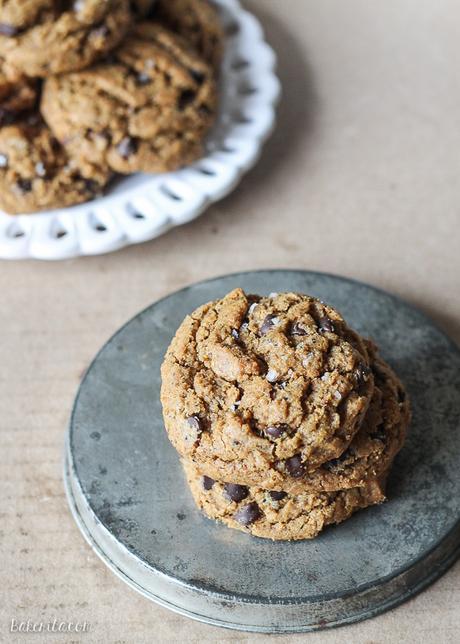 Once you have your ingredients, it's as simple as stir and bake. I recommend waiting 15 minutes between the stirring and the baking to let the ingredients settle together. This isn't 
mandatory
, but I noticed that the cookies that came from the dough that sat for a little while baked up a bit thicker and smoother. The oils and sugars had a bit of a chance to mingle and react to each other and it made things even more delicious. So if you have the patience, wait it out (seriously, it's only 15 minutes).
Make these, love them, and share them with your friends. They'll love you for it. Enjoy!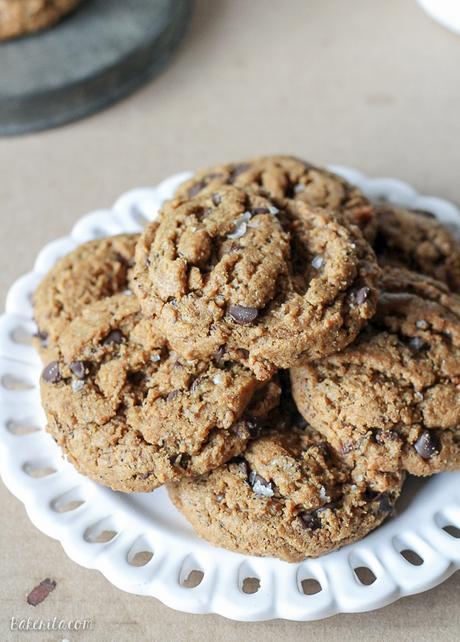 5.0

from

2

reviews
Flourless Almond Butter Chocolate Chip Cookies  
Save
Print
Author:
Rachel Conners
Serves:
18 cookies
Ingredients
1 cup smooth almond butter (I used Espresso and Vanilla Barney Butter)
½ cup coconut sugar
1 egg, room temperature
1 teaspoon baking soda
½ cup mini dark chocolate chips*
Directions
Preheat oven to 350ºF.
In a medium bowl, whisk together the egg, almond butter, baking soda, and coconut sugar. Fold in the mini chocolate chips. Let the dough rest for about 15 minutes.
Using a small cookie dough scoop, form tablespoon-sized balls of dough and place onto a parchment lined baking sheet.
Bake for 8 to 10 minutes. Let them cool for at least 15 minutes on the baking sheet, then transfer them carefully to a cooling rack. They will be crumbly if you try to move them too early, so be sure to let them set up.
Notes *Ensure you use Paleo chocolate or leave out the chocolate chips to keep 100% Paleo. If you use regular size chocolate chips, use ¾ cup. 3.2.2925
 This post contains affiliate links.


Hungry for more? Check out some of my similar recipes!
Paleo Chocolate Chip Blondies

Vanilla Bean Crunch Almond Butter Bark

Paleo Chocolate Chunk Banana Bread

Gluten-Free Chocolate Chip Cookies

Chocolate Chunk Zucchini Bread

Raspberry Coconut Crumble Tart (Paleo, GF + Vegan)