An open letter from a manatee upset with the recent trend of people trying to ride manatees. 
Greetings humans and other land-based creatures. I come to you today with a heavy heart. I want to address a delicate issue that demands the immediate attention of the international community – including those above the water and those under it as well.
We manatees unequivocally condemn and formally denounce all attempts to ride on us, and demand you stop this degrading practice at once.
Is it not enough to mercilessly run us over with your massive boats, hunt us for our precious body parts, or throw tantalizing non-food items at us that look just enough like lettuce to be confusing? Must you humiliate us further with this abhorrent behavior of trying to ride us? We will tolerate this no longer.
Perhaps you are thinking, "What are you gonna do about it manatees? You're so big and slow we can do whatever we want to you."
Yes, we are generally speaking a lumbering, peaceable species. But we should not be provoked. We are far more patient than your hot-tempered, destructive race, but we can only be pushed so far.
How will the manatee community respond if this shameful practice continues, you ask? While nature has neglected to give us a substantive means of self-defense in terms of brute force or physical combat, we do have options available to us that we will not hesitate to mobilize, should our hand (we say "flippers" but I'm using your language here for clarity) be forced.
Our serene countenance and adorable looks have endeared us to many of our aquatic brethren; some of whom are quite protective, vengeful and ill-tempered. We have friends who are highly venomous or pointy-billed, and some who have large, sharp teeth. We have developed excellent relations with the infamous candirus of South America, who delight in swimming into human bodies and exiting in shall we say, the most sensitive, painful way you can imagine.
Do you see where I'm going with this?
These are not threats. We manatees have been backed into a corner and pushed to the brink by your hurtful, gross conduct; much of which seems to take place in the region you call "Florida," but we call "Warm Grass Munch World." If the attempts to ride or mount us in any unauthorized manner continue, we will respond with swift, immediate action. We will respond with "ocean justice," which is like your "street justice" or "prison rules," but much more brutal. Do not be surprised when shark attacks increase, sailfish impalings become more commonplace, or your hospitals begin to fill with wailing, crotch-bandaged candiru victims.
You have been warned.
We are a simple species. We basically just float around and eat vegetation. We're not hurting anyone. It is true that we produce a shocking amount of horrific gas — but does that make us unworthy of basic respect or decency?
I end with saying we are not so different. I have learned much about your ways. We both wean our young on milk, breathe air and struggle with body image issues, we both enjoy swimming and munching on lettuce – and dare I say we both want generally the same things for our young. Mammal to mammal, I ask for an immediate end to this undignified, uncalled for practice of trying to ride the noble manatee. I assure you we will afford the same respect in return.
 – Grassman the Manatee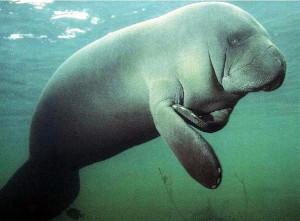 Sad manatee photo via manatee.net
Filed under: Flora + Fauna, Florida Tagged: animals, conservation, Florida, humor, manatees, nature, news, odd, science