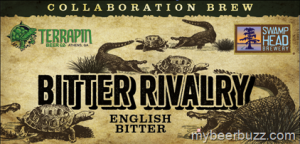 The week of the Florida – Georgia football game in Jacksonville is always an exciting and busy time. RV City begins filling with fans of both teams displaying their team pride with flags, banners, signs, colorful awnings, mannequins, and even more interesting displays. Fans of these teams are zealous to say the least. And that includes the brewers at the two breweries in each of the team's home towns. Swamp Head Brewing Company calls Gainesville, Fla. home along with the Florida Gators, while Terrapin Beer Company hails from Athens, Ga. the same as the Georgia Bulldogs.
Four years ago the owners of the two breweries began talking about brewing a collaboration beer to commemorate the annual gathering known in Jacksonville as the World's Largest Outdoor Cocktail party. An entry on the Swamp Head blog says, "Since our inception, we have thought 'It would be fun to do a beer with our friends at Terrapin for the Florida Georgia game in Jacksonville.'" This year, those discussions came to fruition with the Swamp Head/Terrapin collaboration Bitter Rivalry.
The two brewers began to toss out ideas, Craig Birkmaier for Swamp Head and Spike Buckowski for Terrapin, but the conversation kept coming back to using the other thing each state is known for: Florida oranges and Georgia peaches. So, the two settled on an English Bitter style brew with hints of both. They also wanted to make the beer sessionable so they kept the ABV low so that fans can enjoy many pints as they celebrate their teams and with friends.
Because both breweries are supporters of their home teams, they also decided to come to Jacksonville for the game and host several tasting events. If you would like to try the beer with the brewers consult the schedule below to find out where they will be. Or, if you just want to know where you can find a pint of this delicious collaboration, check the handy list provided below as well.
No matter which team you root for this weekend, be sure to try this Bitter Rivalry and remember to party safe and responsibly.
Thursday, October 31, join the brew crews from both breweries at Aardwolf Brewing Co., 5:00 p.m. — 7:00 p.m.
Thursday, October 31, the fun continues at Mellow Mushroom Southside for the Halloween Party, 8:00 p.m. — 10:00 p.m.
Friday, November 1, head over to World of Beer – Jacksonville Southside, 6:00 p.m  – 8:00 p.m.
Friday, November 1, onto Green Room Brewing, 9:00 p.m. — ?
Saturday, November 2, head down to Fionn MacCool's Irish Pub, 11:00 a.m. until game time to enjoy brews with crew.
The distribution of this beer will be very limited and it will all be released starting on Thursday, October 31st. Most of the beer will be distributed in the Jacksonville market for FL/GA weekend with some reaching into St. Augustine and a small amount will stay here in Gainesville.  We will have the beer on draft at The Wetlands starting Oct. 31 as well.
Here is a list of the locations that will be getting kegs of Bitter Rivalry: Remember, this beer will probably go quickly and won't be tapped until Thursday.
Jacksonville/St. Augustine
North Star Pizza Bar – Downtown
Fionn McCools — Downtown
Underbelly – Downtown
Dahlia's Pour House – Riverside
European St – Riverside
Kickback's  — Riverside
Bold Bean Coffee Shop – Riverside
Stripes and Solids – Orange Park
Brewer's Pizza – Orange Park
Mellow Mushroom — Southside
World of Beer — Southside
Stogies Cigar Bar — Southside
European St – Jax Beach
Engine 15 – Jax Beach
Mellow Mushroom — Jax Beach
Green Room Brewing – Jax Beach
Poe's Tavern – Atlantic Beach
JP Henleys – St. Augustine
Dos Coffee – St. Augustine
Mellow Mushroom – St. Augustine
Floridian – St. Augustine
Taps 210 – St. Augustine
Mojo BBQ – St. Augustine
Gas Full Service – St. Augustine
Aardwolf – San Marco
Grape and Grain Exchange – San Marco
Salty Pelican – Fernandina
Tomoka Brewery – Ormond Beach
Saucy Taco – Julington Creek
Gainesville:
The Top
Loosey's
Brass Tap
Stubbies
Mother's
Salty Dog
The Swamp
Tall Paul's
Tipple's
KC Krave