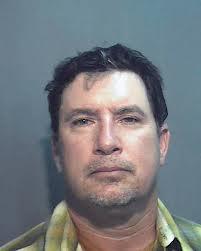 The Sacramento Bee reports
A central Florida man faces charges after authorities say a loaded gun was found in his backpack at Orlando International Airport.
Police say 47-year-old Edward Jody Calderon was stopped Sunday morning after a security screener spotted a .22-caliber pistol, which was loaded with six rounds. An additional magazine with 10 rounds was also found in the bag.
Calderon, who has concealed weapon permit, told police that he forgot the weapon was in his backpack. He told them he had taken the handgun with him on a recent hunting trip for snakes he might encounter. 
Calderon was arrested and charged with carrying a firearm in a place prohibited by law, a second-degree misdemeanor.
How many times do we have to hear this excuse before something is done? You know what happens in
gun-friendly states like Florida
with second-degree misdemeanors? They're plea-bargained down to almost nothing and the dangerous and irresponsible gun owner continues on his way.
One strike you're out
demands that irresponsible gun owners be held responsible for their actions.  Why would other gun owners, who are responsible, object to that?
By the way, he doesn't look like the kind of guy who would forget a gun was in his backpack.
What's your opinion?  Please leave a comment.