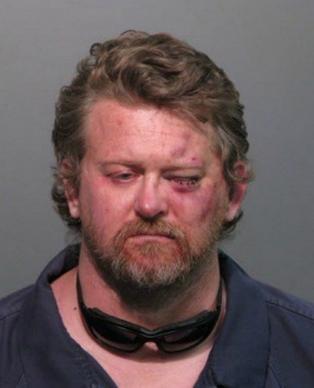 John Wayne Rogers
Orlando Sentinal
The murder trial of a blind man was cut short Friday after a judge granted a "stand your ground" motion for immunity and ruled the man acted in self-defense when he shot a drinking buddy in the chest with an assault rifle.
Hours after the ruling, John Wayne Rogers, 40, left the Seminole County Jail, a free man for the first time in nearly two years.
He had killed James T. DeWitt, 34, an overnight guest on March 27, 2012, after a long drinking session in Rogers' home in Geneva, a rural community in eastern Seminole County.
Prosecutors charged Rogers with first-degree premeditated murder, and he was facing a possible sentence of life in prison.
Witnesses gave conflicting accounts of what happened that day, but defense attorneys described the case in simple terms: Rogers is a blind man who was defending himself from an attack in his home.
In the Rogers case, jurors heard two conflicting sets of facts: What Rogers said happened, that he fired a shot because he was under attack, and what the victim's girlfriend said, that the shooting was unprovoked.
Rogers has a history of violence. Four years ago, he fired 15 rounds from a handgun at Michael Rogers, his roommate and cousin, following a night of drinking and fighting in Geneva, according to court records.
Michael Rogers suffered scrapes but no gunshot wounds. The defendant was charged with aggravated assault but, in a deal with prosecutors, pleaded no contest to a lesser charge — unlawfully displaying a firearm — and was placed on probation.
That was revoked, however, when he pushed and punched a woman a year later, something that resulted in him spending 71 days in the Seminole County jail for domestic violence, according to court records.
Rogers shot DeWitt once in the chest with a .308 Remington assault rifle from a distance of 18 inches or less, defense attorneys said.
DeWitt and his girlfriend had gone to Rogers' house to drink beer and had spent the night, according to his arrest report, and the next day the group had made a 10 a.m. trip to the store to buy more beer.
The defendant testified that he asked DeWitt to leave but that the victim attacked him, so he went into the bedroom, retrieved his rifle, walked back into the living room and pointed it in DeWitt's general direction.
DeWitt then charged him, he said, so he fired one round.
DeWitt's girlfriend, Christina Ann Robertson, told Seminole County deputies that the two men had been "play fighting," something they sometimes did, when Rogers walked into another room, emerged with the rifle and shot DeWitt without provocation.
Before being blinded, Rogers served in the U.S. Marine Corps, defense attorneys said.