SPRING IS FINALLY HERE…with weather that matches.  Finally!!!!
Now I know florals for spring isn't a new concept or new fashion trend this year or any other year. :)
So, I tried doing the floral trend by mixing it up: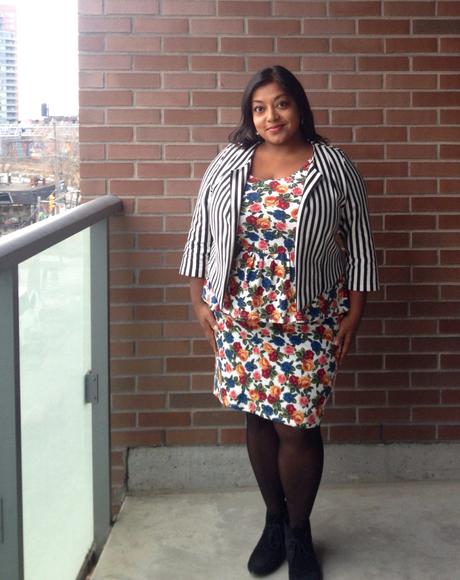 I've been trying my hand at mixing patterns more.  Taking this floral dress and pairing it with a striped black and white cropped blazer really amped up this look, right?!  I'm really digging the contrast.
In an effort to keep this outfit 'work-wear', I wore dark stockings along with my black suede booties.  This was the outfit I wore to the office for my first day back from my big Asian Adventure (I'm working on those posts friends…stay tuned).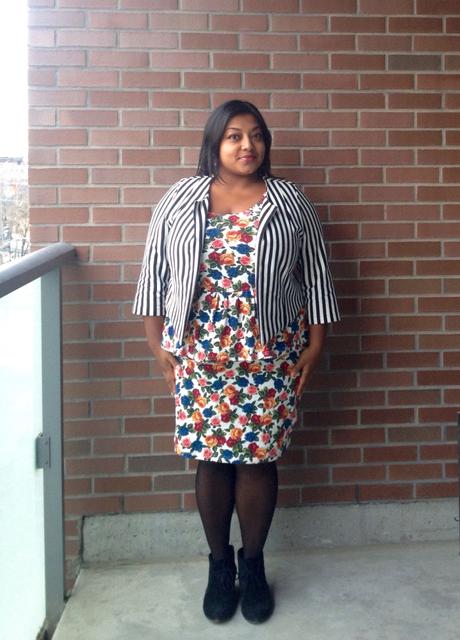 Both these pieces were thrifted finds as last year's BIGDeal Toronto Sale (and the first time I'm wearing this dress ever).    I'm not the biggest fan of floral patterns — but I really liked these colours on this white background of this dress.
Plus, being a peplum skirt it creates hourglass-come-hither style hitting the curves in all the right places …. that always gets a BIG thumbs up from moi!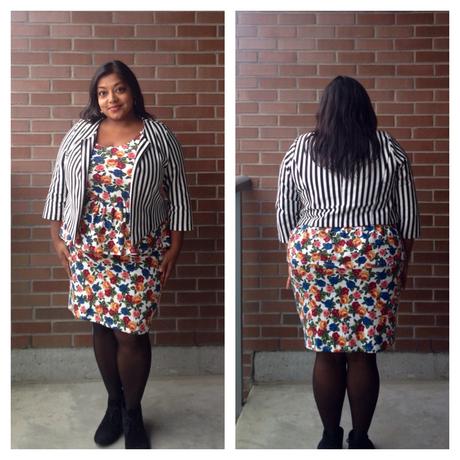 How I Got The Look: Floral peplum dress & Stripped cropped blazer from Forever21; Black suede booties from NineWest
Dunno what sort of plan y'all might have this long weekend, but this might be a good Easter weekend outfit inspiration, hmm? ;)
What do you think of this look and the pattern mixing?  Would love to know your thoughts in the Comments section below.
For other looks with this striped blazer click here and here.
Have you LIKE'd the Petite Plus, Meow's Facebook Page yet?
LIKE. Comment. Share.