Grabbed a quick hour in the garden before tea (northern English 'tea' - the evening meal, not the southern English light snack at 3 o'clock) and enjoyed the blue skies but not the marrow-chilling blasts of wind which have persisted for days now.  Did manage to shed the thick coat and hat after a spot of digging, but it's still not warm enough to really get my plants bursting into growth.
The snowdrops emerged from their snow dousing looking a bit worse for wear, but they had given me a pretty spectacle for several weeks before they got buried.  The time had come, therefore, to shift the ones which were badly placed now that I've widened my border, so up they came to settle in their new spot under the apple tree.  I think they'll look great there next year with their newly installed neighbours, the primroses.
Also planted my Japanese flowering cherry tree 'Amanogawa' down by the bottom shed near the hedge.  I bought it a) because I can't resist a bargain - £4.99 in Aldi, and b) because if we have more years like this on the cards, it will be good to have more spring blossoms available for harvesting. I plan to use it for cutting, so hopefully this form of annual pruning should keep the size in check. And at £4.99, if it turns out to be a mistake, it won't be an expensive one.
Have got no half term plans for tomorrow, so am hoping to spend a fair bit of time in the garden. Am debating whether to risk planting out some of the September sown ammi, which is well toughened up already. I planted six out just before the snow came as a tester, and although they are twisted into somewhat malformed contortions, they seem to have come through their prolonged burial under snow.  Surely we aren't due any more serious snowfalls?
I still have one drift near the patio, ice slabs which have fallen from the roof, and the path to the compost bin is still under a few inches of white stuff, but it is, thankfully in retreat.  We did however, have a light snow shower this morning, which had me swearing quietly over my cornflakes. I think I want to move into the Eden Project, and garden under a biome.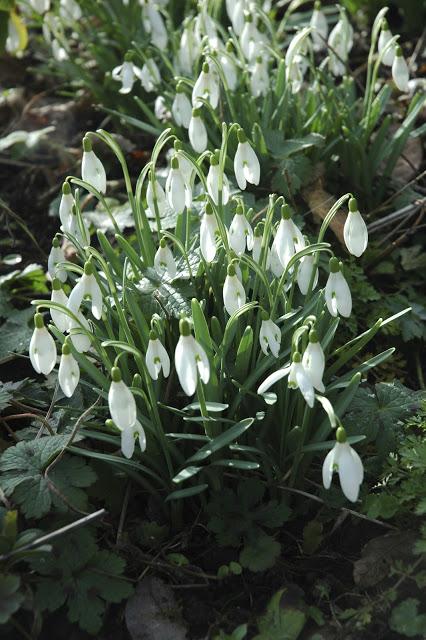 Now they're over, move your snowdrops before the foliage disappears.