Here are our top ten flip flops for men this summer – Happy July! Hopefully you've had a chance to take a day off or get out during the weekend to hit the beach (if you're lucky enough to have one near you).  I finally did today, and I had to wear shoes in the sand because my flip flops had been chewed to pieces by my buddy's dog.  So, I'm looking for a new pair.  I decided to do some research, and now I want at least ten new pairs.  If you're after some flip flops for men, then here are some suggestions.
Havainas Men's Top Flip Flop – $20 – Buy It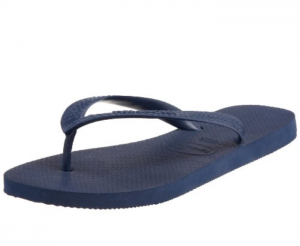 Here's a total classic to kick us off.  Havainas are a brand that has been able to deliver quality at scale, and their crowds of customers stand by the product.  For $20, you're getting a high quality and extremely functional flip flop for your next trip out.
Speedo Men's Pier Flip Flop – $25 – Buy It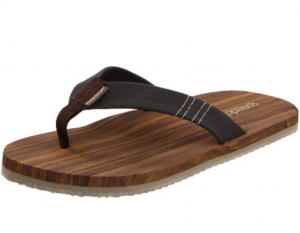 Another highly trusted brand when it comes to surf and swimwear, Speedo is out with a slick flip flop for men that'll look good in any situation. An obvious step up in quality with the fabric strap, your feet will thank you as they trot around in comfort and wood-grained style.
Quiksilver Men's Mesa Sandal – $50 – Buy It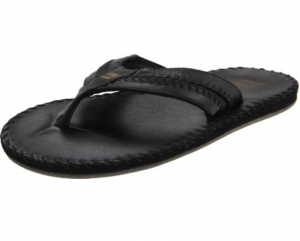 Super leather from Mesa, AZ allows your feet comfort and style.  Whip stitch detailing and a special bottom designed for traction on surfaces wet and dry (excellent for slippery rocks creekside), Quiksilver, another go-to swimwear brand, comes up big on this one.
Nike Men's Benassi Swoosh Slide Sandal – $22 – Buy It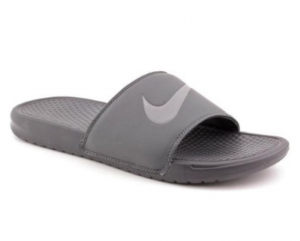 I like these types of sandals because they have those massaging beads on the sole that make it easy to spend some time on your feet without feeling like they're going to fall off (what you gonna do about it?). Most people go black, but how about the gray – it de-emphasizes the massive swoosh without eliminating it entirely.
Volcom Men's Recliner Flip Flop – $20 – Buy It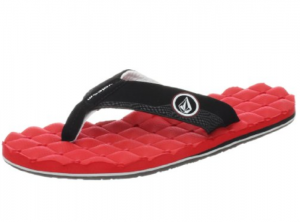 Waffle cut insole and solid construction makes for a comfortable and sturdy flip flop – what more do you need? Style? The signature Volcom look has you covered there, too.  Check the reviews – the words "comfortable" and "sturdy" keep popping up.
Cobian Men's Austin – Buy It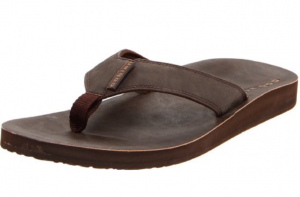 If the Volcoms were a little bit too much for you, consider this much more classic looking pair of Cobains – the dark chocolatey brown goes with whatever summer outfit you throw on in the manliest way possible.  Comes with a molded footbed for instant comfort.
Reef Men's Leather Smoothy Sandal – $30 -Buy It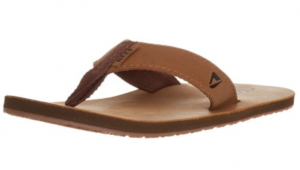 These flip flops toe the line between surf style and something a bit more subdued, making them as perfect for any occasion as flip-flops can get.  Full grain leather manufactured by Reef in Brazil, another well respected and growing surf and lifestyle brand.
Havaianas Men's Power Flip Flop – $33 – Buy It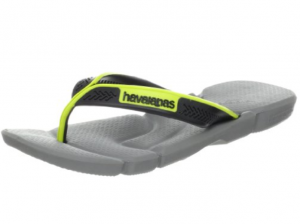 The item description for this pair quotes them as being "bouncy and buttery soft".  I'm pretty much sold, just imagining how that must feel on the feet. Another entry from Havaianas, I think that these are worth the extra 13 bucks.
Freewaters Men's The Dude Sandal – $25 – Buy It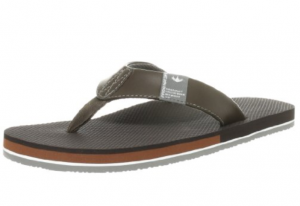 We like this sandal for more than it's name.  It's pretty fresh in terms of style, and made from a lot of environmentally friendly materials.  Also, there is a solid selection of colours – I don't usually have this much trouble figuring out which one is my favorite.
Rainbow Mens North Cove Sandal – $80 – Buy It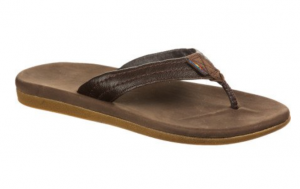 For the dude with a little extra to spend, we present the North Cove Sandal; and it's worth it.  For your money you get handcrafted detailing down to the most minute detail (specially crafted toe piece whaaaaat).  If you haven't heard the Rainbow story, it's pretty cool – the company was kickstarted by a guy named "Sparky" with 200 bucks in a Laguna beach garage, and now they're the benchmark brand in flip flops for men.
For more ideas and men's style inspiration, or for a dive into everything manly, check out the montages on www.dudepins.com.