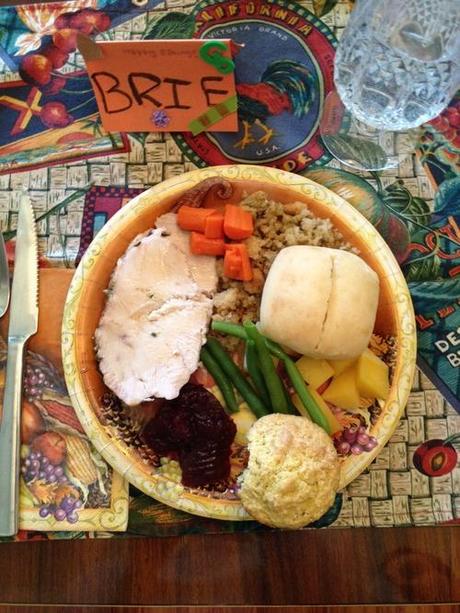 So yesterday I had a very typical Thanksgiving. My family ate a meal of seven types of unseasoned vegetables, buttermilk biscuits, and two turkey breasts from the frozen meat section of the grocery story—my dad "who eats the dark meat anyway?"—at noon. It was over by 12:15pm. Then we all separated to read and nap and play with the dogs until 4pm, when we had a ferociously competitive game of football in the gradually darkening yard. At 5pm, after a surprise touchdown by Caleb to which my father responded by gritting his teeth and pretending he was really impressed, we retired to the kitchen, where we ate two pies, 2 dozen chocolate chip cookies and cupcakes.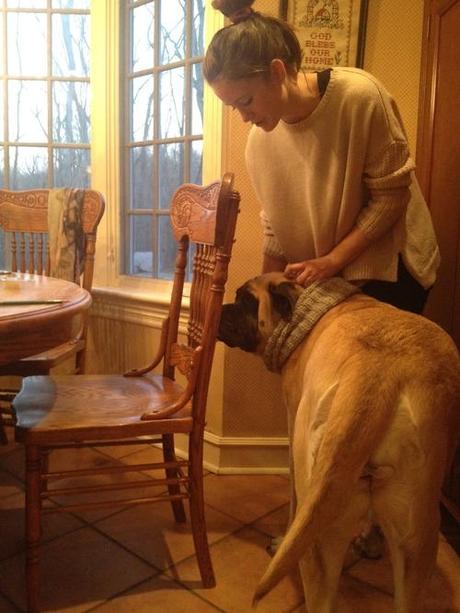 At 6pm, out of options that didn't include illegally downloading television series on our personal computers, we collectively decided to go see a movie. That is, me and all of my siblings over the age of 16. Which is four of us. Of course, all of the movies were sold out, including The Silver Linings Playbook, which I thought would be perfect for us kids considering that it's a romantic comedy about two bipolar people who incessantly talk about kinds of medication they're on (so us!). The only movie not sold out was Flight, a Denzel Washington thriller directed by Robert Zemeckis. "I've heard that's a great movie!" my father roared. I won't divulge why, but let's just say it's because certain things have to remain anonymous.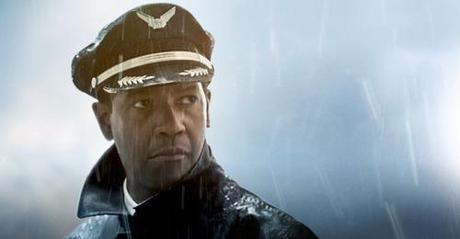 Now, I'd seen previews for Flight, and it looked ok. Like the kind of movie you might watch on an airplane because you're not afraid of airplanes and there's nothing else to watch, but probably wouldn't go catch in the theaters. From the preview, it seemed like a guy who miraculously landed a falling commercial plane, who had a few drinks right before the flight, and almost gets put in jail for criminal negligence even though he's a hero. It has Don Cheadle in it, and shit, and a Rolling Stones heavy soundtrack, and John Goodman wearing a ponytail. "MOVIE FOR MIDDLE AGED MEN," it seemed to say, and I was alright with that.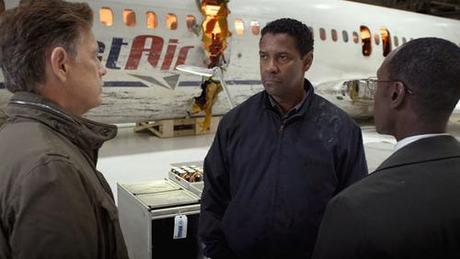 We got to the movie theater 5 minutes before the movie started. "Is it almost sold out?" I anxiously asked the young retarded man (he was seriously retarded) at the ticket counter. "Not even close," he said.
It took about twenty minutes to find out why, but once I did, it became very obvious.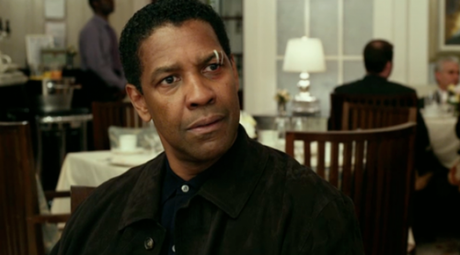 Because basically Flight is a 2 hour, 19 minute long promotional video for Alcoholics Anonymous. Robert Zemeckis, who directed classics like "Forrest Gump" and "Back To the Future" must have just gone into treatment or some shit, because there is no way someone who wasn't a recovering alcoholic could have so soberly beaten an audience over the head with AA rhetoric.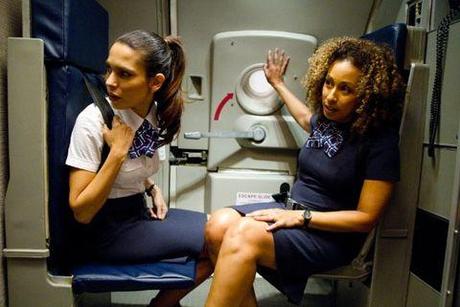 Basically the message of the movie was: "Everyone who drinks is a complete alcoholic, and everyone who doesn't is a God-fearing religious nutjob with the moral upper hand." The message rang true to me, because it was how I was raised, but I still didn't enjoy the movie at all.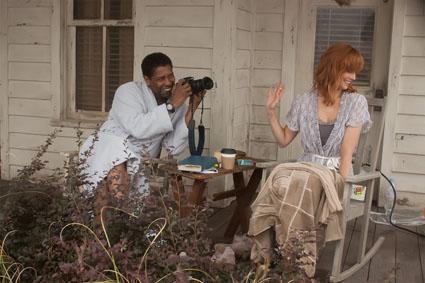 I should have known the movie was going to be terrible when it opened with a shot of a naked lady with a fantastic body climbing out of bed in a destroyed hotel room, and slowly (sexily) getting dressed, while Denzel Washington takes a phone call from an ex-wife demanding for money. That doesn't sound terrible at all, but trust me, it was cheesy.
She unfurls her lacy long; he puts the phone down and take a swill of Miller High Life. She bounces her titties around the room; he takes a hit from a joint. She bends over a chair, and straightens her panties; he snorts a line of cocaine. All of this underlaid with "Paint It Black" by the Rolling Stones. It was so gratuitously ridiculous—sex, drugs, and rock & roll!—that it could not possibly have redeemed itself, not even with a fantastic plane crash.

After the opening montage, Denzel—he has a name like "Chip" or "Wingman" or something in the movie—gets on the plane he is about to pilot, stoned out of his mind. His co-pilot is a nice young man with a 1950s cleancut look, and a small blonde moustache, and the head flight attendant is a woman who manages to reference her church group as soon as she steps in front of the camera. They are the good guys; the type of people you're set up to ultimately emulate; Denzel, who puts vodka in his orange juice in the cockpit, is the bad guy.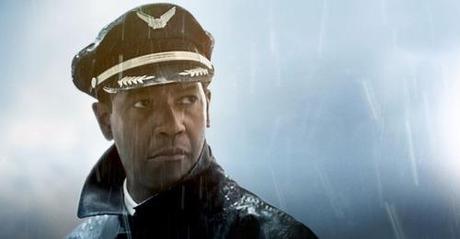 The one good thing about Denzel, besides his aviator glasses, is that he is an amazing pilot. The flight takes off into a horrible thunderstorm, but Denzel, forgoing auto-steering, takes the entire 102 "souls" on board the plane straight through it. Then he takes a little nap, and wakes up to the plane falling 30,000 feet from the sky.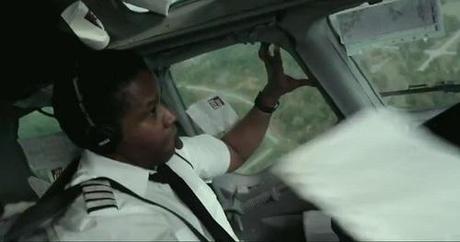 As people scream and roll around the cargo, he coolhandedly rolls the plane into an empty field, knocking a church steeple off along the way. All but six people on board the plane survive; two flight attendants, and four passengers perish.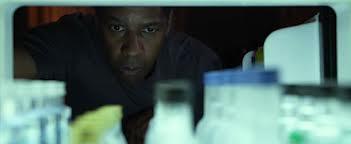 Then for two more hours, you are forced—unless you walk out, as many people did in the theater—to watch Denzel drink himself silly as people around him beg him to get treatment. Oh, also, there's a hot red-headed heroin addict with her own storyline that somehow enters the narrative for twenty minutes after the crash. She tries to save him, only to fail, never to be seen again until a montage of happy photographs in the closing credits.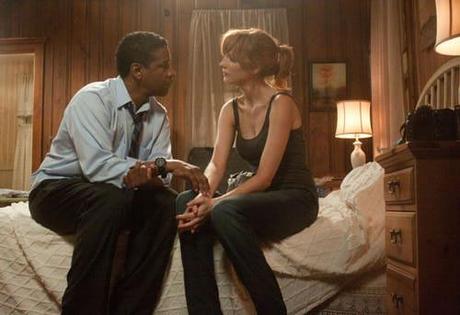 Denzel almost gets put in jail because the toxology report shows that he was drunk when the plane crashed. Even though the crash wasn't his fault at all, he must suffer and pay because that's what alcoholics do. Then the lawyer, played by Don Cheadle, gets the toxology report killed, but Denzel STILL doesn't learn. Then the red-headed heroin addict comes home and Denzel is drunk blubbering but Denzel STILL doesn't learn. Then he drinks a handle of vodka, and gets in a fight with this fifteen year old son but Denzel STILL doesn't learn. Then, finally, he hits rock bottom—he drinks an alcoholic's fantasy fridge full of minibar bottles of alcohol in the hotel room before his hearing regarding his drunkeness on the flight—but he STILL doesn't learn and John Goodman has to come and wake him up with $500 worth of cocaine. WHAT?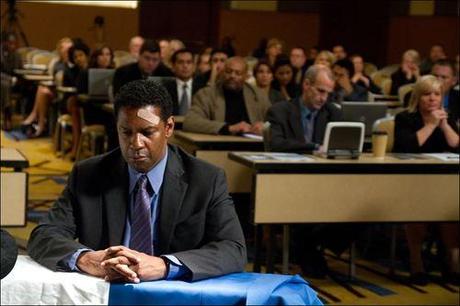 The whole time you're just like, "No, Denzel, don't do it!" And after the seventh time you're like, "Overdoes already." And then after the seventeenth time you're like, "Ugh, how long can 2 hours and 19 minutes possibly last!"   
But I guess if you're in AA, you're sitting there the whole time and being like, I was with you brother. It's not you, it's the disease. You don't have control, the substance does. You think you can stop, but you can't, not until you take personal responsibility. When it was over, they patted their sponsor on the back, and went home for a seltzer water.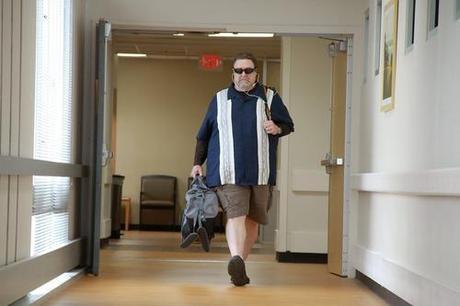 Whatever you do, unless you want to feel really vindicated for the life decisions you made in AA, do not go see it. It's kind of like sitting next to a drunk guy at a dive bar, and watching him drink himself to death while you beg him not to have another shot, only to have him, right before you're about to go home, suddenly sober up and act like God has been in him all along, leading him to this moment, so that he can preach to you about personal responsibility, humility, and how you're probably also an alcoholic. I buy the message, because it's ingrained in me, but I certainly didn't want to watch a movie about it. I honestly don't even know why an alcoholic would either.