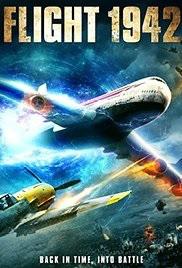 Director: Emile Edwin Smith
Writer: Jacob Cooney, Bill Hanstock (Screenplay)
Starring: Faran Tahir, Aqueela Zoll, Matias Ponce, Harwood Gordon, Robbie A Kay
Plot: On a journey that will change their lives forever, the passengers aboard Flight 42 are forced to fight in one of the greatest battles in history, World War Two. Trouble is, this is one struggle they could have never predicted… having taken off in 2015.
There may be spoilers the rest of the review
Verdict: Impressive
Story: Flight 1942 starts when Flight 42 piloted by William Strong (Tahir) was on a routine flight when a sudden storm cloud appeared on front of them where they go through what seems like a vortex into sudden darkness. After passing through all the technology used seems to have gone offline and to make matters worse Strong and his co-pilot Daniel Prentice (Ponce) no radar.
Strong has to use all of his experience to figure out where they are but the first land they discover a city suffering an air raid from World War II era. With tension rising on the plane it is up to two history professors who happen to be experts on World War II and a British Soldier Corporal Nigel Sheffield (Kay) who is the only communication the pilot has.
Flight 1942 gives us a concept that does everything you would like to see in a time travel style film, having it on the plane means no one can get off to change history but the thing that could change time is the plane itself. We do address this during the film which all works without getting too involved as we need to work out how to get back. This all works for a story that just pulls us in with interest in how they will get out of this situation.
Actor Review
Faran Tahir: William Strong is the pilot of this flight, he doesn't believe in what is happening but once he sees it for himself he must use his experience to avoid changing the course of history forever while trying to keep the passengers calm. Faran is a good strong leading performance in this role.
Aqueela Zoll: Cameron Hicks is the air stewardess that has to keep the passengers calm while liaising with the pilots during this unusual situation. She shows her strength in when the passengers get out of hand. Aqueela is good in this supporting role where she stays clam.
Matias Ponce: Daniel Prentice is the co-pilot that has a slightly more open acceptance that this is time travel, he is very helpful when it comes to questioning each decision William makes. Matias is a good in this supporting role.
Robbie A Kay: Corporal Nigel Sheffield is the communication on the ground a member of the British Army during World War II who has to first believe their story before helping them find their way home. Robbie is good like most of the supporting cast in this film.
Support Cast: Flight 1942 has a good supporting cast and the fact no one is a well-known name you don't know who would survive.
Director Review: Emile Edwin Smith – Emile gives us one of the most interesting concepts for a film I have seen in years and one that keeps you on edge from start to finish.
Action: Flight 1942 has good wartime dog fight style battles going on when needed to add more peril to the story.
Sci-Fi: Flight 1942 takes us into a sci-fi story by taking our characters back in time for the most impossible idea where we get the time travel changing history idea.
War: Flight 1942 puts us in the middle of World War II as we see how this flight gets a front row view to the events.
Settings: Flight 1942 creates the settings that shows us over the warzone with no one leaving the plane mid-flight.
Special Effects: Flight 1942 doesn't have the best effects but does enough for what is needed.
Suggestion: Flight 1942 is one I would be recommending to anyone to try, I was surprised with much I became drawn into the story. (Try It)
Best Part: Concept is great.
Worst Part: Final moment seems forced.
Believability: No
Chances of Tears: No
Chances of Sequel:
Post Credits Scene: No
Oscar Chances: No
Runtime: 1 Hour 25 Minutes
Tagline: Back In Time, Into Battle
Overall: Very good sci-fi thriller that will keep you attention throughout.
Rating