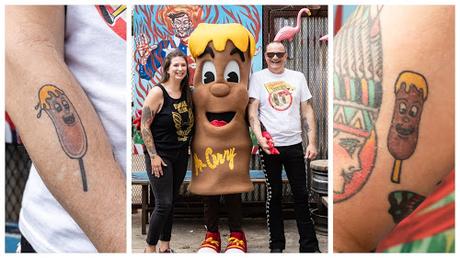 National Tattoo Day is celebrated on July 17th to recognize the history, culture, and artists dedicated to etching ink permanently on the skin. How far will consumers go to pay tribute to the brands they love? Apparently, pretty far. When Fletcher's Original Corny Dogs discovered that Double Wide Bar in Deep Ellum had not one, but TWO bartenders, with corny dog tattoos they knew they had to do something fun to celebrate it. Enjoy the video tribute below!  "Anyone who knows me knows that I love corny dogs more than any other food. The only reason I even go to the State Fair of Texas is to get my Fletcher's fix. It's like Christmas Day for me!" said Mike Trujillo."I got a Mr. Corny tattoo because I've eaten corn dogs all over the country and Fletcher's Original Corny Dogs are the best." 

"My Mr. Corny tattoo represents so many great memories from my childhood," said Elizabeth Mitchell. "From sitting on my Father's shoulders as we walked around the State Fair of Texas, to dates as a teen walking around with arms awkwardly locked, and always trying to find the perfect angle for that photo of my Corny Dog in front of Big Tex. Eating a Fletcher's Corny Dog has always been a tradition I look forward to." 
For 78 years, Fletcher's Original Corny Dogs has delighted fans with their corny dog creation - a high-quality hot dog on a stick, hand-dipped into Fletcher's proprietary cornmeal batter and deep-fried until it's golden brown. Fletcher's has fed celebrities and dignitaries from around the world, including Oprah Winfrey, the Jonas Brothers, Emmitt Smith, Mikhail Gorbachev, Julia Child, Dirk Nowitzki, Mario Lopez, and Gov. Rick Perry to name a few. The State Fair of Texas may be closed for 2020, but you can still get your Fletcher's fix at pop-ups throughout North Texas. For more information on where Fletcher's will be next, visit https://fletcherscornydogs.com.