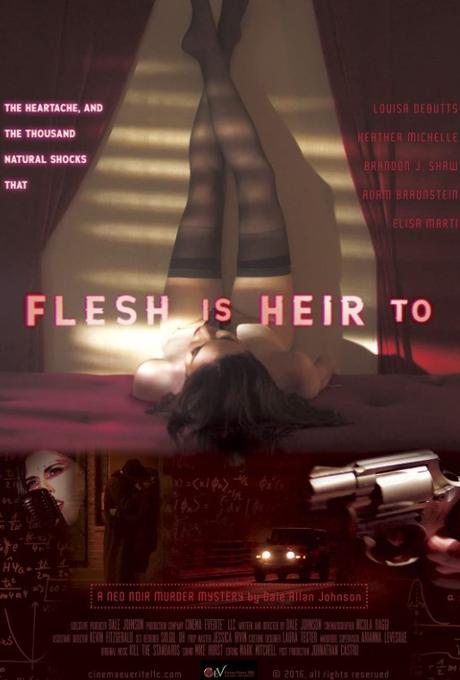 Director: D. Allan Johnson, Dale Johnson
Writer: D. Allan Johnson (Screenplay)
Starring: Heather Michelle, Brandon J Shaw, Elisa Marti, Richard Brundage, Adam Braunstein, Louisa DeButts
Plot: This erotic neo noir mystery centers around Cece Blair, a young theoretical physicist who starts having paranormal visions upon returning from her universe bending Collider Work in Switzerland. Benign at first, her visions take a dark twist when she witnesses a male patron in a restaurant suddenly become a violent imaginary murderer.
Runtime: 1 Hour 20 Minutes
There may be spoilers in the rest of the review
Story: Flesh Is Heir To starts when new detective Charlie Black (Michelle) takes taken into the force, where she must learn from Captain Walker (Braunstein). CERN employee Cece (DeButts) finds herself having horrific visions of murders happening in front of her eyes. Trying to figure out what is happening, she is left to go in search of the truth, turning to Charlie to potentially investigate a real murder.
Cece looks to get close to the potential serial killer, as she searches for answers, while Charlie is trying to get the case into the light of day within the police force. Can either of them stop this mystery killer before he strikes again.
Thoughts on Flesh Is Heir To
Characters & Performances – Charlie Black is looking to break the barriers in the police force, she can handle herself in a male world and is the one that is willing to listen to Cece's story and try to make a case out of what is only seen as a dream. Heather Michelle does well in her role here, showing the strength in dealing with the male world. CeCe is the scientist returning from working on the CERN collider, she starts experiencing visions in her everyday life, ones that turn murderous, leading to her trying to figure out what is going on, putting herself in the middle of a dangerous situation. Louisa DeButts does bring her character to life with ease, needing to give us the more difficult reaction scenes of shock of what she is witnesses. The rest of the cast bring us mysterious stranger that Cece sees in her visions along with Captain Walker that is showing Charlie the ropes.
Story – The story here follows a rookie detective investigating a series of vision a CERN scientist is having that involve a serial killer, with the two going their own ways about trying to solve the mystery. In the core of the story this is an interesting idea that could bring together the unknown results of the CERN collider with a murder mystery, which is by far the most interesting side of the story. When this is an interesting side of the story, getting to the deeper side of the story doesn't come easy, with moments that more filler conversations that don't connect the bigger picture, which will bring the interest behind everything down more. We also add in a lot of random art filled shots that doesn't seem to be connected to the story going on around them.
Themes – Flesh Is Heir To is a murder mystery thriller that will give us an interesting idea behind what could be causing the mystery, this will have minor elements of sci-fi and horror too. When it comes to the locations we get the unusual idea of having the crimes seen in very public places for the visions, before returning to the more traditional locations for the crimes.
Flesh Is Heir To is wonderful idea for a story that gives us a fresh approach to the murder mystery story.