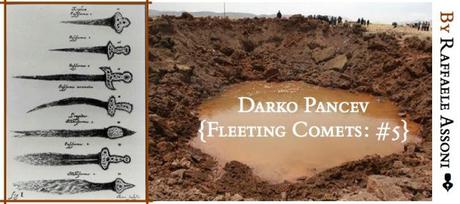 I am very happy for this transfer. To the Champions League I will return next year, but with Inter. I know that the competition will be ruthless, but that is rather fine, because, as for most goals, the more difficult it is, the juicier its taste, once you reach it. [. . .] My strength is speed in the area; when the ball comes near me, it's not lost. [. . .] In Yugoslavia, I have been top scorer of the championship four times: I'm not saying it will be as light in Italy, I am aware of the difficulties, but wait before judging me. Inter has a very powerful attack: Schillaci, Sosa and myself can score goals in bunches. [. . .] I have a special gift, shared by few: I score. And the goals are especially good for a team like Inter that has a hard time finding the back of the net.
From 'Cobra' to 'Lizard' the step was very short. Too short. Darko Pancev, a Macedonian striker born in 1965, was one of the many stars of Red Star Belgrade, alongside Dejan Savicevic, Dragan Stoijkovic, Robert Prosinecki, Vladimir Jugovic and Sinisa Mihaijlovic, able to win in 1991 the Championship in the former Yugoslavia as well as the Champions League, on penalties against Olympique Marseille in Bari, and the Intercontinental Cup in Tokyo with a 3-0 against Colo Colo. Pancev moved the attention of major European clubs; most determined among them, Inter and Milan. AC Milan made him sign a pre-contract, only to decide to let him free because they wanted Dejan Savicevic. So Inter, in 1992, took advantage of the situation. The Cobra had just won the Golden Shoe as the best European scorer and ranked second in the Golden Ball behind Lothar Matthaus.
Pancev was the coup of that market and, judging by the numbers which accompanied him, Inter fans were allowed to daydream. Between Vardar (where he debuted in 1982) and Red Star he had scored 156 goals in 243 games. At Inter, he played for 3 seasons, between 1992 and 1995 (with one goal in two leagues), and after a loan-period at Leipzig in Germany, he returned to Milan, where in just seven appearances he scored twice. At that point, he was sold to Dusseldorf in Germany where he continued the incredible evolution that led him to emigrate after one year in Switzerland, to Sion, where he closes his career in 1997 at only 32 years.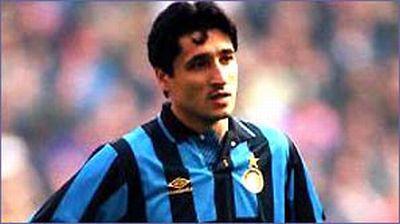 A striker able to score many goals from every position, Pancev was quick and responsive, the ultimate box-robber, the perfect terminal for those fairy-footed midfielders. With Savicevic and Prosinecki behind, he could finalize everything those two created. At Inter, problems were immediately apparent. The team coached by Osvaldo Bagnoli was rather poor and lacked in that finesse that had allowed him to keep up his average realization. Shalimov, Berti, Sammer, and White could not serve him well, and they struggled to find a killer pass. But Pancev himself missed sensational goals and often embarrassed his teammates. The first curious incident which comes to mind is from the second day of the season '92-'93: Inter-Cagliari, Alessandro Bianchi crossed from to Pancev, who, alone in front of the goalkeeper, returns the ball to Bianchi in grotesque fashion. So it was that the Cobra was ironically renamed Lizard. Mocked by the San Siro fans in the terrace, he began to find little space and was no longer called by the coach.
He moves little, but when he strikes, he is an infallible sniper (Salvatore Schillaci, after the transfer). The Macedonian is a great opportunist, he deserves my trust (Osvaldo Bagnoli, at the beginning of the season). His mentality has to change, if he wants a safe place in the team. Must participate more to the action and go back when needed. I know he can make it and I will insist on this. Milan managed to do it with Van Basten, who now moves more and changes position with Papin, I do not see why it should not happen with Pancev (Bagnoli, during the season). I understand Pancev. It happened to me last year. I'm sorry that you have made ​​so much noise about his errors (Ruben Sosa, fellow striker at Inter). I understand, he has played a lot this way, scored a lot and won a lot. But I expect more. He may be Slavic, I am from Milan. And here we're not idiots [pirla]. He must understand that at Inter he can play differently (Bagnoli). In nine years as a professional I have played with many coaches and I've tried many schemes. I've always done well, I always won. I do not understand why I cannot find space in Bagnoli's patterns. Two seasons ago I scored a lot of goals in friendlies and in the Italian Cup Italy. I'm not mediocre, I'm misunderstood (Pancev to the press).
The original Italian version of this entry is available here.