Next to leather and burgundy, there's another trend I've spotted while checking out this fall's runway trends. Metallics are hot this season. Mostly silver and gold, but also black metallic and bronze. Seeing metallic on the runway, I definitely like it. It looks very chic, shiny and glamorous. But I've also spotted some metallics in the (more affordable) stores. And I have to say, while holding a pair of silver shorts, I wasn't so sure if I really like this trend. It's so.. shiny! I do like my accessories to shine, but my pants? I'm not convinced yet. However, I looked into my closet and saw that I still had a shirt dress in black metallic! I've had it for 2 years and I'm glad I never got rid of it, since it's totally hot this season. Black metallic: love it. Silver and gold? I don't think I'm ready! But then again, I spotted a girl on Voltt Festival yesterday wearing gold metallic jeans, and it kind looked really good on her. Maybe I should just give it a try.. For those of you who want to rock the metallic trend themselves, I have made a selection of affordable items. Would you wear metallic?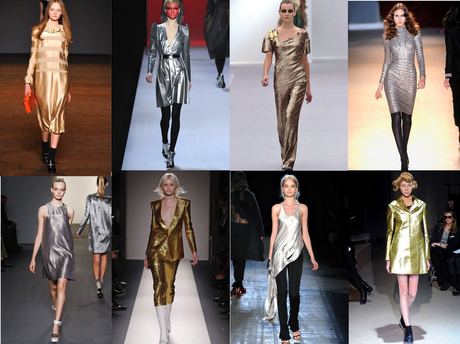 From left to right (all Fall 2011 Ready to wear)Marc by Marc Jacobs   /   Viktor & Rolf   /   Just Cavalli   /   Zac PosenCalvin Klein   /   Balmain   /   Alexander Wang   /   Comme des Garcons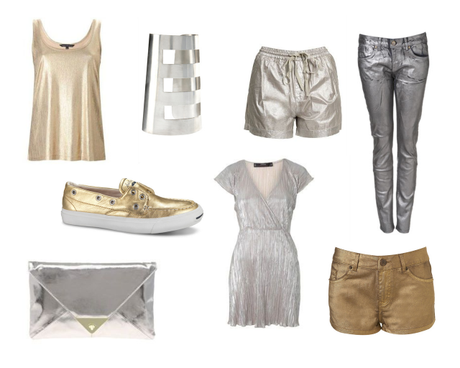 From left to right:Top   /   French ConnectionCuff   /   ASOSShorts   /   H&MMetallic jeans   /   Topshop Sneaker   /   ConverseClutch   /   ASOSDress   /   Miss SelfridgeShorts   /   Topshop
PS. Tomorrow I will post a big streetstyle post about fashionable girls in great outfits that I spotted yesterday on Voltt Festival!