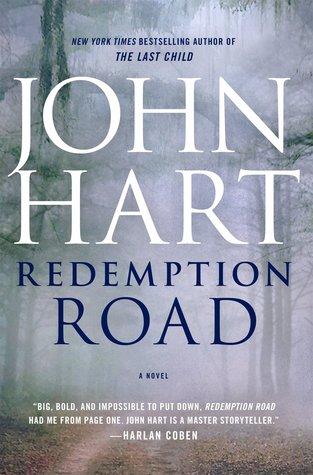 ABOUT THE BOOK:
Over 2 million copies of his books in print. The first and only author to win back-to-back Edgars for Best Novel. Every book a New York Times bestseller.
Now after five years, John Hart is back with a stunning literary thriller.
Imagine:
A boy with a gun waits for the man who killed his mother.
A troubled detective confronts her past in the aftermath of a brutal shooting.
After thirteen years in prison, a good cop walks free. But for how long?
And deep in the forest, on the altar of an abandoned church, the unthinkable has just happened…
This is a town on the brink. This is a road with no mercy.
After five years, John Hart returns with Redemption Road, his most powerful story yet.
MY REVIEW:

Redemption Road by John Hart
My rating: 5 of 5 stars
Redemption Road by John Hart is a 2016 Thomas Dunne publication.
I don't live under a rock, I promise, but I always have my face in a book, desperately trying to work through my ridiculous TBR pile. So, sometimes authors slip past my radar, even when they are back to back Edgar winners, like John Hart. I am just now getting around to reading one of his books, but with so much positive press behind him, I was confident I was in for a real treat.
Elizabeth Black, is a well -respected cop with an impeccable record, until she makes a spontaneous decision that has her under fire by the press, the state police, her partner, her superiors, and her father, who is a minister. But, that's not her only problem by a long shot. Her former idol, Adrian, also a cop, who has spent the last thirteen years in prison, has been released early for good behavior, but his freedom is very short lived, and he soon finds himself the prime suspect in another murder, and on the run. Elizabeth always believed in his innocence and still carries a torch for him, but helping him could cost her everything.
Without having read his previous books, I can't make any comparisons, but I believe this book certainly lives up to the high standard set for it.
Deemed a literary thriller, this story delves into the murky waters associated with the prison system, rogue cops, and religious zealots.
The innocence of children and their victimization is a key theme in the story as several threads come together exposing horrendous crimes that have far reaching consequences.
Elizabeth Black, is a character I will not forget anytime soon, but the supporting cast is also stellar, each bringing a crucial element to the story. I felt compassion, righteous indignation, and even fury on more than one occasion, on behalf of these characters, but I also came away with a lot of respect for them too.
This crime thriller has everything fans of the genre crave, but it is layered with a rich texture of emotions that touched every nerve fiber in my body. It's creepy, suspenseful, with plenty of shock and awe, but has a human element to it that is often absent from the standard thriller.
While, it is difficult to provide too much in depth analysis due to the possibility of giving away a key plot twist, I can say I felt some uneasiness due to a few free passes, and was left scratching my head about the attitude of some secondary characters, but overall, I felt the key players came away with something they never really had before, which gave me a feeling of fresh hope even if their circumstances are flawed. So, all in all, I was quite impressed with this story and the author is certainly deserving of all the accolades.
Now that I have experienced John Hart's writing, which is amazing, by the way, I intend to go back and enjoy more of his

 work 

post haste!
LISTEN TO AN EXCERPT:
GET YOUR COPY HERE:
https://www.amazon.com/Redemption-Road-Novel-John-Hart-ebook/dp/B015WAWOJC
http://www.barnesandnoble.com/w/redemption-road-john-hart/1122292973
ABOUT THE AUTHOR: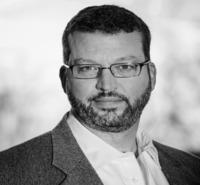 JOHN HART is the author of five New York Times bestsellers, The King of Lies, Down River, The Last Child, Iron House and, most recently, Redemption Road. The only author in history to win the best novel Edgar Award for consecutive novels, Hart has also won the Barry Award, the Southern Independent Bookseller's Award for Fiction, the Ian Fleming Steel Dagger Award and the North Carolina Award for Literature. With over two million copies in print, his novels have been translated into thirty language and can be found in over seventy countries. "My only real dream," John declares, "has been to write well and to be published well."
Hart was born in Durham, North Carolina in 1965, to a young surgeon and French teacher who quit teaching to raise her children. His parents divorced, yet, as he attests, his childhood was remarkably carefree. "My favorite memory of childhood is a five hundred acre farm where my friends and I would have adventures and get lost for days," he reflects. After high school, he attended Davidson College, just north of Charlotte, which he describes as a "marvelous school." He studied French literature and briefly lived in Paris and London. Upon returning home to North Carolina, he settled in Rowan County, where his first two novels are set, and on which the fictional Raven County is based. He earned graduate degrees in accounting and law where, after days of slogging through course work, he would find release through writing.
A former banker, stockbroker and criminal defense attorney, Hart now writes full-time. "I admire those who are able to write at four in the morning and still function in the real world," he states. "After two failed attempts, I decided that I lacked that particular talent." Shortly after the birth of his first child, John left his law practice to take a stab at chasing the dream of writing novels for a living. He spent nearly a year in a carrel at the Rowan County Public Library. The result was his debut bestseller, The King of Lies.
John Hart has three great passions: his family, his writing, and the protection of open spaces. He lives in Virginia with his wife and two daughters, and is already writing his sixth novel, a sequel to The Last Child.
CONNECT WITH JOHN:
Website: http://www.johnhartfiction.com
Twitter: https://twitter.com/JohnHartAuthor
Facebook: https://www.facebook.com/johnhartauthor
Instagram: https://www.instagram.com/johnhartauthor/