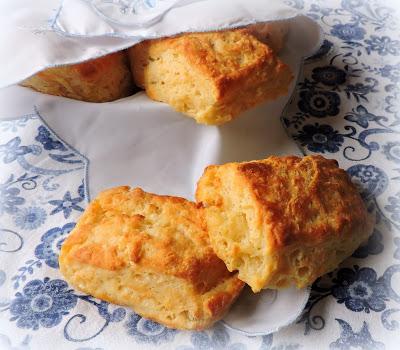 These are biscuits as in the North American type of biscuits.  Not cookies. Not scones.  Biscuits. Similar to a scone in many respects, but totally different in many others.  For the most part biscuits are savoury, whilst scones are somewhat sweet.  Both are quick breads, in that they use baking powder and or soda for a leaven instead of yeast and don't require  a long rising time.  In the UK biscuits are what are known as cookies in North America.  Are you confused yet?  I hope not!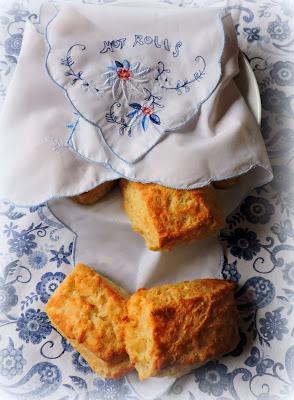 A holiday meal gave me the opportunity to use this lovely bread cloth that my friend Monique sent me for my birthday in August. Its so pretty don't you think?  I didn't have a bread cloth to line my bread basket.  I have been using a napkin, so it was really lovely to have a proper bread cloth to use this time around. Thank you Monique!  I know that I thanked you at the time, but I don't think it hurts to thank someone more than once!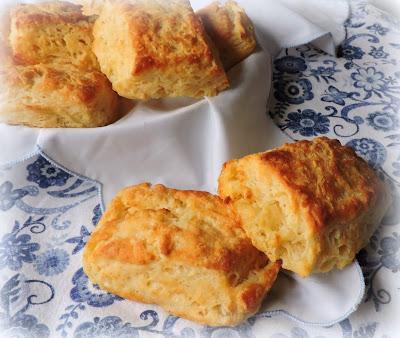 These lovely biscuits are a beautiful addition to any holiday meal.  They are incredibly light and fluffy and very moist, not dry.  There is a hefty amount of butter in them which gives them buttery flaky layers  . . . mmmm . . . .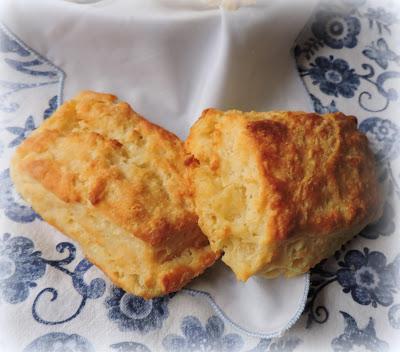 At the same time the buttermilk helps to make them moist and to rise even more than usual biscuits.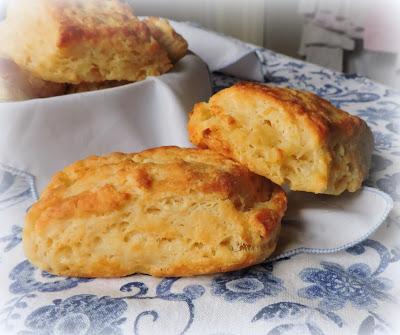 They are quick to make, which makes them a great addition to a family meal when you are busy doing all sorts of other things.  Having a bread that you can throw together at the last minute just makes sense!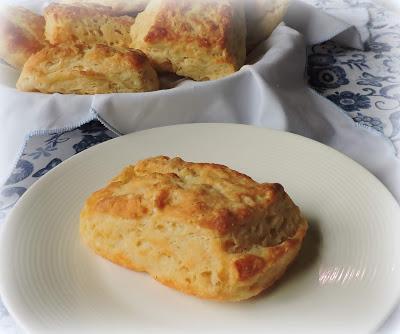 And there is NO waste. No re rolling of scraps, Nada  . . .  you just pat the dough out, and cut into rectangles with a sharp knife!  Easy peasy!  A final brush with some melted butter just prior to baking seals the deal.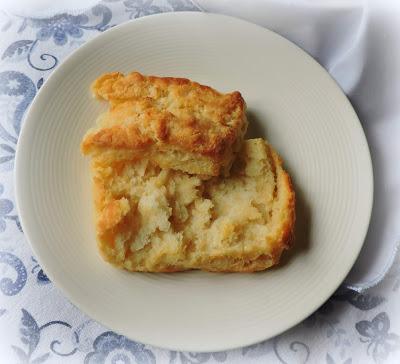 Just look at those beautiful  flaky layers  . . . .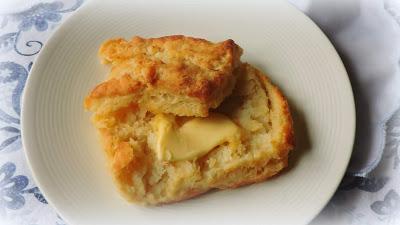 Of course you are doing to want to eat them while they are warm  . . .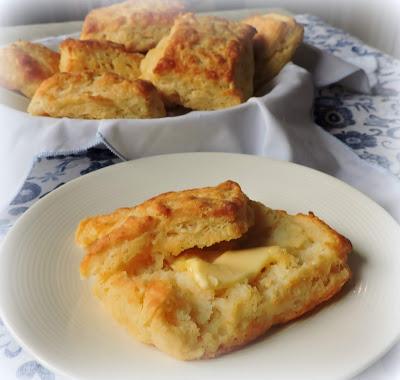 Spread with even more butter  . . .  oh so tasty!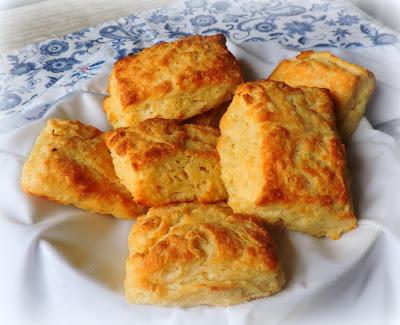 I confess . . . one of these didn't even make it to the table.  I enjoyed a sneaky snack in the kitchen with some butter and jam.  Oh boy  . . .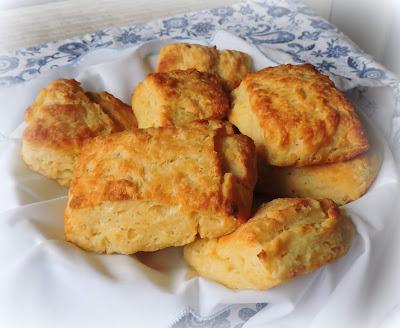 More than a bit naughty of me  . . .  but, very  . . .  very nice!  Adapted from
a recipe
found on Land O' Lakes.
Yield: 8
Author: Marie Rayner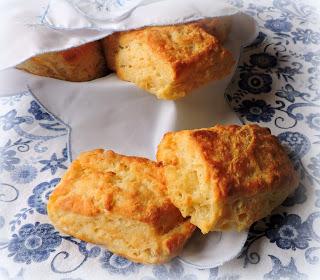 Flaky Butter Biscuits
prep time: 15 mins
cook time: 13 mins
total time: 28 mins
Light, tender and oh so flaky buttermilk biscuits. Serve warm with lashings of butter for spreading!
ingredients:
280g plain flour (2 cups)2 tsp baking powder1/2 tsp salt152g cold butter, cut into bits (2/3 cup)240ml buttermilk (1 cup)2 TBS butter, melted
instructions:
Preheat the oven to 230*C/450*C/gas mark 7.  Line a baking tray with paper. Set aside.
Sift
 the flour into a bowl along with the salt and baking powder.  Drop in
the butter, Cut in with a pastry blender or a fork until the mixture
resembles coarse crumbs.  Stir in the buttermilk with a fork, until just
 moistened.  Tip out onto a lightly floured board and knead gently 10
times.
Roll or pat out into a 6 by 9 inch
rectangle that is approximately 3/4 inch thick. Using a sharp knife, cut
 into 8 rectangles.  Place on the baking sheet, leaving 1 inch in
between each.  Brush with the melted butter.
Bake for 12 to 13 minutes until light golden brown.  Try not to over-bake.  Serve warm with plenty of butter for spreading!Created using
The Recipes Generator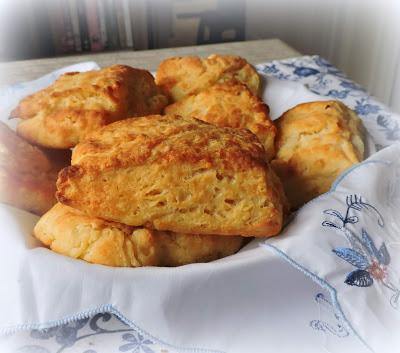 Because there are only two of us, I am looking forward to having another sneaky one this evening with a hot drink while we snuggle down in and start the beginnings of our Christmas movie viewing for this year.  What will it be?   I think
"The Holiday"
will go very well with one of these, don't you?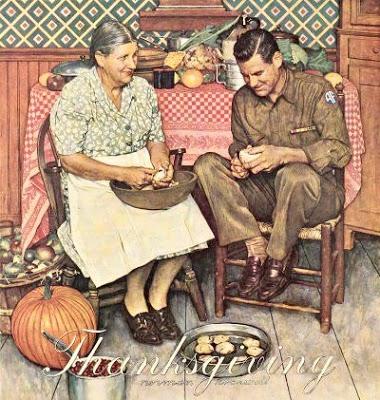 Happy Thanksgiving! May you be surrounded by all that you hold dear!