Over the last 5 days we've covered another 2000 miles going from Richmond, KY to Rapid City, SD. Our trip has taken us through 7 different states as we've crossed through the Midwest. We've seen some awesome sights, met some wonderful new friends, and enjoyed all the lush colors of Fall.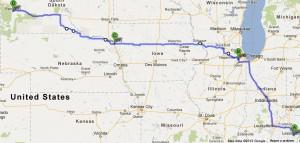 Our Route from Richmond, KY to Rapid City, SD
We left Richmond, KY and took I-75 North towards our pet-friendly hotel in the Chicago suburb of Bolingbrook, IL. While we do typically avoid the interstate we had a ton of miles to cover and were really looking forward to getting to Chicago. We heard it was a wonderful city and wanted to spend as much time there as possible. The drive was beautiful and gave us an opportunity to see lots of Fall foliage as we drove through the Indiana and Illinois countryside.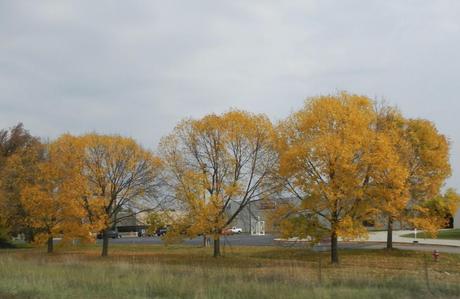 We got off of the interstate south of Chicago and cut thought the suburbs on our way to Bolingbrook. It was a great way to avoid a bunch of toll roads and enjoy the different landscape. We made it to our La Quinta Inn, prepped our room for the doggies, then went for a drive to scrounge up some Chinese food. I know Chicago is all about Hot Beef, but we figured we'd save that for the next day in the city.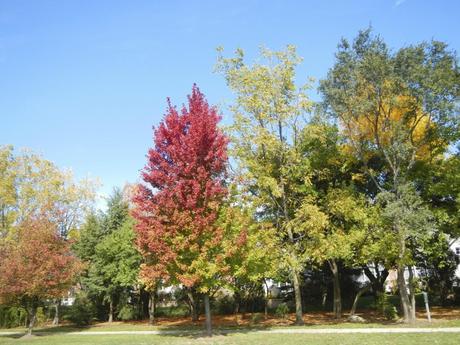 The next morning we woke up, and decided to do something completely different from what we originally planned. It's one of the great benefits of traveling the way we do. Instead of going into the city first thing in the morning, we chose to visit The Scarecrow Fest, in St. Charles, IL. Florida isn't a great place for Fall Festivals, so we took advantage of the location and timing and decided to do something fun and pet friendly.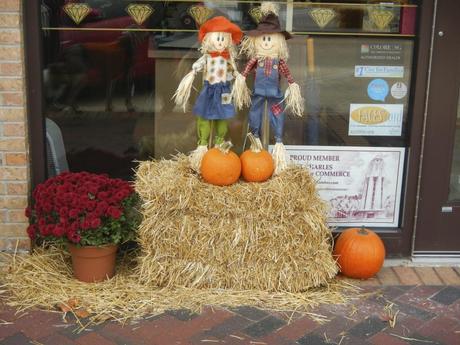 After we had our fill of the Fall Festival, and saw more scarecrows than we could ever imagine, we went back to our hotel to drop off the doggies. We then headed out to the city to see some sights and get some dinner. As usual, our plans changed when we found out some friends of ours from Miami were in the city.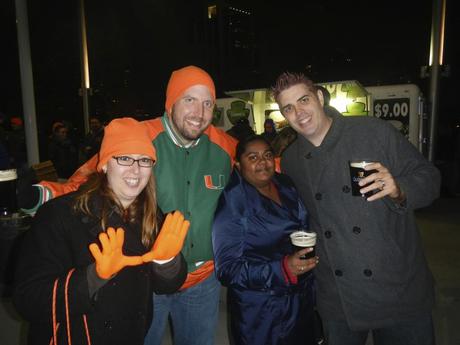 Lauren and I with our Miami friends Dan and Jessica
Instead of dinner and a walk around the city we ended up having the night of our lives! First we found ourselves tailgating outside of Soldier Field where we made some new travel friends.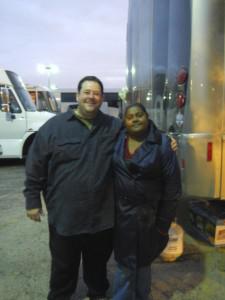 Lauren with our new friend Murph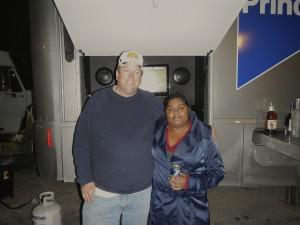 Lauren with Bill – CEO of Varsity Motorcoach
Then we picked up some scalped tickets for the Shamrock Series Notre Dame vs University of Miami football game, where we met up with our friends  Dan and Jessica.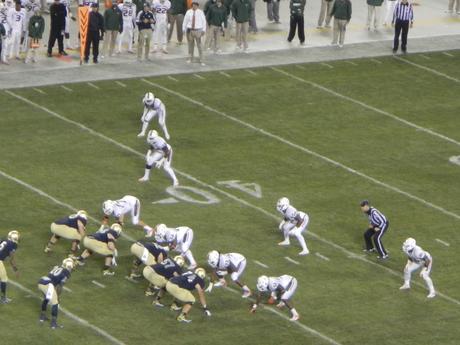 We the wrapped up the evening with some hot beef sandwiches at the famous Portillo's in Chicago.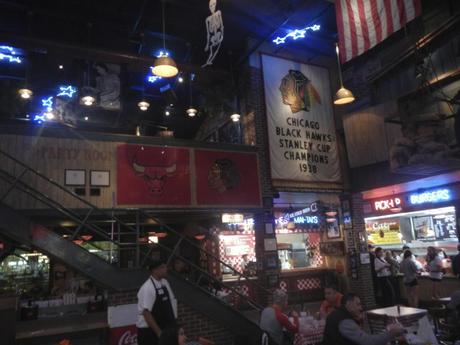 Portillo's Downtown Chicago
After such wonderful day in the city it was hard to leave Chicago. We decided to take the advice of our new traveling friend Bill and follow his route out of the city. We took HWY 20 West through the Illinois countryside and headed towards Galena, IL. The scenery was beautiful and we drove through some neat little towns with lots of little antique shops and cafes.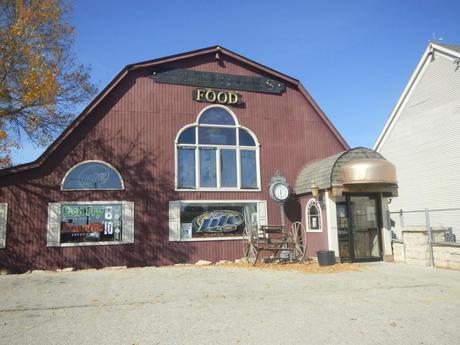 Once we crossed over into Iowa we continued along HWY 20 and flew to Sioux City. Sadly, I must admit, Northern Iowa leaves much to be desired when it comes to great road trips. We hit our hotel in Sioux City late that evening, slept and then kept rambling the next morning.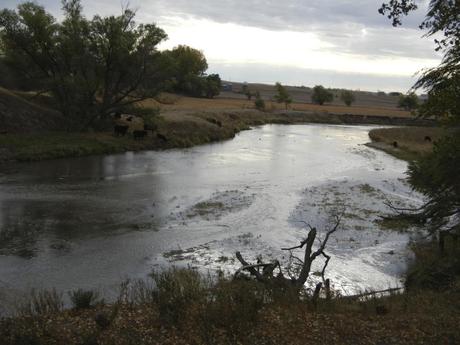 Creek in the Nebraska Countryside
We decided to take advantage of our proximity to the Nebraska border and took a route west via State HWY 12 through Northern Nebraska. We found ourselves driving along the Outlaw Trail in addition to portions of the Lewis and Clark trail. It always makes us feel like a couple of pioneers when we drive along a historical route. The trip was filled with picturesque farm houses and rolling corn fields.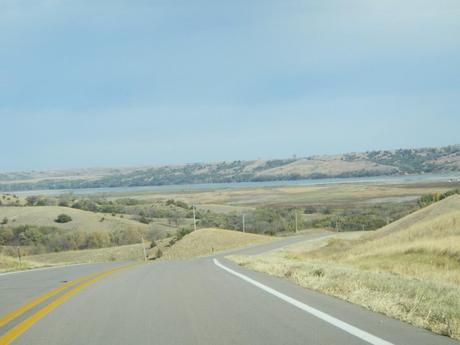 Miles of Nebraska Farmland
Once we cut into South Dakota we burned along the Interstate with a fun speed limit of 75MPH, I must say the GTI's turbos were loving the speed and the cool all air! While cooking it along the highway make sure to stop in Wall, SD for a neat pit stop. It's a little tourist town that has tons of historical stores and lots of photo ops.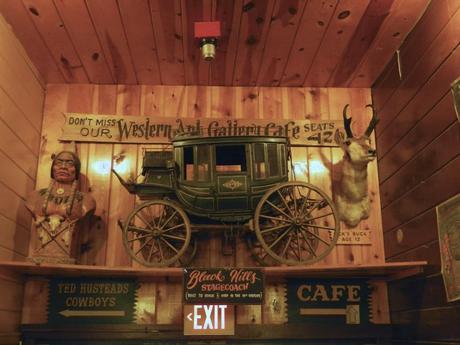 Wall Drug in Wall South Dakota
After Wall we made it to Rapid City, SD and settled the doggies into our hotel. Rapid City is right in the heart of the Black Hills and is close to Mt. Rushmore  other great family friendly attractions. We decided to check out downtown Rapid City and found a great meal at Firehouse Brewing Company. We had some local brews and by chance met up with some fellow travelers at the next table. They were taking a motorcycle tour through the countryside!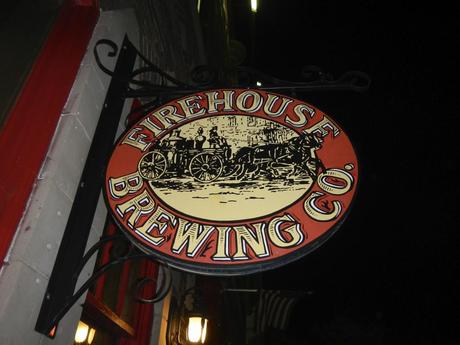 Firehouse Brewing Co Rapid City SD
To us this is what road tripping is all about. Great food great scenery and meeting wonderful new people. We finished off the evening with a short stroll and then went back to the hotel to get some rest.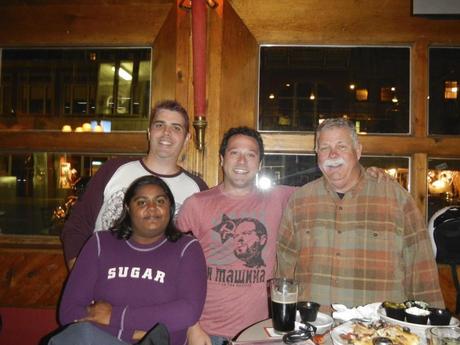 Lauren and I with our new friend Taylor and his dad

Here's a gallery of what we saw on the road for this leg of the trip. Enjoy and please share your own adventures below.


Rural Kentucky
Welcome to Indiana
Welcome to Illinois
On our way to the city
Fall in Illinois
St Charles Illinois
Make your own scarecrows!
My favorite Scarecrow at Scarecrow fest St. Charles Illinois

Downtown Chicago Illinois
Chicago Traffic | Illinois
Chicago Skyscrapers | Illinois
Lauren with Bill – CEO of Varsity Motorcoach
Lauren with our new friend Murph
Kenin at the Miami vs Notre Dame game
Our Friends Dan and Jessica
Miami vs Notre Dame
Portillo's Downtown Chicago



Illinois Farmland

Welcome to Iowa
Lauren was bored in Iowa
Ready to get back on the road!
Entering Nebraska from Sioux City IA

Windmill tribute in Nebraska
The view from the car in Nebraska
We're outlaws!
Roadside Statue of Liberty? Nebraska

Nebraska Countryside
Welcome to South Dakota
This used to be a bank in South Dakota
This is an actual motel in South Dakota!
The owner claims it was in Dances with Wolves



The Infamous Jackelope Statue in Wall Drug | Wall SD

Another Gator!


Lauren and I with our new friend Taylor and his dad :-)
Our Route from Richmond, KY to Rapid City, SD