Of my 13 trips to Iceland so far, my most memorable one was my first time there, in 2002, when I happened to meet my future wife. At a distant second was our trip in the summer of 2011, when we took a week-long road trip through the West Fjords region, the far northwestern peninsula that juts out into the cold North Atlantic Ocean like a dragon's head on a Viking longboat.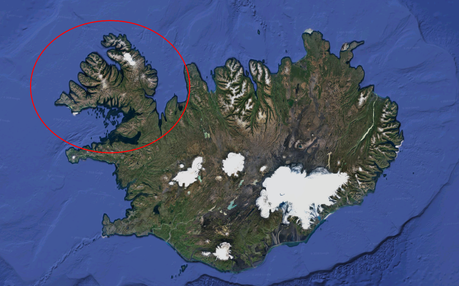 It's not necessarily an inaccessible nor difficult drive to get there (though parts of the way through the highlands are still a gravel road), but it is an effort nonetheless. With only one road hugging some 15-20 fjords, and just one minor shortcut, one has to commit to spending multiple days in the peninsula. Once you're about a quarter of the way in, you basically accept that you will be rounding a dozen more fjords. It typically takes over an hour, sometimes more, to make it around one fjord. If you do not enjoy long, winding drives, this road trip is not for you.
Icelandic strongman competition
My two sons were 3 and 5 years old at the time, so we ensured that our trip had plenty of stops and playtime. One of these was in the little town of Holmavik, where we relaxed and took a plunge in the local swimming pool. Little did we know that, on this particular day, Holmavik was hosting the West Fjords Strongman Competition. How lucky did we get! I snickered to my wife that this is about as stereotypical as it gets - drive into a random fjord to see a bunch of Nordic steroid-heads with supersized muscles throwing beer kegs 4 meters (13 feet) over their heads.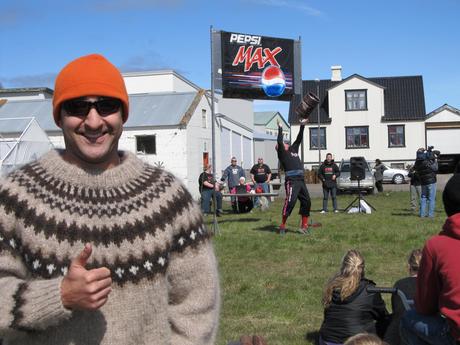 The rules are simple: if the keg clears the bar, the height is raised. Last man standing wins. I watched in amusement at the juxtaposition of the strongman screaming to force-expel air out of his lungs against the backdrop of the local crowd of hushed onlookers doing their most polite golf clap.
Coincidentally, retired strongman Magnus Ver Magnusson was in attendance as well. Chances are, you've heard of him. He was once considered the strongest man in the world and was a four-time world champion in the early 1990s. I egged my boy on to go tell him he's stronger. Isaac, in child-like bounds of unlimited enthusiasm and with scrawny little biceps flexed at 90-degree angles, dashed over, screaming: "Mangus Mangus, I'm strong!!" (Yes, he really did call him "Mangus Mangus" 😂).
Well, this turned out to be a challenge that our famed Nordic hero simply could not resist. He flashed that same fierce Viking look that he would unleash on his hapless opponents during his competitive years, unzipped his jacket with the fervor of a man possessed by rage and ripped it off his chest to unleash his still-massive biceps upon the world. "Look at this! This is strong," he boomed in heavily accented English and with obvious pride that, despite his age, Father Time had not fully caught up with him yet. A peal of collective laughter erupted from the crowd. Isaac looked on in impressed silence - turns out that Mangus Mangus was indeed stronger.
Isolated and scenic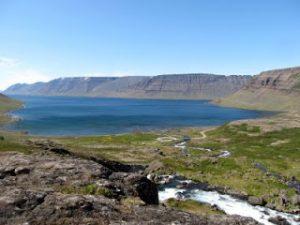 Getting back on the road, we found the region to be fairly remote and isolated. This means the West Fjords are far less visited than most of Iceland's other tourist destinations. It is accessible by an (expensive) air service or through circuitous land routes that often close in winter. The tundra here is intensely scenic and wild, with only a tiny population of mostly farmers and fishermen spread over a largely barren region. In summer, carpets of fluorescent green moss and grass grow along the slopes of the fjords while in winter, a thick white blanket of snow coats virtually every acre of ground. The steep fjord banks plunge dozens, even hundreds, of meters down into the deep blue waters of the North Atlantic. And all along the water's edge, the road snakes along for hundreds of kilometers around the peninsula.
All those steep slopes can be dangerous, though. The tiny hamlet of Súðavík was buried in an avalanche in 1995, resulting in the loss of 14 lives. Since then, dozens of avalanche barriers and mitigation systems have been installed to prevent future tragedies.
With a population of some 2500 people, Ísafjördur (literally meaning "the ice fjord") is the largest town in all of the West Fjords. Surprisingly, given its remote location, it dates back to the late 9th century. Since Iceland was settled in 874 C.E., this actually makes Ísafjördur one of the oldest settlements in the country. The town itself, though tiny, has some interesting Nordic architecture and colorful, historic homes. In recent years, Ísafjördur's commercial harbor has served as an increasingly popular entry point into the West Fjords for tourists arriving by boat.
However, nothing tops the sheer drama of getting here by plane. The airport is considered to have one of the world's most difficult approaches, with a narrow runway nestled at the bottom of the massive fjord, lined by humongous cliffs towering over on either side and to the front. Landing and taking off so close to the mountain is a breath-taking experience, even if you're just watching from the ground. The tiny plane against the backdrop of the fjord really puts everything into scale!
Other fun sights include numerous waterfalls, including the 100 meter (330 feet) tall Dynjandi fall. Many of these falls are located directly next to the road and make for easy photo stops, especially if you have small children.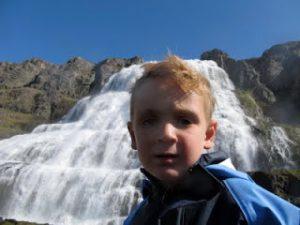 Birds of Látrabjarg
If you're a nature or bird lover, then Látrabjarg is definitely for you. The breathtakingly steep cliff walls are home to millions of seabirds. At 440 meters (1443 ft), it is considered one of Europe's largest bird cliffs and draws birdwatchers from all over the world. While home to many different bird species, it's a great place to view puffins - everyone's favorite cartoon-looking birds with big bellies and orange beaks. And if birding is not really your thing, it's still a nice place for hiking, with trails that climb the hillsides for stunning views of the ocean and cliffs below. Beware though, no fences along the cliffs edge...
Fjorded out
After four days of touring the West Fjords, we finally felt completely fjorded out. I do believe I saw more fjords on this one trip than I have seen the rest of my life combined. The West Fjords are different than Iceland's other tourist destinations. If you're looking for peace and a bit of solitude in Iceland, away from the throngs of tourists, the West Fjords region is one of the few places where you'll find it.