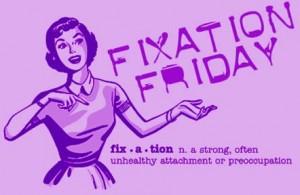 Today is Fixation Friday!  What, you ask, is Fixation Friday?  Well, on the last Friday of each month, I'm going to give you a list of all kinds of things that I got obsessed with or fixated on during the month (for example, there was the time I went to check my e-mail and two hours later I was still on my computer, reading someone's blog post about what kind of workout Madonna did to get in shape for last year's Super Bowl).
To kick off Fixation Friday, here's my January 2013 list of things I was preoccupied with.  And, since it's the beginning of a New Year, you can bet this list is full of tons of tips and tricks for getting fit and healthy in 2013.  Don't worry – there are some great tennis links, too.  So get fixated with me!  If you see something you're interested in, just click on the title to be whisked over to the website, video, post, etc.:
TENNIS STUFF:
AustralianOpen.com – The first Slam of the year finishes up this weekend and I've spent way too much time on their web site.  But, in my defense, AustralianOpen.com is a great place to get behind-the-scenes stories and photos of the Aussie tournament, much more than what you get if you're just watching it on TV.
Tennis Elbow Treatment and Exercises – I love just about everything that Ian Westermann of Essential Tennis does and his recent series on how to deal with tennis elbow is no exception.  Even if you don't have tennis elbow, this series includes some great stretches and tips you can do to make sure you never get it.  I've linked to the first of three videos that he's done on his Essential Tennis YouTube channel (lots of other good stuff there too).
"Doubles Partner Management Keys" podcast – Another great lesson from Essential Tennis.  This is a podcast teaching you how to be a great tennis doubles partner – no tactics, no strategies, just straight-up psychology and relationship advice.  There's also a great (in my opinion) Tennis Fixation post on this – How To Be A Great Tennis Partner.
Road to 4.5 Tennis website – I just discovered this website and am loving it because I think I've finally found the male version of me! P.J. Simmons, the tennis addict behind the site, has taken on the task of getting himself be a 4.5 rated player so I'm following along with his plan to see if he accomplishes his goal (I have no doubt that he will) and to see if any of his ideas can help me.
NON-TENNIS STUFF:
12 Unexpected Reasons To Drink More Water This New Year – You know you should drink water, but why?  Here's a list of all kinds of benefits (weight loss, clearer skin, more energy, helllllooo??) you can get from drinking more water.  I promise – you will read this list and then run to the refrigerator to grab a bottle of water to chug!
7 Proteins For Meatless Mondays (And How To Use Them) – While the idea of "Meatless Mondays" sounds good, the reality of what to cook that day is a little mystifying.  Here's an article with some great suggestions.
The 15 Healthiest Foods For Runners – Here's a list of 15 super-nutritious foods that all athletes, not just runners, should be eating.  These are not crazy foods that you're not exactly sure what they even are (raspberry ketones?  green coffee?).  These are foods you can find in any grocery store and can easily incorporate into your meal plan – things like dark chocolate, mixed berries and yogurt.
What To Watch TONIGHT On Netflix Instant – I am completely addicted to blogs of all kinds, not just tennis blogs.  Gala Darling is one of my new favorites (it's all fashion, fun and self-love – no tennis) and she has a great list of movies and TV shows to watch on Netflix which I love because I have Netflix but don't have the patience to figure out what to watch on it.
Those are just a few of the things I spent way too much time on in January.  Do you have recommendations of ways I can become obsessed in February?  Just let me know by commenting below or e-mailing me at thetennisfixation(at)gmail(dot)com!

© Kim Selzman 2013 All Rights Reserved