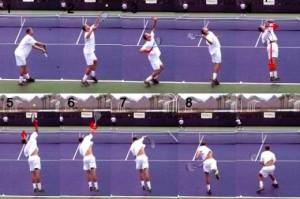 Welcome back to the Tennis Fixation "Fix My Serve" series.  About a week ago, I kicked off this series with an admission that my serve sucks.  (I wasn't quite that direct in the post – Fix My Serve Series-Introduction – but that's where I got to eventually.) And I'm betting some of you have the same opinion of your own serve. So the Fix My Serve series is here to help you and I – normal, everyday tennis players who don't have 8 hours a day to work on our game or unlimited funds to spend on private lessons – improve our serves.
Just how are we going to do this?  The good news is I actually have a plan.  And my hope is that this will be a plan that is simple enough (and cheap enough) that you might also put it into action, in whole or in part, to fix your own serve.  My Fix My Serve plan looks like this:
1.  Video tape my current serve (ack!) so I can see what it looks like and have something to compare to at the end. Here's the fun part for you – I'll post this and any other videos on my YouTube channel – www.youtube.com/thetennisfixation – so you can see how I'm doing.  Or get some cheap laughs.
2.  Read up on the tennis serve.  Collect all of the tips, tricks and techniques that I can by reading (and thinking about) what the pros have to say about the tennis serve.
3.  Break the serve down into each of its parts and figure out the importance of each.
4.  Review all of the tennis serve video instruction that I can get my hands on for free.
5.  Spend 30 minutes in each of my private tennis lessons working on my serve, taking it back to "square one" and building it from there.
6.  Practice serving!
7.  Video tape myself throughout the process and at the end of the series to see what improvements (hopefully!) have happened with my serve.
Do you have any steps to add to the Fix My Serve plan?  Let me know if you think I've missed something.

© Kim Selzman 2012 All Rights Reserved