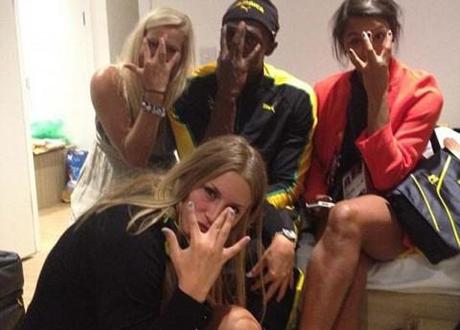 Usain Bolt parties with three ladies after his 100m win. Photo credit: Usain Bolt's Twitter feed.
The background
Usain Bolt won the London 2012 100 meter final in scintillating fashion. He ran an Olympic record 9.63 to see off strong challenges from Yohan Blake, Justin Gatlin and Tyson Gay. The win was Bolt's fourth gold medal – he won three in Beijing four years ago – and confirmed his status as by far the biggest star in world athletics.
Read more about Bolt's triumph in the world's fastest ever race here.
Unbelievable Usain! Surely the greatest ever. Congratulations to Jamaica, look forward to celebrating when I'm next there.

— richardbranson (@richardbranson) August 5, 2012
Bolt, off the track
Away from the track, laid-back Usain St. Leo Bolt has plenty of interests, some a little bit more wholesome than others. Here's what the big man of sprinting gets up to in his spare time.
Party animal. It's safe to say that Bolt thoroughly enjoys a night out. When he's not in training (and sometimes when he is) occasional DJ Bolt is a regular on Kingston's nightclub circuit and is a big fan of the country's bass-heavy dancehall music. On one trip home from a nightclub, he crashed his BMW at 5.15am. Bolt's partying has understandably worried his countrymen and coaches but he insists it helps him unwind from the pressure of his day job.
Frat boy. Bolt lives in a house with a bunch of male friends. Rather like Bob Marley's legendary Hope Road hangout-out house, there is something of an open-door policy at Bolt's place, which sees friends and family pop over to play dominoes and chew the fat until late into the night.
Mummy's boy. Bolt's mother is the only person who can make him cry: "Anything to do with my mum, I'm a real mummy's boy." Bolt was raised chiefly by his mother in the delightfully-named sleepy village of Sherwood Content. It will not surprise you to learn that young Bolt was a hyperactive child who mostly ran rather than walked.
Demon fast bowler. Bolt's first sporting love was cricket. Growing up in the rural parish of Trelawny, he dreamt of one day playing for the West Indies cricket team. He claims to have once clean-bowled Jamaican batsman Chris Gayle. Bolt's love of cricket is shared by fellow sprinter Yohan Blake, who is also a fast bowler.
Man Utd fan and part-time player. Bolt is a massive Manchester United football fan. Just three hours after he was disqualified from the 2011 World Championships final (for a false-start) he told filmmakers "But Manchester United won, so I'm happy." The sprinter is forbidden by his coach (Glen Mills) from playing football, but often sneaks away to put on his boots and have a kick-about with his old friends.
GOD I LOVE HIM. Usain Bolt: the fastest man on earth acts like a gentleman amateur. bit.ly/OEdGJx

— Marina Hyde (@MarinaHyde) August 6, 2012
Didn't think Usain Bolt would be able to overcome a bumpy preparation. Forgot that the normal rules don't apply.

— Paul Hayward (@_PaulHayward) August 5, 2012
More on Olympics

Olympics badminton row: Can the players be blamed for just trying to win?
Bert Le Clos is the world's proudest parent 
Best of the weird and wacky London 2012 Olympic Games news