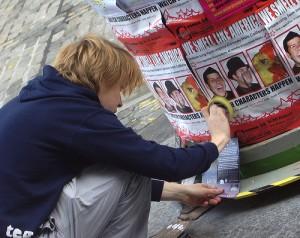 If you ever throw an event of any kind you have to make sure that people turn up. In the past I have attended many events such as music gigs, or comedy shows, that – on paper – should have been great, but they weren't because the promoter didn't advertise well enough. Here are five ways you can effectively advertise your event:
1)   Well-designed posters – This might sound really simple, but you'll be surprised how many people get it wrong. A poster is like a cover of a book: it shouldn't matter what it looks like, but it totally does. Make sure yours is as nice as it can be. A really well designed poster can make smaller events look much more exciting.
One of the regular excuses I hear when people have poor posters is that they can't afford to pay for professional designers to make them. You don't have to: If you know of a local art school, or university with a design course, ask one of the course leaders if they'll put a notice up. You can usually get good designers to work for free at this level with the promise that they can use the poster in their portfolio.
2)   Leaflets – Nothing beats a good leaflet in my mind. I've listed it after a well-designed poster because it helps if your flyer follows the same designs. In fact, it's probably best if it's just a scaled down version of your poster.
I think leaflets are so good because they allow you to interact with the people you're trying to get into your event. If they have any questions about what the event may entail, you are literally right there to answer their questions. If you smile, and are pleasant this will all really help your cause.
3)   Set-up a Facebook Page with an Event page – It would be ridiculous in this day and age to ignore the influence of Facebook. If you're going to start a regular event you should probably set up a Facebook page where fans can 'Like' and interact with updates you post about your event. You can use these pages to create "events" and invite people. This can be a powerful tool in convincing people to come to your thing.
If you're just throwing a one off event you can simply create an event. If the venue has a Facebook profile you can invite them to be an admin to make it all look much more legitimate. Keep in mind that this form of advertising will only allow you to invite your Facebook friends; they can then only invite their friends, and so on.
4)   Newspaper Listings – Many people believe that the internet has killed the Newspaper, but it just isn't true. For many, the newspaper's "What's on" section is the go-to-place for local events. If you can get your event listed (this won't be free) then people will definitely see that it's happening. When I organised a comedy night once, this technique pulled us a large section of our audience.
In some cases the Newspaper might also send someone to review the night. This is really good news if you're planning on running a regular show.
5)   Email Mailing Lists – Okay, so this option is really open to those wanting to run a regular event. If that's you, you should really view this as something very important. When somebody likes what you do, you should ask them to sign up for future updates. Don't pressure them or anything, just ask them.
The real power with a mailing list is that it is very direct. Posters, Flyers, Facebook Updates, and newspaper listings can always be accidentally missed. Mailing lists cut the chance of this happening right down. I – like I imagine most people do – check my emails daily. I'll read every single one that isn't junk. I have a few mailing lists I've signed up to, and I tend to keep going back to these events because of their reminders. Utilise this method.
Thom works in social media advertising, printing, and design. He often designs posters for independent events.
This is a contributed post.