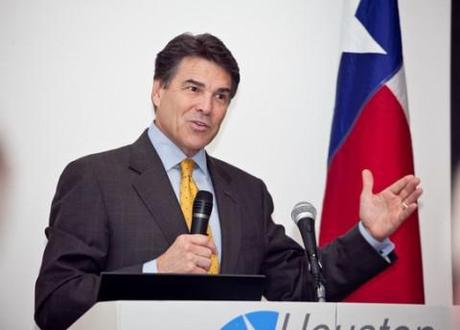 Governor Rick Perry. Photo credit: Ed Schipul, http://flic.kr/p/8G4aDW
Republican presidential hopeful Rick Perry has plunged in the polls over the last few weeks. Is there anything the Texas governor can do to get his campaign back on track?
Practice his debating skills. Writing for The Daily Beast, Peter Boyer argued that Perry's poor performance in GOP debates is overshadowing his message and hurting him in the polls. "The confident, handsome Texan, who'd bounded onto the national stage with the swagger of a natural frontrunner, took his place on the debate circuit and turned into a tongue-tied tackling dummy for his competitors", wrote Boyer.
Learn from Sarah Palin. Writing for Time's Swampland blog, Jay Newton-Small suggested Perry ought to learn lessons from Sarah Palin's political manoeuvrings – chiefly, to "man up" and stop "sucking up" to the establishment.
Find some enthusiasm. In a Washington Post blog, Melinda Henneberger described the Texas governor's recent demeanour as "oddly unmotivated" and suggested that in order to win over voters, Perry needs to find a balance between apparent indifference and raging ambition. Henneberger also questioned why Perry's team have yet to run any adverts that make Romney "look scary."
Hang on until Herman Cain drops out. Herman Cain is riding high in the polls and is currently the Tea Party candidate of choice. But according to John Cassidy on The New Yorker's Rational Irrationality blog, Cain looks as if he's on the way to taking himself out of the race, leaving a Tea Party-shaped hole that Perry would be glad to fill.
Or just give up? Tim Stanley suggested in a Telegraph blog that last night's debate between Republican candidates may have ended Perry's presidential hopes. The Texas governor failed to condemn recent comments from a US Baptist pastor that Mormonism, the religion of Perry's rival Mitt Romney, is a "cult." "Once again, the televised debate has switched the focus away from Romney's weaknesses and on to Rick Perry's lack of class", wrote Stanley.