This is the sixth in a series of blog posts about the details that a couple remember from their wedding day and that made the day special to them, no matter how small they may seem to others. It is called Five Things I Loved About My Wedding. Lots of couples come to this blog looking for inspiration for their own wedding, so this series is intended to help with just that. Most of the weddings discussed in this series will be from Central Park, but some weddings from other locations will be featured. This is Jess' list of the five things that made her wedding day special, read more about it here. She married her husband on the rooftop of the Surrey Hotel, which is on the Upper East Side, close to Central Park, and then they had some wedding photos taken in Central Park afterwards.
The Date
Okay, this may sound silly, but hear me out! I'm a huge believer in the details–whether it's the perfect shade of red lipstick, the tiny golden tuxedo my chihuahua wore, the engravings on the inside of our wedding bands, or the wedding date itself! I have long associated 7 with being a lucky number for me, and my husband and I both adore the summer, so July 7th (7.7) was a wedding date we were both so excited about! Another plus: since it fell on a holiday weekend (4th of July) the city and Central Park were virtually empty while we were taking photos. And it's great to be able to plan little getaways every year on our long weekend anniversary.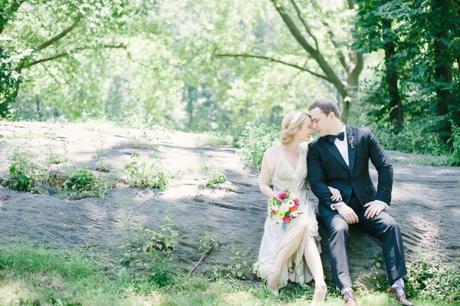 Making a Wedding Video of all our Special NYC Places
Since my husband and I met in NYC, dated in NYC, got engaged in NYC, it was only appropriate that we get married in NYC, i.e. our favorite place in the world! I had the idea to go around to all our special places the day before our wedding (like where we met, where we got engaged, etc.), and film a video which we would later show our friends and family. Every anniversary, my husband and I watch it and relive that beautiful day all over again! Anytime someone asks what I'm happiest to have spent money on for my wedding, hands down it's the wedding video (here it is).
Surprising Our Parents
The morning of our wedding, we had our parents meet us at the hotel under the thought that they were going to a "food tasting" for a wedding they thought would be much later in the year. When they showed up, I was already in my wedding dress and my husband in his tux, and we said, "surprise! we're actually getting married TODAY!" The look on their faces was priceless (in the best way possible!:-)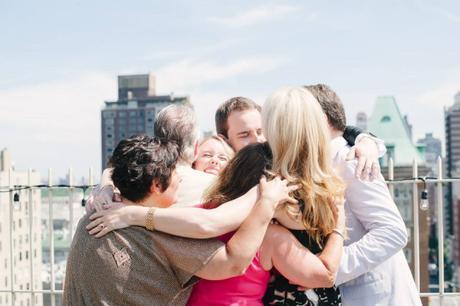 Our Ring Bearer
Our sweet chihuahua, Gillman, was the ring bearer at our wedding. We tied our wedding bands on a ribbon around his neck, and had him prance over to give them to us! Funny story: later that evening my husband couldn't find his wedding band. We tore the hotel room apart looking for it, and low and behold it was hiding at the bottom of Gillman's doggy carrier. He took his job very seriously!
Sadly, our little chichi passed last year at 15 years old, but having him as such an integral part of our most special day is a memory we both cherish so, so much.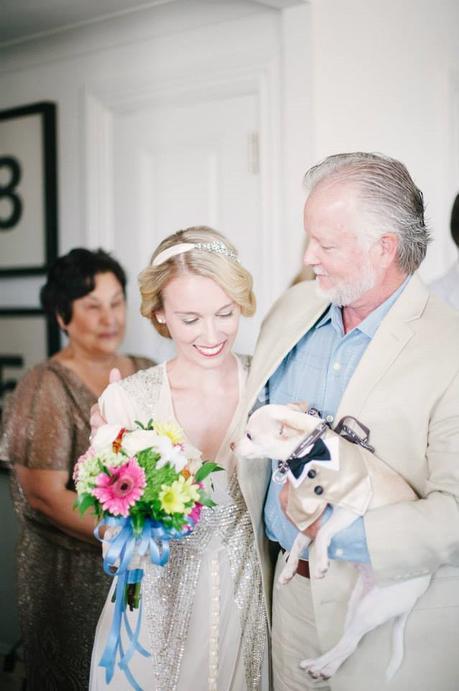 Giving a Special Gift to my Groom
My husband was so thoughtful when it came to putting together my dream wedding, that I wanted to do something special for him, as well. The morning of our wedding I gave him a watch that I knew he'd been eyeing for years, with an engraving on the back: "You are the tick to my tock. 7.7.13" While it wasn't the gift itself that was so special, it was more the gesture behind it: we were signing on to a lifetime of love, support, and going out of our way to do little things every single day to make the other person smile.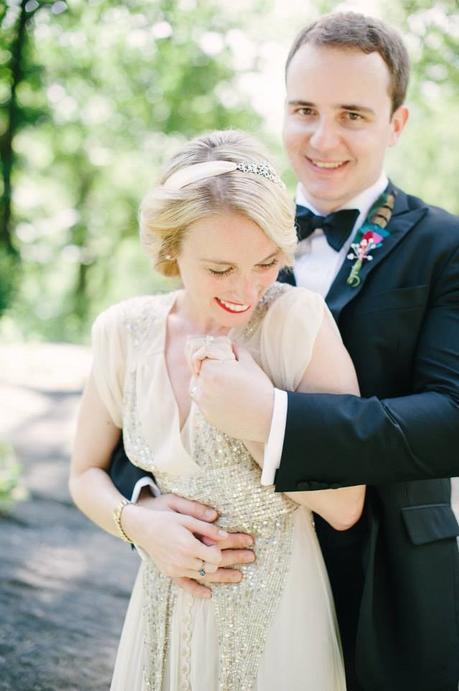 Jessica lives in New York and blogs over at UsedYorkCity.com about "the best of New York, as used by New Yorkers." You can follow her on Facebook, Twitter, or Instagram. She shares some great tips and advice for locals and visitors alike.
If you are considering a Central Park wedding yourself, visit our website, or "like" us on Facebook, follow us on Instagram and follow us on Pinterest where you will find lots of beautiful photos and many more inspiring stories.
Advertisements