After a few days of work getting in the way of the World Cup, normal service can finally return to normal.  France, everyone's not surprising surprise so far in the tournament versus Ecuador, a country that apparently only 1% of Americans can successfully locate on a map of the world.  Nobody gave the French a hope of a run into the latter stages of the World Cup based on their qualifying form that saw them 2-0 after the first leg of the play-off against Ukraine. But thanks to a kind draw and an attacking style they have almost secured a second round place before the referee took the ball off the plinth. Eight years ago Italy passed under the radar to win the World Cup – could France repeat the feat this year?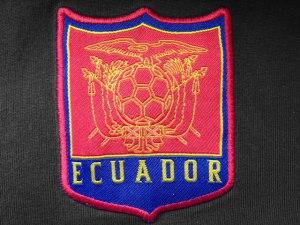 1. Why are France wearing away shirts again – So in the last game they played Switzerland (in red) and changed kit.  Tonight they are playing a team in yellow and again changed kit.  For those watching in black and white it must have been a difficult job.  I can only see one reason as to why they were playing in white – Nike told them too, or am I just being too cynical?
2."You can't get away with anything" – So says Gary Neville in seeing a replay of the Ecuadorian defender smashing an elbow into a forward's face out of sight of the referee.  Sorry Gary but he has got away with it, and as Ecuador look like they are going out, any retrospective look at the incident and applying a ban seems pointless.
3. Illegal hair nets – Now that just looks bloody silly! Why did they think that putting a hair net on Noboa's cut head would actually stop the bleeding.  All that happened is it made him look like Hilda Ogden.   Surely FIFA need to take action against these hair nets that aren't in the same colours as the rest of the kit?
4. Valencia – What has happened to Antonio Valencia during the past few weeks?  He was awful in Miami against England and lost his cool against Sterling and in this tournament he has been a liability.  Lucky not to be sent off in the previous game and then an awful tackle tonight saw him rightly sent off.  Great example as a captain.
5. Cheating – Final seconds of the game, Ecuador need two goals to go through and they have a corner.  Did nobody else not see the ball was a foot or so outside the D?  Where is the video technology to stop this blatant cheating?