Back for a third time, our resident Team USA expert, Andy Mack, tucks into the German beers in Manhattan and gauges the mood of the nation as they aim to reach the second round from the Group of Death.
1. Win or draw… or loss? – The US were in a solid position entering the day, knowing that any win or draw against a strong German side would be enough to advance.  There were also scenarios in which the US could lose a close match and still advance on goal differential.  Coming into the match, conservative analysis put the US' chances of advancing at about 75%
2. German Possession – As expected, Germany controlled virtually all of the possession in the first few minutes. The meticulous probing by the German midfield had the back line of the US on their heels for the majority of the first half.  It felt as though it was only a matter of time before they would get their breakthrough goal, and Thomas Mueller provided it on a beautiful strike in the 55th minute from just outside the box.  The goal — and lead — was well-deserved.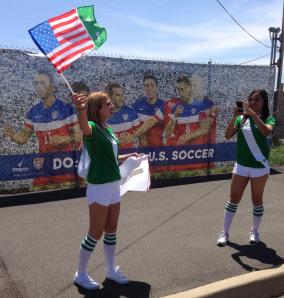 3. Michael Bradley is not himself – Michael Bradley came into this tournament as one of three anchors of this US squad (Dempsey and Howard the others).  With successful spells in Europe and great form in qualifying, many expected Bradley to be a rock in the central midfield.  That has not been the case.  Bradley will need to show some signs of life early in the match against Belgium for Klinsmann to keep him in the match and not make a change.
4. Ronaldo – All eyes were watching the score in Brasilia, as Ghana tied up the match with Portugal right as the US conceded.  This meant that, with another Ghana goal, the US could be eliminated from the tournament. After providing the cross that crushed the US in their previous match, Cristiano Ronaldo was able to put in the winning goal for Portugal with about 10 minutes left in the match. That goal gave the US a several-goal cushion to work with, and the US knew that they could be through with a 1-0 defeat. The pace of play slowed down between the US and Germany, both knowing that they would both be through.
5. Belgium on deck – The only negative about the 1-0 German victory for the US was that they would be facing the Group H winner instead of the runner-up.  Belgium is up next for the US, with Germany facing Algeria. The Belgians could be one of the more talented teams in the entire tournament, but have yet to put together a convincing win in this tournament. Expect an even match with potential for an upset.
The Beer World Cup
Weihenstephaner Hefeweissbier truly outclasses the cheaper imitation Blue Moon with a dominating performance of elegance and flavor.
Germany 3 US 0