The second set of games so far this week have produced little in the way of excitement bar the antics of the Mexican coach, with all of the drama taking place when I have been in meetings in the office. But that was surely going to change tonight?  Whilst Belgium were through, and only a miracle meaning that the South Korean's could go through, it was a game full of promise.  Or was I just too excited by the prospect of 90 minutes drinking a variety of Belgium beers?
1. It must be a bad game – When the TV producer decides to cut to a slow-motion replay OF A MEXICAN BLOODY WAVE.  Not content with us having to view the game through the emotions of various young girls in the crowd, the recognisable cheer as the ridiculous wave passes around the stadium sends TV producers into raptures about how fanatical these fans are.  Bad enough at normal speed, but to see it in slow-motion is unbearable. Every minute or so the cameramen found a female in the crowd wearing face paint and pulling a silly face.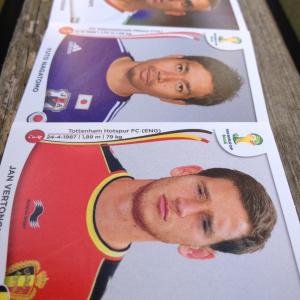 2. There's no need for that – I know they are in Rio and I know it is hot but who suggested it would make good television to put the ITV team in shorts??  Children up and down the country will now be having nightmares about seeing Gordon Strachen's legs. Fortunately someone must have had a word during the first half because at the break they had put their strides back on.
3. The Red Devils – Once again, why are BOTH teams playing in their away kits?  The Red Devils versus the Red Tigers yet neither are wearing red.  What's next?  A special Knockout round lime green number? Simple rule in future – one kit allowed – if there is a clash of shirts then one team plays in skins.
4. Taking it for granted – Two weeks of wall to wall football comes to an end tonight when the tournament takes a break for 24 hours.  Shocking scheduling – Who is this tournament for, after all?  The players or the TV audiences? In living rooms up and down the country, couples will be forced to have real conversations.  Or you could do what I am doing and going to the pub, as CMF automatically assumes the football is on every night.
5. Technically his foot is offside – No Andy, he was OFFSIDE.  Your foot is still part of your body. If you cannot say anything to add any value then please just shut up.
The Beer World Cup
Back after a brief period of abstinence, this was one we had been looking forward to all week.  A quick visit to the Belgium Beer company at half time saw a number of the countrymen make it into my squad for the evening (i.e, my carrier bag) to line up alongside OB, the South Korean challenge.
Floris Passion White 11 OB 1
The Kit World Cup – Day 14
Adidas – 40pts
Nike – 40
Puma – 28
Lotto – 10
Burrda – 6
Marathon – 4
Uhlsport – 1