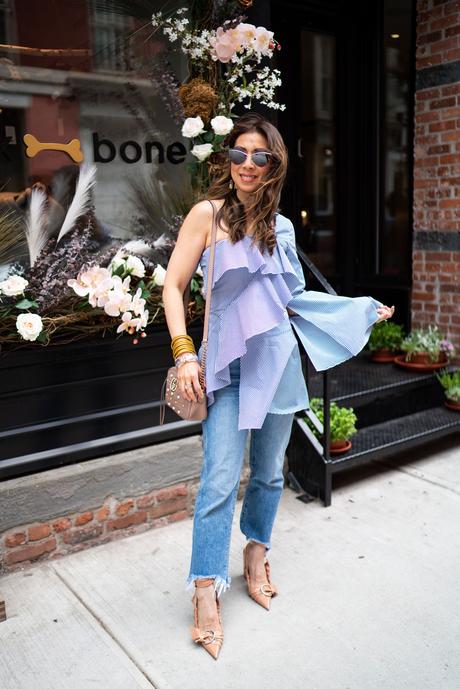 Hey GlamFam! Today, I wanted to touch on a subject that near and dear to my heart, sustainable style/ fashion. Most people may think "granola", boring, plain, or just ugly. But I have a different view of it since I've been "on this journey" since I was younger by shopping at garage sales, thrift stores, and wearing hand-me-downs. It started because of financial choices when I was younger but has continued because I make this choice as an adult. Don't get me wrong, I've had missteps along the way and found myself in overconsumption like most of us. I'm not perfect, but I try my best when I can. And I ALWAYS try to add a little glam which is my mission - to make other's see that sustainable style CAN be glam. Here are five simple sustainable fashion shopping tips that will make going green an easier transition.
I plan on elaborating on each of these topics in separate more detailed posts but wanted to give you a quick intro to each.

SUSTAINABLE STYLE Rx: You don't have to get rid of any "fast fashion" items. Just start pausing before you buy and consider whether or not you will wear it for more than one season.

// wearing Symbology dress, vintage Chanel earrings - original post here //
Shop Your Closet
The easiest and BEST way to be sustainable is to shop your closet! Before you buy, consider these 3 things. Do I LOVE it? Will I use it? Do I need it? (i.e. Do have 5 other iterations of this dress?)
You can use Pinterest or Instagram for outfit ideas or even join a Facebook community. Also, why re-invent the wheel? Start a new photo album on your phone named "Outfits". Once you wear an outfit you love, snap a picture of it and add it to the album. When you're running late or need inspiration, then go to your photo album, Pinterest board, or Instagram saves!

// wearing Paul & Joe cat dress purchased from Beacon's Closet //
Purchase Previously Owned
Purchasing previously owned pieces is one of my favorite ways to find new-to-me unique items. On sites like The Real Real, Fashionphile, and Luxury Garage Sale, I can sometimes find NWT (new with tags) designer clothing items that are currently in the store. Some other online favorites are Vintage Martini, Beacon's Closet, and Clothes Circuit. BTW, Vintage Martini and Clothes Circuit are brick & mortar stores in Dallas but I am not able to visit as often because of #MomLife. They are treasure troves for wardrobe gems, anything from designer to everyday wear. You can read more about Clothes Circuit, Vintage Martini, and my favorites on my " Shop Sustainable " page!
Prior to children, I used to shop at estate sales and thrift stores. Check out my blog post about getting the most at estate sales. If that's not your thing, then Flea Style in Dallas has curated goods for your closet and home. Basically, they've done all the work for you!
Additionally, I tried a subscription box, Material World, which offers previously owned designer clothing sent to you on a chosen schedule. It costs $39/box and a stylist chooses items (based on your style quiz), and then I would choose the final five pieces sent to me. The styling fee is waived if you make a purchase, and the clothing is up to 90% off retail. In the above photo, I'm wearing a top and sunglasses purchased from Material World.
Now, there are more thrift, sustainable, and vintage clothing rentals available such as A Curated Thrift ($34.95/month) and Wear Well ($8.50/month is impressive!).

// wearing Reformation dress - original post here //
Rent Your Clothing/Jewelry/Bag
If you're short on space or trying to minimize the clutter in your closet, then renting pieces is another way to go sustainable! Potentially, it's a way to try "investment pieces" out before making a big purchase, like jewelry or bag rentals.. Second, you don't need to purchase an item for an event if you know that you are only going to wear it once. These are a few of the companies that I've seen which are intriguing:
Nuuly // This rental includes trendy brands like Free People, Anthropologie, Alice McCall, Levi's, Zadig & Voltaire, etc. It is $88/month for 6 pieces of clothing that you choose and can wear for the month with an option to purchase if you fall in love.
Rent the Runway // I have a few friends that use this membership and love it. It starts at $69/month, and they seem to carry the largest and impressive selection of current clothing, accessories, and special occasion wear. Membership included unlimited time to keep your rental pieces. They have options for one-time rentals for 4 days which is a nice option if you just need something for a special occasion.
Le Tote // This is a monthly subscription service starting at $59/month and the difference is that they carry everything from athleisure and casual to professional and work attire. They also carry maternity options.
Armoire // They have expanded their monthly plans to start at $25/month where a stylist gives you options, and then you finalize what is sent over.
Rent My Wardrobe // This is a Dallas based company where you can rent clothing or lend YOUR own clothing. Due to COVID, rentals have been paused (bc you meet w/the person to exchange the clothing) but they are offering virtual services like closet organization, style education, and outfit curation.
Switch // I was really interested in this one because of the fabulous Chanel jewelry displayed on the home page. My friend Jacqueline has tried this and loved it, but she said that you had to act quickly if there was a piece that was returned. Additionally, you can purchase
Bag, Borrow, or Steal // Did you see the Sex and the City movie? This company was featured in the movie, but I had heard about them before then.

// wearing vintage matched set (all the From Grandma with Love posts here), YSL mini muse from Clothes Circuit, vintage Chanel belt from LGS, vintage Chanel earrings from ebay, Chloe sunglasses from Facebook group //
Swap with Your Friends
This sounds like the MOST fun, and it really is! My friend, Ginger (seen in this post), is my social friend and organized a Christmas swap party. Since it was a gathering of friends of different shapes and sizes, we decided to bring jewelry that wasn't getting the love it deserved. We picked numbers, and it was similar to a white elephant gift exchange where people could steal and an item was "done" after 3 steals. We all went home with something new and fun!
Now, I want to try this with clothing but just need to get more organized!
I also discovered Swap Society this past year. As one reviewer stated, "it's like an online secondhand store meets Rent-the-Runway, but way cheaper and more eco-friendly." Membership starts at $15 and you send in items for point credits. Everything online costs points + $3.99. So interesting right?

// wearing STAUD meadow maxi dress made from 100% recycled bottles //
Shop Sustainable Brands
If you are going to purchase new items, then make an effort to purchase from ethical and sustainable brands. I recently found out about GOOD ON YOU, a website that rates sustainability. I equate it to the EWG of sustainable clothing. This list is constantly evolving since more and more brands are trying to change their ways. Hooray!! I've been highlighting some brands on my #GlamForGood series and will continue to do so!
Here are some local favorites (DFW): Tribe Alive, Symbology, Luna Antigua
Here are some brands that I love: Reformation, Christy Lynn Collection, ABLE, Mara Hoffman, Eileen Fisher
Here are some brands that I'm checking out: Mother of Pearl, Paper London Swim, MaisonCleo, Stine Goya, Baum un Pferdgarten, EDUN
Were these five simple sustainable fashion shopping tips helpful? What are your thoughts on sustainable fashion? YAY, NAY, or Neutral!!
Happy Friday Beautiful Friends. Hope you are having a wonderful week! This week, we actually left the house and took a chance at the Fort Worth Zoo. You have to purchase tickets online in advance. We went for the 10am time slot, and it was great. Since we don't have any more nappers, we stayed until 2pm. I brought the wagon in case the kids got tired but they walked THE WHOLE time! It was great exercise and fun. Then, we went to Fossil Rim which was SO COOL and is home to exotic animals like giraffes, zebra, ostriches, emu, rhinos, and more. Again, you have to purchase tickets in advance and arrive during a time slot. It was worth the 1 hr drive, and we had a picnic lunch in the car! The kids loved throwing food out of the car at the animals. They got really REALLY close to the car. Hope you have an amazing weekend!!
Thank you so much for stopping by and supporting SOS!
CHECK OUT MY INSTAGRAM SHOP HERE TO SHOP ALL OF MY INSTAGRAM LOOKS!
// STAY CONNECTED //
stay glam, do good