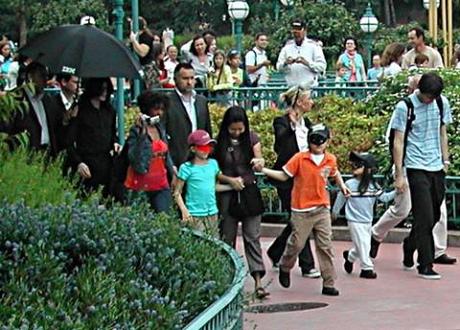 Michael Jackson and his children in Disneyland, in 2009. Photocredit: jmerelo http://www.flickr.com/photos/atalaya/3720831634/
Pop singer – nay, King of Pop – Michael Jackson's death in California on 25th June 2009 shocked the world. Jackson's three children, Prince Michael, Paris and Blanket, were in the house when he died, as well as his personal chef, Kia Chase, and his bodyguard, Alberto Alvarez; both of the latter are now appearing as witnesses.
Jackson's doctor, Conrad Murray, is now on trial in Los Angeles for manslaughter. It is alleged that through Murray's negligence, and because of his administration of a certain hypnotic drug, propofol, Jackson died. Murray is on a charge of involuntary manslaughter. Some are already calling it the trial of the century.
"On our lunch break! It's so hard 4 me 2 breath N court from holding back the tears. I don't know how my mother stays so strong," tweeted the singer's sister, La Toya Jackson.
Top Five shocking moments from the Murray trial.
1. Murray called for Prince. It appears that when he saw that Jackson was lifeless, Murray ran downstairs and shouted: "Get help! Get security! Get Prince!" The defence lawyer asked Jackson's personal chef, Kia Chase, who answered the call: "How do you think a 12-year-old child was going to be able to assist this doctor with a problem with Michael?"
2. Getting rid of vials. Jackson's bodyguard, Alberto Alvarez, claims that Murray asked him to get rid of vials of drugs as Jackson lay dying.  "I asked Dr Conrad Murray what happened and he said, 'He had a bad reaction'." When the defence asked Alvarez if all the events he said had happened could happen in 30 seconds, he replied "I'm very efficient, sir," according to CNN.
3. No emergency? Kia Chase, Jackson's personal chef, also claims that Murray did not ask her to call the emergency services on 911.
4. Defendant weeps. The Criminal Report Daily says that Murray shed tears as his previous history as a helper of disadvantaged patients was recounted.
5. Children devastated. "Paris was on the ground, balled up, crying. And Prince, he was standing there, he just had a real shocked, you know, slowly crying, type of shocked look on his face," Jackson's security chief told CNN.