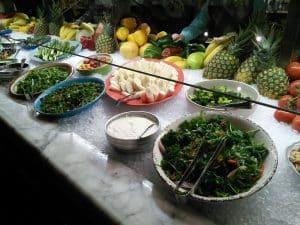 Even those of us who embrace frugality want to try out a nice restaurant now and then. To splurge, to explore, to broaden our taste horizons.
Now is our chance.
March is Portland Dining Month, a program that highlights the amazing culinary scene in the Rose City. 2017 represents the eighth year of this month-long ode to Portland's dining options. Travel Portland – Portland's kick-ass tourism promotion agency – sponsors the uber popular program and reservations should be made directly from the Travel Portland site (through Open Table).
Here are five urgent (!) reasons you should stop what you're doing RIGHT NOW and make reservations at their website.
1. IT'S YOUR CHANCE TO EXPERIENCE CHAMPAGNE FOOD ON A (NEARLY) BEER BUDGET
Any day through the end of March, you can choose from 125 popular Portland-area eateries and enjoy a three course meal for a prix fixe of $29. You can find out exactly what the three course meal includes at the website. Some have few options for each course, but others allow you at least two choices, and some have many more. And while many of the more than ten dozen choices are not horribly expensive, quite a few of the options would put you back at least twice the $29 fixed price for a three-course feast. This is your opportunity to experience the handiwork of some of Portland's best chefs at a fraction of the regular cost. Do it.
2. YOU WILL FINALLY UNDERSTAND WHY PORTLAND IS CONSIDERED ONE OF AMERICA'S TOP FOOD CITIES
Seriously, folks, Portland is almost always mentioned in those online lists of "Top Foodie" burgs. Visit one or two of these restaurants and you'll understand why.
3. IT'S BEEN RAINING FOR, LIKE, THREE YEARS AND YOU NEED A BRIGHT SPOT IN YOUR DAY
That's all. Endless gray, wet days demand a shake-up. A night out on the town fits the bill.
4. YOUR TASTE BUDS CAN TRAVEL THE WORLD
Among the more than 125 options this year, you can experience food from every corner of the globe, from Lebanon (Al Amir) and Cuba (Oba!) to Russia (Kachka) and India (East India Co.) – and everywhere in-between. Without a passport, without jet lag and sans the thousand-dollar airfare, you will be transported for a precious hour or two.
My husband and I thoroughly enjoyed our Brazilian taste excursion at Fogo De Chao in downtown Portland. You might be inclined to characterize Fogo as a very, VERY upscale buffet but that word does it a ginormous disservice. Yes, patrons do serve themselves at a "salad bar" for their first course – but this is like no salad bar I have ever encountered. Along with feijoada (black bean stew and rice) and soup, you can choose from at least six different Brazilian salads, marinated vegetables, fruits, cured meats, smoked salmon, imported cheeses and more. The offerings aren't marked for the most part – but that's okay. Let your eyes and stomach be your guide as you select (you can always come back and try other selections).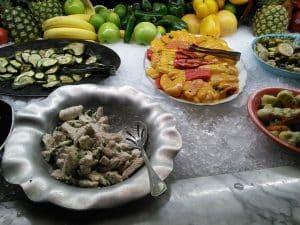 Each diner is given a small coaster, red on one side, green on the other. When you have the red side up, you're signaling to the super-personable roving waiters that you're still enjoying the bountiful salad bar.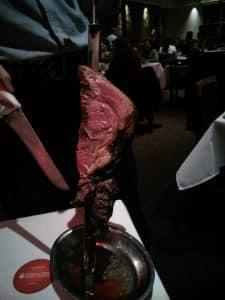 Once you turn the coaster over to green, get ready for the show. A bevy of waiters bearing a variety of delectable fire-roasted meats surf the tables and ask if you would like some garlic sirloin or lemon chicken or bacon-wrapped steak or parmesan-encrusted pork ribs – and beyond. With a "yes, please" they stop and carve at your table. All of the meats we sampled were mouthwateringly juicy, tasty and tender. Amidst all this, other waiters drop off warm pão de queijo (cheese bread), crispy polenta, mashed potatoes and caramelized bananas at your table. And, remember, at any point you can turn the coaster over to red and keep going back to the salad bar, endlessly.
We left – needless to say! – with happy, full tummies. And a new appreciation for Brazilian fare.
5. YOU'RE INDULGING WHILE DOING A GOOD DEED
On a feel good note, a donation is made to the Oregon Food Bank for each reservation made through the Portland Dining Month website. Go there now.