It's called U.S. Taco Co. and Urban Taproom. Here's the Day-of-the-Dead-inspired logo.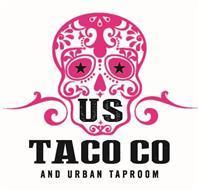 Before I get to my little list, I pause to ask myself: do I write about Taco Bell too much? Hmm. Maybe. But they just keep making news, and in my opinion, they just keep showing the rest of us how to do things: how to tease a new product, how to conceive a new product, how to honor fans, how to diversify their offering without alienating their core, how to take a poke at a sleepy giant (admittedly, Ronald might not be a morning clown) and leave everybody laughing about it (even the clown has to chuckle good-naturedly, on the outside; like all clowns, of course, he's crying on the inside).
And why am continually mildly disappointed in Chipotle? They seem like they have a bunch of great initiatives, and they've made me believe they source their food ethically. The in-store experience is great, and the food is great. They're even venturing into fast casual themselves, with a pizza. But the brand is kind of haphazardly presented.
Taco Bell is locked down tight.
Here's why the U.S. Taco Co. and Urban Taproom is delightful to me.
1. Disruption.
The article in Nation's Restaurant News lists the guy in charge of this project as "senior brand manager and 'resident disrupter.'" Long may he reign—the concept of "disrupting" the status quo for real is what's missing from most over-tested, safe-side, sensible branding initiatives. KEEP SHOWING US HOW IT'S DONE, GUYS. I'm betting this logo got tested "just as a disaster check," and 7/8ths of the things the focus groups said have been ignored. Nobody says you shouldn't do research, but you have to do it right, and carefully, and then use your sense and an ounce of creative vision and an ability to assess actual risk. Seems like this guy can do all that, based on the Dios-de-los-Muertos-style skull ("A skull, Jeff? Realllly? Does it have to be a skull? Won't that make people kind of—————" "If it's not a skull I WILL QUIT RIGHT TODAY THIS IS MY RESIGNATION!", rips off corner of legal pad, scribbles I QUIT, signs it, flings it across the table….long pause. "Okay, okay—sigh—skull.").
2. Great Names for Stuff.
Upscale tacos with names like "Winner Winner" and the "One Percenter" (it has lobster) and a drink called a "Mexican Car Bomb" are going to appeal to the foodie-casual-dine audience who think of themselves as culturally with-it, who follow Rob Delaney on Twitter and have at least clicked on a BuzzFeed list that features a clip of the famous long-take opening of the movie Touch of Evil. It would be awfully easy to kill a name like Mexican Car Bomb, especially if you just emphasized to everybody this is not an authentic Mexican restaurant but an authentic American restaurant.
3. Demonstrating How to Work Within a Trend Creatively.
It's exciting to see something that's unnecessarily interesting, isn't it? Couldn't Yum! just have put together a decent fast casual concept and tested it and tweaked it and rolled out these trendy adult tacos for people with clean cars? That would be the non-disrupting thing to do, and it might be as quiet as a mouse, and rely on nothing but location and careful cost accounting. This trend-based concept can generate buzz, and curiosity. That's a lot harder, but a lot safer in the long run.
4. They're Big Enough I Might Actually Eat At One Relatively Soon.
Man oh man, I travel some. I get around a little. But I hear about all these interesting restaurants on my daily rounds of the restaurant marketing corner of the interweb and I think, "Oh well. Maybe someday I'll be lucky enough to eat there." This, this idea, this on-trend experiment sounds pretty interesting and might come to my town. Cool.
5. Momentum.
Yeah, it sure seems like there's a light on at Taco Bell HQ, and this is further proof. I love to see momentum, I love to get behind a brand that feels like it's on the ascent, because I AM AN AMERICAN. And that's what we like. We like to think we're rewarding a little ingenuity, temerity, tenacity, foresight and energy with our dollar. Taco Bell just feels like they're really emphasizing creativity and fun as a business model. And it's working. I love that.