Christopher Kendall, artistic director of the contemporary music ensemble in residence at American Art, the 21st Century Consort, talked with Jo Ann Gillula about the upcoming concert, Tango Amor, Saturday February 15, 2014 at 5 p.m. in American Art's McEvoy Auditorium. The concert offers a synchronized celebration of Valentine's Day and exhibition Our America: the Latino Presence in American Art with a performance of Frederic Rzewski's setting of an iconic Chilean protest song, Argentine composer Oswaldo Golijov, local composer David Froom, and favorite Paul Schoenfield. The concert is free and an informal talk with composers and Kendall begins at 4 p.m.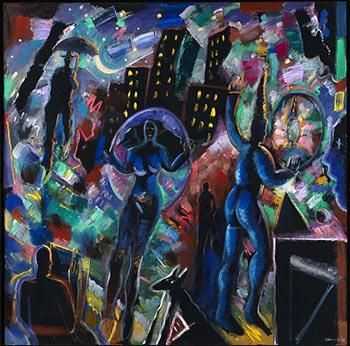 Carlos Almarez's Night Magin (Blue Jester), now on exhibition in Our America: the Latino Presence in American Art.
Eye Level: You have slated a concert called Tango Amor to coincide both with Valentine's Day as well as with American Art's exhibition, Our America: the Latino Presence in American Art. How did you select the various pieces which the consort will be performing? Do they all relate to the Latino theme or the "amor" theme or both?
Christopher Kendall: First, I have to say that this is a concert of works mostly looking lovingly at, rather than emanating from, Latino culture. Other than part of Oswaldo Golijov's lineage, none of the composers or performers for that matter are Latino. I hope this doesn't invalidate the program, but it does have something to say about the kind of utterances we'll hear.
Nevertheless, here was a Consort concert one day after Valentine's Day, and begging alignment with the museum's exhibition Our America: the Latino Presence in American Art. The problem was that this coincidence didn't comprise a limitation: there was so much repertoire it was difficult to choose. A self-imposed limit helped refine the choices: a small group of musicians, offering music that has to do with one theme or the other and in most cases both. I'm content to let the audience decide which or whether!
EL: The Frederic Rzewski's piano setting is a monumental challenge for any pianist. Having heard Lisa Emenheiser in past performances, I am confident she can do a splendid performance. What drew you to this piece?
CK: Lisa is such an incredible artist, one capable of learning the most difficult and complex music with astonishing speed, it has seemed to me one of my responsibilities over the years to try to slow her down by presenting enormous challenges. She thrives on them! I think the Rzewski was originally her idea, and we did include a selection of the variations on a concert last year. Partly because it was evident Lisa needed to play the whole thing, and partly because it powerfully referenced a Latin theme and great love—in this case for country—I was excited to challenge Lisa with an opportunity to play the whole thing. She agreed!
EL: Oswaldo Golijov has received so many honors, and is associated with the opera music he wrote for soprano Dawn Upshaw. Tell us about the piece you selected from him.
CK: This piece provided the essence of the program's co-mingled themes, the Latin love of place, in this case Buenos Aires. It's also a chance to feature the soloistic prowess of another of our wonderful artists, cellist Rachel Young.
EL: David Froom is our local hero composer. What about his music excites you to include it fairly often on repertoire?
CK: I was thrilled when Janice and Andrew Molchon decided to commission David Froom to set beautiful Yeats poems for their anniversary. And what could be more romantically perfect for this concert (David obligingly insinuated some tango-tinged music in his writing)? The Molchons have been loyal Consort audience members, supporters, board members and friends for more years than we can count (well, maybe we can count to almost 40; I believe Andy claims to have been present at our first public performance in 1975!). And David Froom has been one of the most consistently excellent composers the Consort has had the honor to work for decades. His setting of texts is uncannily apt, embodying not only the deep meaning of the poetry, but the sounds of the words and the inflection, rhythm and contour of the lines. His decision to choose the challenging medium of two essentially linear "instruments" is full of wonderful symbolism for these poems and this occasion.
EL: Finally, the witty Paul Schoenfield is always a favorite. What have you selected for fun? And there is a rumor there will be a tango. Can you comment?
CK: There may be some surprise tango music on the program (I've heard this rumor too), and there is in fact tango music hidden in Paul's work, which is an utterly ingenious synthesis of a very romantic Russian Folk Song, "Dark Eyes" (text follows) and the opera aria by Weigl incorporated by Beethoven in his own piano trio Op. 11, the first line of which translates as "Before I begin work, I must have something to eat," an unromantic but understandable sentiment.