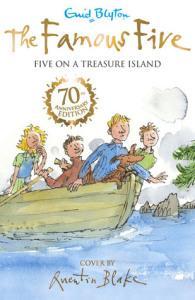 FIVE ON A TREASURE ISLAND (FAMOUS FIVE #1) BY ENID BLYTON
HODDER CHILDREN'S BOOKS (PAPERBACK), 2012, FIRST PUBLISHED 1942
192 PAGES
This book is part of my Popsugar Reading Challenge 2015. The category for this book is 'a book from your childhood'.   
I choose this book because Enid Blyton's books are the first books I remember reading. I was very young when I started to read her books. My favourites were The Famous Five, the Mallory Towers books, the St. Claire's books, Secret Seven and the Five Find-Outers. I also loved the book about the Enchanted Wood / Faraway Tree. Enid Blyton was my childhood so I had to re-read one for this challenge. I was 4 the first time read Five on a Treasure Island so it's been 30 years.   
BLURB FROM THE COVER
To celebrate 70 years of the Famous Five, Quentin Blake has created brand-new cover artwork for the original book in the series – and is joined by Helen Oxenbury, Oliver Jeffers, Chris Riddell and Emma Chichester Clark, who have reimagined the Five on the next four titles.
These anniversary editions of the classic text of Enid Blyton's most beloved series benefit the House of Illustration, the world's first dedicated home for the art of illustration.
There's a shipwreck off Kirrin Island! But where is the treasure? The Famous Five are on the trail – looking for clues – but they're not alone! Someone else has got the same idea. Time is running out for the Famous Five, who will follow the clues and get to the treasure first?
EXTRACT
'Mum, have you decided about our summer holidays yet? Said Julian, at the breakfast-table. 'Can we go to Polseath as usual?'
'I'm afraid not,' said his mother. 'They're full up this year'.
The three children at the breakfast table looked at one another in great disappointment. They did so love the house at Polseath. The beach was so lovely there too, and the bathing was fine.
REVIEW
I loved Five on a Treasure Island. Absolutely loved it. As I read about Julian, Dick, Anne, George and Timmy's first adventure I fell in love all over again and remembered why I loved these books as a child. The first couple of chapters were quite awkward and clumsily written. Blyton quickly got into her stride and the rest of the book was engaging, fun and really enjoyable. I felt like a kid again, remembering how I used to curl up on the couch in my parent's house with a pile of Enid Blyton books beside me. School holidays were the best. I could spend days lost in the world's Enid Blyton created. It was a treat to read this old favorite again. I've been browsing the Enid Blyton society website and catching up with some and beloved friends. Five on a Treasure Island is perfect escapism for children. I thought it was a treat.
RATING