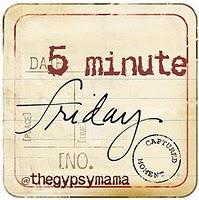 Ugh.
The second I read this week's prompt my heart fell into my stomach & I thought "Well that's a bust. I guess that means I don't have anything to write about today."
Oh My WOW.
Seriously Satan? That was a low blow!!!
You see, Satan is pissed at me. He's realizing that my self-worth is growing, that God has surrounded me with amazing people who make me feel loved and yes, CHERISHED.
And he's trying his damnedest to make me feel anything but. He sees the strides I'm making in my recovery, he recognizes the positivity that has encompassed this season, and He doesn't like it one bit.
So he's spewing lies. LOTS OF THEM.
And even though I hear them, I do not believe them. NOT ONE BIT.
Instead, I hear God's truth about who am I am and who He made me to be. He created me in His image, therefore that makes me holy, blameless, beautiful, perfect, worthy, loved, good, and wise. AND CHERISHED.
So take that Satan. You're a chump & you best be leaving me alone
.
---