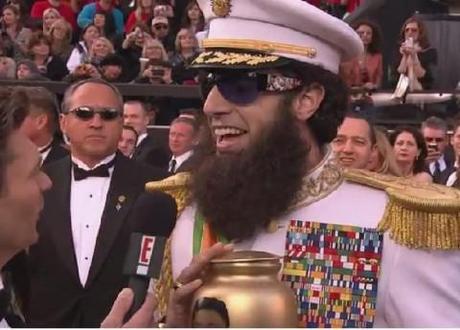 Sacha Baron Cohen on the red carpet, Oscars 2012
Some critics have slammed the 2012 Oscars as an all-round snooze-fest. "All that TV and film expertise, that desperate desire to be the ultimate showcase of your art and yet you produce an overlong, self-indulgent and most unforgivably, arse-achingly BORING TV show," complained Tim Teeman in The Times (£). At The Hollywood Reporter, Tim Goodman was similarly unimpressed: "It started slow, got slower, bloated the entire affair with montages, glazed the eyes of viewers… and then ladled on even more montages."
But be that as it may, the 84th Annual Academy did manage to scare up a few memorable moments.
Billy Crystal wears blackface. No, really, he does. Comedian Billy Crystal returned as Oscars host, and was widely seen as a safe pair of hands after the widely-panned performance of James Franco and Anne Hathaway at the 2011 ceremony. But Crystal's skit as Sammy Davis Jr attracted controversy: Tim Molloy reported for The Wrap that Twitter users were shocked, with many of the opinion that "blackface is just never okay, which Crystal should know". What's more, the timing of the skit was unfortunate:  "Adding to the awkwardness of the moment: The montage segued from Midnight in Paris to The Help, a film about black maids persevering during the Jim Crow era," wrote Molloy. But the BBC's Ben Sutherland argued that Crystal put in a strong performance: "No-one alive knows how to work the Oscars audience better than Billy Crystal."
Slate provided a glimpse of the inner workings of the Oscars, delving into the contents of those gold envelopes and the way the ballot works.
Comedy moments. Writing for The Daily Beast, Shannon Donnelly picked out the Christopher Guest industry-baiting sketch about film focus groups as the best in show. Donnelly also praised Emma Stone for providing another comedy highlight with a self-deprecating performance alongside Ben Stiller. Michael Slezak at TVLine flagged up the Bridesmaids cast playing the Scorsese drinking game onstage as another amusing moment.
Watch the Emma Stone-Ben Stiller partnership below.
Sacha Baron Cohen. As publicity stunts go, Sacha Baron Cohen's decision to turn up at the Oscars in military uniform flanked by female bodyguards and carrying what he claimed was deceased North Korean leader Kim Jong-il's ashes was certainly memorable. Particularly when the Hugo star, promoting new film The Dictator, spilled the ashes over TV presenter Ryan Seacrest. Baron Cohen was escorted off the red carpet by security guards – but was allowed to pose for photographs as he left.
Watch The Dictator trailer below.
Uggie the Dog. The Jack Russell terrier – seen by some as the real star of The Artist – took to the stage twice to help castmates collect awards. That may not sound like much, but Uggie was wearing a bow tie. A cute dog in a bow tie. What's not to love?
"Nothing takes the sting out of these tough economic times like watching a bunch of millionaires giving golden statues to each other," quipped Oscars host Billy Crystal.
Best speech? E!Online favoured the speech by The Girl With The Dragon Tattoo's sound editing team, who were clearly bemused by their Oscar win: "I'd just like to thank everybody who is here tonight, and everybody who isn't and everybody who's ever been born, or may be born or be born again or reborn. If I've forgotten anybody then you probably know who you are." The Telegraph singled out Christopher Plummer's Best Supporting Actor acceptance speech:  "Hollywood still has elements of class."