Golf for Beginners
is always on the lookout for insightful opinions and, when Craig Simpkin wanted to share a blog on five of the top professional golfers set for a breakthrough this year,
how could we resist?
Here is Craig's take on a few golf pros that you may,
or may not
, have heard of and why these players have what it takes to win.
Enjoy the article!
*************
With both the PGA and European Tours now in full swing, we've cast our net far and wide to find the players ready to take on Rory McIlroy for golfing dominance in 2015 and challenge the World Number one in the markets for this year's majors.
Rickie Fowler
You could argue that Rickie Fowler has already made his breakthrough on the pro circuit following an incredible amateur career. Currently ranked 12th in the overall World Golf Ranking, Fowler has been a major tournament contender (tied for 5th-2014 Masters) but has yet to find himself in the winner's enclosure. Rickie's clothes show spunk - this could well be his year.
The American is the only player in golfing history to record top-5 finishes in all of the four majors, while enjoying ten top-10 finishes in all during a fantastic 2014 campaign. His performances at the Open Championship and the PGA Championship, where he finished two shots behind eventual winner Rory McIlroy, highlight just how close he is.
With only one PGA Tour win to his name, Fowler has enlisted the services of Butch Harmon to help take his game to the next level. That could well be the added ingredient he needs to complete a winning recipe.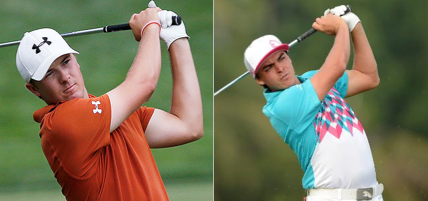 Jordan Spieth / Rickie Fowler
Jordan Spieth
It's fair to say that Jordan Spieth announced his arrival on the golfing scene with aplomb in 2013/14, and so this year he'll be hoping to go from 'hot young prospect' (and hit with the ladies) to bonafide major winner.
Spieth was within a whisker of becoming the youngest Masters champion in history at Augusta – leading the field by two shots at one point during the final round. He was eventually usurped by Bubba Watson, and, at just twenty-one, is the tournament's youngest ever runner-up.
A flash in the pan? No chance! In November, Spieth won two tournaments, shooting a course-record at the Australian Open to win by six clear shots, and then just one week later he shot a mind-boggling -26 to claim the Hero World Challenge in Orlando.
Shane Lowry
The latest player off the Irish conveyor belt of talent is Shane Lowry, and the 27-year-old enjoyed his best year on the tour to date in 2014 with seven top-10 finishes securing him a tenth-place finish on the Race to Dubai ladder.
His finest hour came at the BMW PGA Championship, where he carded -13 to finish in second place - one stroke behind the champion McIlroy. That performance was the catalyst for a catalog of top twenty finishes – including T-9 at The Open - that would fire Lowry into the world's top 50.

Hideki Matsuyama
Another young gun making waves is Hideki Matsuyama. With top-10 finishes at three of the majors to date, the 22-year-old is already showing that he has the technique and belief to remain in the mix for big tournaments heading into the final day.
In 2014, Hideki secured his first win on the PGA Tour at the Memorial Tournament in Ohio and that helped him rise up the world rankings to a heady 13th position. 
With six other top-25 finishes in Tour events last season, Matsuyama clearly has the all-around game to make a more sustained breakthrough in 2015.
Branden Grace
South African Branden Grace has started the 2014/15 campaign like a runaway train; lifting two trophies – including a sublime -19 to triumph in the Qatar Masters - and finishing in the top-20 in three others.
They say that winning becomes a habit, and Grace is certainly displaying all the hallmarks at the moment. His numbers are up in 2015 too; he's added an average of ten yards to his drive and his 'greens in regulation' stat is at 75% - a career high.
While his record in majors isn't the best – he's only achieved one top-25 finish in his career thus far – there's enough evidence to suggest that the improving Grace now has the belief to kick it up a notch and become a major player on the tour.

About Craig Simpkin: 
Craig is a UK-based freelance writer and keen golf enthusiast whose
work can be found at Unibet and the Sabotage times, amongst many other sites
Do you agree that one of these five golfers will make a major breakthrough this year? Voice your opinion on Twitter @Golf4Beginners or on this blog!
photo: The Local Golfer