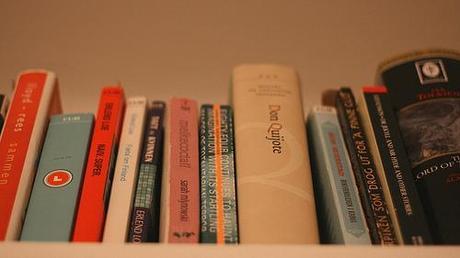 I posted a few days ago about my new best friend, the iPhone Kindle App.  I also made a few recommendations for books that are free and should be read by anyone looking to enrich their life.  Well, today I'm going to give you a few recommendations for books you'll have to pay money for but which completely changed my life and therefore worth every penny.
These are the top five from the past ten years and focus only on nonfiction books that have brought about great changes in the way I lead my life.  I also included a small section at the end which goes over my favorite fiction books for entertainment purposes.  Don't just book mark this post and then forget all about it.  Pick one of these books, buy (eVersion of some kind) and then read it.  Keep it with you (that's why the Kindle app is nice) and refer to it at various times.  Take notes, take action.  DON'T JUST READ, NOD YOUR HEAD AND THEN IGNORE!
Never Eat Alone – The modern version of the Dale Carnegie classic,How To Win Friends and Influence People, this is THE book to own if you're interested in networking, and who isn't?  A good network is the way through which you get jobs, customers, advice and general help.  Without one you're just another resume in a huge pile.  Ferrazzi really gets to the bottom of how to manage a good network by focusing on building good connections and not just giving you advice on how to be the creepy guy at every party who's handing out business cards.
Personal note – This is the book that convinced me that networking can and should be fun.  I credit it with my last two jobs as well as a whole host of fantastic opportunities.
The 4-Hour Workweek – I've been a big fan of Tim Ferriss ever since this book came out and I loved his new release, The 4-Hour Body.  Tim is fun to read and gets right to the point.  His mantra?  Don't spend your whole life waiting for retirement.  Enjoy life NOW through a variety of ways by which you can make your job easier.  If you're tired of sitting in a cubicle, this is a must read.
Personal note – This book is inspirational simply through the sheer amount of ideas Tim throws your way.  Even if you only implement a few, you'll still come out ahead.
Personal Development for Smart People – Steve Pavlina is a bit of a nut.  Actually, I take that back.  Yes, he believes in things that I do not, but that's no reason to call him crazy.  I respect his work and his beliefs.  Besides, none of that matters because Steve's book on personal development doesn't touch at all on the metaphysical.  Instead, he writes a beautiful book on understanding how to be better human being.  He's not looking to make you richer or more powerful, just happier, and he does so with humor, empathy and a lot of love.
Personal note – I read this book as I was going through a really tough portion of life.  It kept me sane and really helped me make sense of the world around me.
Predictably Irrational – We all make stupid decisions which we regret three seconds later.  I make my own fair share and I always wonder afterwards "why did I just do that?"  Well, if you ask yourself the same question, Dan Arielly's book is for you.  Dan looks at why perfectly rational people sometimes make completely irrational decisions.  Best of all, he then takes this information and tells you how you can try and avoid these pitfalls.
Personal note – This is a recent addition to my bookcase but one which I really enjoyed.  In light of the economic troubles of the past few years, it's nice to a see a book which makes sense of seemingly senseless things.
Getting Things Done – If you read any productivity sites you've probably heard of this one.  Well, there's a reason for that.  It really is a good book for people looking to better organize their lives.  Yes, his system is a bit too complex but if the only thing you get out of this book is that you should write things down when you think of them and then move on, that's enough.
Personal note – Reading this book helped me overcome a big issue with my organizational skills and reduced my overall stress levels.
Bonus Pick!
She Comes First: The Thinking Man's Guide to Pleasuring a Woman – Gentlement, you don't even know how much you don't know until you read this book.  This is a "how to" guide that every single man should own

And for the curious, here's my top 3 fiction list:
Vampires – Ignore the atrocious movie, this is simply an awesome book.  No sparkles here, the vampires are monsters and the people who hunt them are Heroes with a capital H.  Sadly, the heroes are losing but the story is beautifully told and will make you care about the characters in a way few books do.
The Moon Is a Harsh Mistress – I had a hard time picking out my favorite Heinlein book.  It was a close call between this one, Friday and Starship Troopers.  However, this won out in the end.  Heinlein has an amazing ability to predict the future.  Read this book and then see if any of it feels out of date.  Now look at the publish date and note that it was written in the SIXTIES!  Rather than focus on the science, Heinlein focuses on the people and the plot, which is what a good author does.
Stephen King's It – A King classic.  I was scared out of my mind when I read this and finished the whole book in one night because I needed to see how it ended.  Also, the depiction of bullied kids really struck a chord with me that I didn't anticipate.  Many of King's recent books have been crap but this one is stellar.   Don't read it alone in a dark house.
###
Above all, my recommendation to you is to read.  Reading will open your mind and enrich your life.