A suggestion for those in search of free – or very low cost – fun things to do in Portland: Why not combine the city's unofficial motto ("Keep Portland Weird") and another favorite local pastime (just hanging out) and do a little Portland People Watching?
Listed below are a few of the very best places for people watching in Portland. As you enjoy yourself, remember the cardinal People Watching Rule: We are ALL weird, in some way, so judge not. No gawking, pointing or mockery. With an open mind, you may even experience a moment of profundity while studying your fellow man and woman. Sip your latte or beer, smile – and just take in all of that divine humanity.
1. Hawthorne Boulevard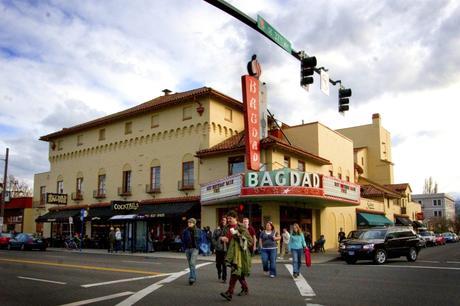 Hawthorne is renowned – indeed WORLD-renowned – as a pedestrian shopping, dining and people watching haven. My favorite place to people watch on Hawthorne on a sunny day is the Bagdad Theatre & Pub's sidewalk tables (3702 SE Hawthorne Blvd; mcmenamins.com/bagdad). On a recent lazy afternoon, a friend and I savored our beers from our ringside crowd-contemplating seats where a veritable parade of Portland personalities (and a few tourists, likely) streamed past our table. We saw folks in costumes (at least we thought they were in costume? Could be their everyday attire. It
is
Portland, after all.). We noticed a dog hooked up to a little red wagon (ala a pony to a cart) pulling the booty – we assumed – from the owner's daily market run. There were lots of 20-something goth types milling around and more than a few aging hipsters as well. Humanity viewing nirvana!
If it's rainy or cold, opt for the indoor window seats at Peet's Coffee (right down the street from the Bagdad; 3646 SE Hawthorne Blvd) or Starbucks (across the street; 3639 SE Hawthorne).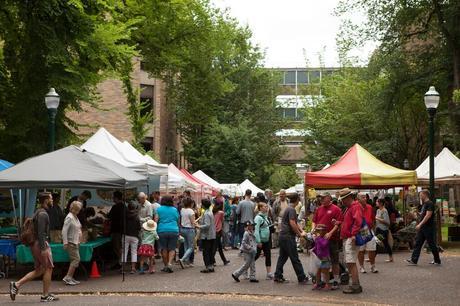 The granddaddy of these lively outdoor gathering places is Portland Farmers Market (South park blocks between SW Hall and Montgomery) but it may come as a surprise that there are almost 50 markets in the greater metro area – and there is at least one happening somewhere every day of the week. A few are year round; most start up April through June. Many offer music and coffee; all feature friendly folks and food. Find a bench or table, preferably close to the free music (if available), and relax while enjoying vistas of the human race.
3. Powell's City of Books World Cup Coffee Shop (1005 W. Burnside St.; powells.com)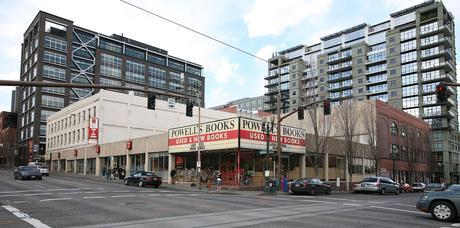 The ritual at Powell's is to browse a bit, gather an armload of potential purchases – and then park yourself in the coffee shop. While you're there, be sure to keep your eyes open for the various and sundry book lovers loitering about but also for the many pedestrians you'll see through the windows that give out onto Burnside. Powell's attracts all sectors of the masses, from staid suburbanites to hipsters to, well, anyone who reads.
Aside from the coffee shop, there aren't many sitting areas available at Powell's City of Books (except in the children's books section). (Note to Powell's: Make room for a few sofas and arm chairs!). But wandering Powell's – whether you're people watching or book searching or both – is one of life's great pleasures.
4. Portland State University's Smith Memorial Union (1825 SW Broadway; pdx.edu/student-union)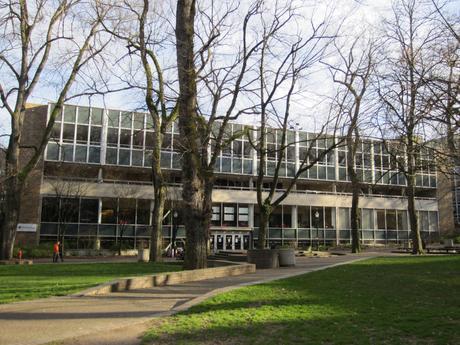 For a glorious look at an international cross-section of the world's people, PSU's Smith Memorial Union might be the best viewing location in town. PSU students hail from over 84 countries (top countries represented include Saudi Arabia, China, India, Kuwait and Japan). It seems that many of those international pupils flock to the student union. The food court area is particularly ideal – grab a coffee or soft drink (or lunch) and stake out a spot. Then marvel at the many nationalities represented, maybe surmising how each individual happen to end up studying here in little ol' Portland.
When the weather is nice, find a bench outside, overlooking the park blocks, and you'll be rewarded with a similar vista – and the sun as an added perk.
5. Pioneer Courthouse Square (701 SW Sixth Avenue; thesquarepdx.org)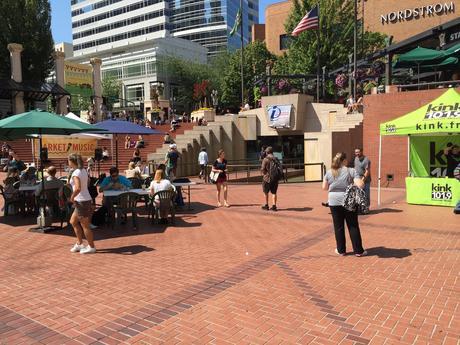 No list of Portland people watching places would be complete without a mention of the Square, aka "Portland's Living Room." On any given day – when rain is not in the forecast – you can find a spot and watch the lunch time crowds and occasional street performers. There is also an endless array of free events – from the Global Cannabis March (May 7) and the Portland Atheist Festival (May 26) to summer's always popular Noon Tunes and Flicks on the Bricks. A great option is to nab a seat in the square's Starbucks, relax, sip your mocha and behold the human race.
These are my favorite places in the city to people watch — what are yours?
Photo credits: 1.Cacophony 2. Portland Farmers Market 3. Cacophony 4. Another Believer 5. Parker Knight