I'm afraid to say it's Friday. Afraid because that means I have to tell you how poorly I failed this week in any fitness goals. I should be weighing myself and checking my BMI this week, but I can't bring myself to do it. Not to make any excuses, but everyone has been home this week. While I have been actively cleaning around here, my eating habits have not been the best. So I'm disappointed with myself.
While I did say no to the Oreo peanut butter cup concoction my husband put together for a special treat for the kids, that's about all I said no to this week. So I'm going to have to say I'm starting anew this week and going to really try to put my best foot forward and not make so many bad choices next week.
So how did you do? Please tell me you had a better week than I did. Set the bar high for me to work towards kicking butt next week.
Either comment or link up at the bottom of this post with your own update about how you managed your fitness goals this week. Grab my button if you'd like and feel free to check out your BMI.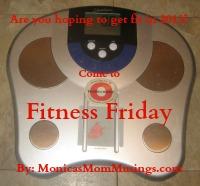 Check your BMI…
BMI Checker:
unit US Metric  
age  
sex male female  
height ft  in
weight lb