If you're new here, you may want to subscribe to my RSS feed. Thanks for visiting!
I could not be happier this week is over. I get a bit of a reprieve next week with the crazy running around, but then I'm right back at it the following week. The days of running definitely make working out harder. Or maybe not. Today is a day where for the most part I have been home bound. And yet when it came time to do my workout I almost backed out today. I didn't it, I did do it and I worked it hard today too. Worked up quite the sweat. But because Wednesdays workout had to be cut short (thank you sub bus driver for arriving 20 minutes late) I only did ten minutes that day before I was off and running here and there again.
So this week the workouts got slightly easier. I mean I worked up a sweat, but I haven't experienced any soreness. My appetite this week has been lacking for some reason. Maybe it's the lack of time to even think about my hunger pains though. I'm not really sure. Just exhausted by the end of the day that even the thought of eating is just too much work.
So that's where I am this week. How about you? Are you achieving your goals and getting fit? Grab my button and write up your own Fitness Friday post and link it up at the bottom.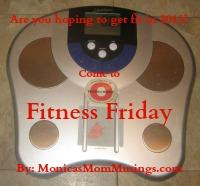 <div align="center"><a href="http://monicasmommusings.com" title="Monica's Mom Musings" target="_blank"><img src="http://i293.photobucket.com/albums/mm50/mom2natnkat/FitnessFriday_zpsd0fd3944.jpg" alt="Monica's Mom Musings" style="border:none;" /></a></div>
Check your BMI…
BMI Checker:

>>
unitUS Metric 
age 
sexmale female 
height ft in
weight lb
height cm
weight kg