If you're new here, you may want to subscribe to my RSS feed. Thanks for visiting!
TGIF. It has been a long week, but I am proud of myself. It's really cold here right now much like most of the country I suppose. But -1 just really hurts. My routine is I bring my middle daughter to her bus before 6 a.m. in the morning. I come home to a quiet sleeping house and workout. I seriously had to talk myself into working out. It would have been so easy to just get under the blanket and veg on the couch, but I warmed myself up by working out instead this week. I ended up being very productive after starting my day off like that. So I just have to say no amount of weight loss at this point could trump this feeling of pride I have in myself that I did the right thing even though it was the last thing I wanted to do.
How was your week? Did you choose you this week? Grab my button and link up at the bottom of this post telling me all about your fitness goals and accomplishments. I hope we're celebrating together this week.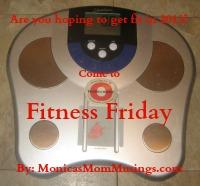 <div align="center"><a href="http://monicasmommusings.com" title="Monica's Mom Musings" target="_blank"><img src="http://i293.photobucket.com/albums/mm50/mom2natnkat/FitnessFriday_zpsd0fd3944.jpg" alt="Monica's Mom Musings" style="border:none;" /></a></div>
Check your BMI…
BMI Checker:

>>
unitUS Metric 
age 
sexmale female 
height ft in
weight lb
height cm
weight kg