If you're new here, you may want to subscribe to my RSS feed. Thanks for visiting!
It's Friday and that means it's time to check in with your weight loss goals. I have a little story I want to share with you. At the beginning of the year I spent an entire evening cleaning out my two youngest children's room in order to get all of their new toys in there. In the process of doing this to give myself more room to work I pushed all of their furniture out of their room by myself. And either that or just the large bags/boxes of toys and the bending over wore my legs out. The next day I was understandably sore and I figured it would go away in a day or two, but it never really went away. It did improve, but they just felt really tight.
This week I started my workouts again because finally all of the kids were well and back at school. It wasn't easy getting back into it and the tightness in my legs was definitely really bothering me, but I pushed through. And by day 4 the tightness was almost non existent. So this week even if exercise didn't shave any inches off my body or help me lose any weight I am happy to say that it helped improve my leg tightness. I can't explain why. Perhaps because I built up those muscles and was using them and stretching them. It was a good week though. I'm happy to be back into this.
How was your week? Did you meet any weight loss and fitness goals this week? Did you stumble and need a pick me up? Well, grab my button and link up at the bottom of this post with your own post telling me how your week was. I hope we all are celebrating this week!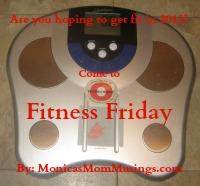 <div align="center"><a href="http://monicasmommusings.com" title="Monica's Mom Musings" target="_blank"><img src="http://i293.photobucket.com/albums/mm50/mom2natnkat/FitnessFriday_zpsd0fd3944.jpg" alt="Monica's Mom Musings" style="border:none;" /></a></div>
Check your BMI…
BMI Checker:

>>
unitUS Metric 
age 
sexmale female 
height ft in
weight lb
height cm
weight kg