If you're new here, you may want to subscribe to my RSS feed. Thanks for visiting!
It's Friday! Already? Or really what took it so long to get here? Last night I kept thinking it was Friday night. But, it's now Friday and the first full week of the year I had hoped for good things, but I did not accomplish them. My middle daughter who has to get the bus before 6 a.m. every morning has been home all week sick. I thought she had strep, but it was *just* viral and a good chance it was mono. She was going to go back to school yesterday, but then we realized she had a day off for Friday anyways so we just made it the week. And since I wasn't getting up before the crack of dawn every morning my morning workout went by the wayside yet again. So I'm hoping next week we get a redo.
How about you? How did you do this week with your weight loss/fitness goals? Grab my button and link up at the bottom with your own fitness post.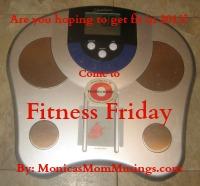 <div align="center"><a href="http://monicasmommusings.com" title="Monica's Mom Musings" target="_blank"><img src="http://i293.photobucket.com/albums/mm50/mom2natnkat/FitnessFriday_zpsd0fd3944.jpg" alt="Monica's Mom Musings" style="border:none;" /></a></div>
Check your BMI…
BMI Checker:

>>
unitUS Metric 
age 
sexmale female 
height ft in
weight lb
height cm
weight kg